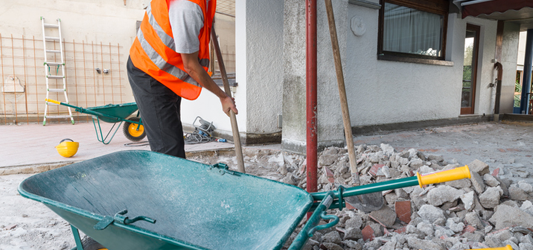 Updated February 9, 2022
Properly getting rid of debris from a construction or demolition project is important for the safety of the worksite and neighboring homes and businesses.
If you don't have enough debris to justify renting a construction dumpster or you don't have the time, strength, or desire to do the labor yourself, hiring a junk removal company to haul away your construction and demolition (C&D) debris is fast, affordable, and stress-free.
Hometown is here to help answer your questions so that you can determine if junk removal is the right service for your project.
Jump to:
---
---
Benefits of Hiring Junk Removal for C&D Debris
Junk removal is a versatile service that is tailored to each customers' specific needs, making it an efficient and easy way to get rid of all different types of construction and demolition debris.
Save time, effort, and stress by hiring a junk removal company to haul away debris from a construction, demolition, or remodeling project.
Some of the most common types of C&D debris include:
Bricks
Concrete
Drywall
Glass
Insulation
Metal
Plaster
Plumbing fixtures
Rock
Roofing materials
Soil
Wiring
Wood
Some people prefer to pile up all their items to be removed at the end of their driveway for quick and easy contactless pickup, while other people would rather have a removal company gather the debris from throughout the worksite for a more involved cleanup job.
The advantage of this option is the time-saving aspect and regardless of your needs and preferences, junk removal services are sure to offer a hassle-free solution.
Instead of spending hours cleaning up the worksite, you can work on other projects and leave the mess for your hired service.
It is important for C&D debris to be properly disposed of so that it can be recycled and repurposed into new construction material, and junk hauling services know exactly where and how to dispose of debris in a responsible, eco-friendly manner.
Beyond just that, gathering and hauling C&D debris can be very dangerous if you aren't careful and don't know what to look for.
In addition to being on the heavier side, C&D debris can contain sharp edges, rusty metals, moldy surfaces, etc.
Junk removal services are licensed, insured, and properly outfitted in personal protective equipment (PPE) to make sure that all parties involved are covered and protected.
Continue reading:
---
---
Average Cost of C&D Debris Removal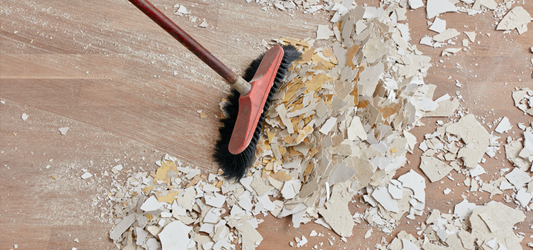 Junk removal minimum fees generally start at around $100 for small pickups and go up from there.
Hiring a junk removal service to haul away the debris from an interior bathroom demolition, for example, would cost $300-$500 on average.
Debris removal costs depend on many different factors, like:
How much debris you have
What kind of debris you have
Presence of hazardous material
How long the removal takes
Where you're located
Who you hire
It's worth comparing the cost of junk removal to dumpster rental when determining the best disposal option for your particular project.
The debris from an average size bathroom remodel or demolition would likely fit in a 10 yard dumpster or a 20 yard dumpster, costing $250-$450 on average.
When costs are similar, going with a junk removal service is likely to be the quickest, most stress-free option.
Learn more:
Find the Best Junk Removal Company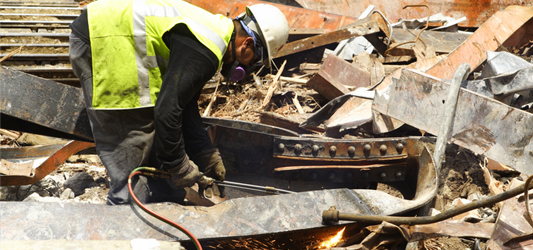 Hometown's number one tip when it comes to choosing the best junk removal company is to hire local!
Not only is hiring a local junk removal service better for your local economy, it oftentimes saves you money.
Hiring a locally-owned and operated company typically means that you will get better customer service and higher quality work because they know that their reputation is what will keep them in business.
But don't just hire the first company you speak with. Price shop multiple junk removal services in your area to compare pricing, availability, and quality of customer service.
Ask these questions when requesting junk removal quotes:
What type of C&D debris do you take?
Will you clean up my worksite or do I need to leave everything at the end of my driveway?
What do you charge for your services?
Will all of my debris fit in one load?
Are you licensed, bonded, and insured?
Will my C&D debris be recycled and repurposed into new construction material or will it be dumped in a landfill?
Are you locally-owned?
How long will the job take and when can you start?
Getting answers to these questions will help ensure you get the best service for the best price.
Finding local C&D debris haulers is simple with Hometown. We make it easy to find local junk removal or dumpster rental services, read verified customer reviews, and request multiple junk removal quotes.
---
---
Keep reading about bathroom remodels: