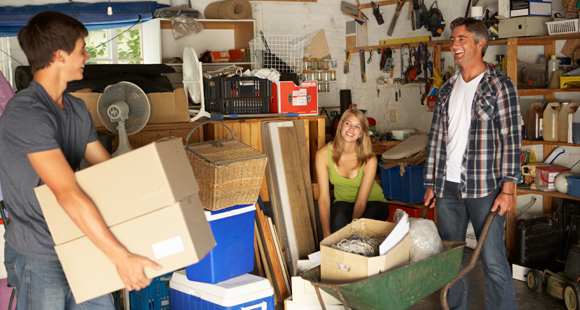 Updated September 18, 2023
Hiring a junk removal service is helpful for estate cleanouts, tenant cleanouts, spring cleaning, appliance removal, furniture removal, yard debris removal, and so many other projects.
The best part about junk removal services is how much extra work it takes off your plate. You don't have to worry about loading, hauling, or disposing of your items because the junk removal crew does it all for you.
If you're trying to decide if hiring a junk removal service is right for you, we'll go over insider's hacks to getting the best junk removal price, as well as alternative ways to get rid of your unwanted junk.
Jump to:
---
---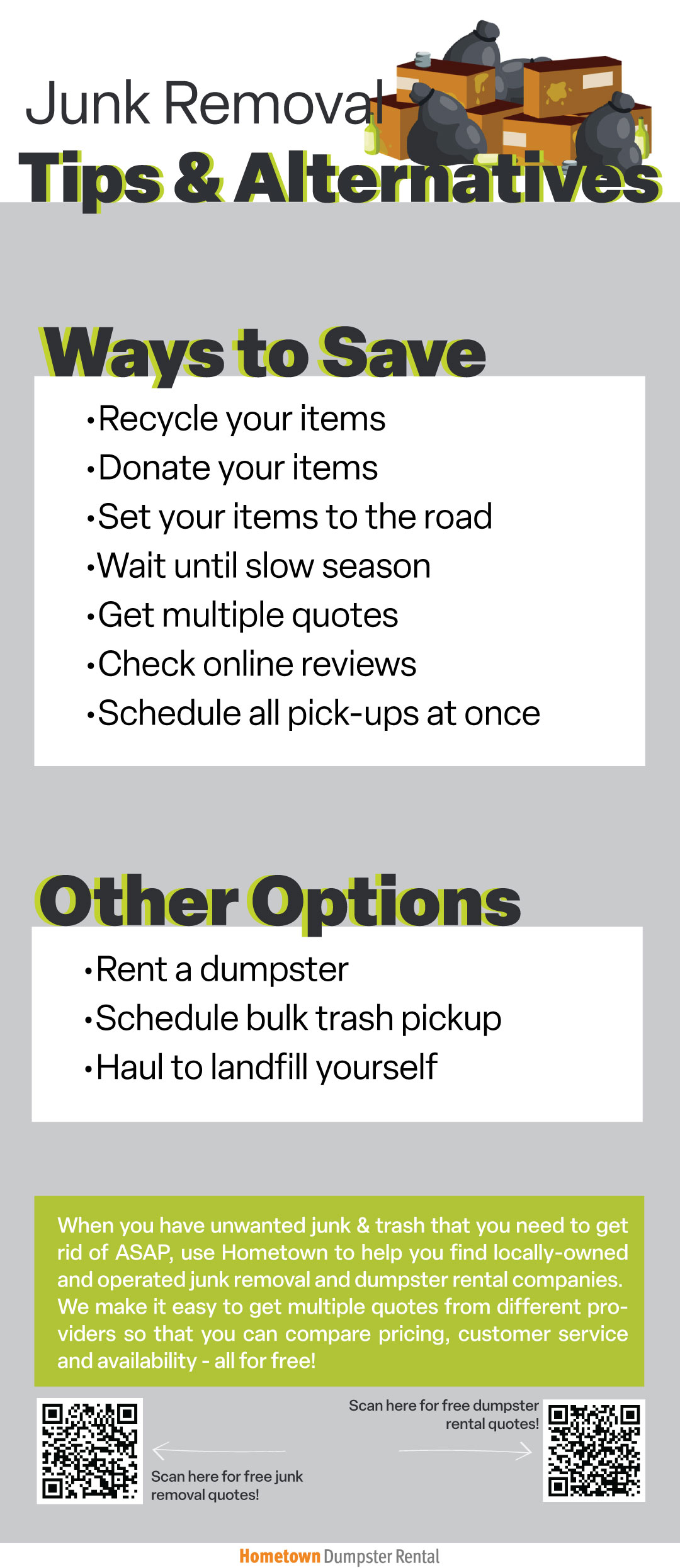 Ways to Get the Best Junk Removal Price
Hiring junk removal services is a fairly simple and straightforward process, but there are things you can do to ensure you're getting a great price and hiring a great service.
Junk removal costs vary greatly from one project (or company) to the next. The cost of living in your area, the type and amount of junk you're having hauled away, ease of access, and who you hire are all factors that will affect how much you can expect to pay for junk removal services.
Most companies have a minimum fee that is reserved for the smallest removals, like a box or two worth of belongings, a single piece of furniture, etc., and they range from $75-$100 on average.
The largest project types are usually hoarding cleanups, and average around $1,000+ per day for the duration of the project.
Read our insider tips below to help ensure you get the best, most affordable junk removal services in your area.
1. Recycle Your Items
In many parts of the country, it is cheaper to take items to a recycling center than it is to dump items at a landfill, usually due to local "green" initiatives.
These cheaper disposal fees are oftentimes passed onto you when hiring a junk removal company.
This is, of course, only an option if the items you're having hauled away are in fact recyclable, like cardboard boxes, yard waste, roofing shingles, glass, scrap metal, concrete, etc.
Learn more: Do Junk Removal Services Recycle?
2. Donate Your Items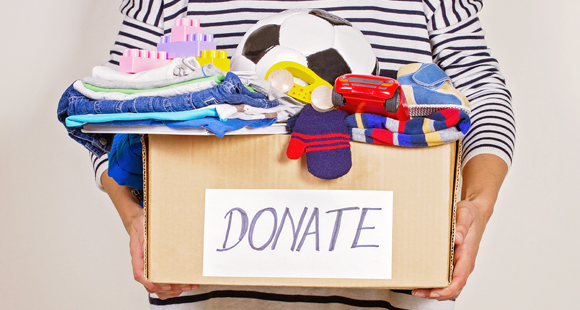 In circumstances where you are having gently used household items or clothing that can be donated to a local donation center, like Goodwill or The Salvation Army, your removal fees may cost you even less.
Be sure to ask the different junk removal companies you speak with how they dispose of the items they haul away.
Most junk removal companies go through and separate the items they haul away so they can take as little to a landfill as possible, but if that isn't their way of doing things, it's better to be aware of that up front.
Some junk removal companies will even provide you with tax deduction paperwork provided by the donation center on your behalf, saving you even more money come tax season.
Keep reading: Donate Your Unwanted Items Easily with Junk Removal
3. Set Your Items At the Road
If you prefer to not have workers in your home to remove your items, setting out your unwanted items to the road can not only make your junk removal service contactless, but it could save you money, too.
Junk removal pricing depends on a number of factors, one of them being labor time.
Being able to quickly pull up to your driveway and load all of your unwanted items at once rather than take several trips in and out of your home can usually be beneficial when negotiating the price of your particular junk removal job.
4. Wait Until the Slow Season
There is always a need for junk removal services year-round, but the warmer months—when more people are tackling household cleaning, renovation, and yard work projects—tend to be the busiest times for hiring junk removal services.
If your project isn't time-sensitive, waiting until the colder winter months may be a strategy for getting a cheaper price, depending on your location.
Continue reading: Take Advantage of Slow Seasons to Tackle Projects
5. Shop Around For Pricing and Availability
The most effective way to get the best price for your project is to get multiple junk removal quotes from providers in your area.
We recommend getting at least three different quotes to ensure that you're not only getting the best price but the best customer service as well.
It's important when calling around for quotes to be as detailed as possible so that the companies you speak with can provide you with the most accurate estimate possible.
Hometown's website makes it quick and easy to find reputable junk removal companies near you.
You can request free quotes from multiple junk removal providers until you find the perfect fit for you and your project.
6. Check Online Reviews
Checking out a company's reviews online can help you when debating which service to go with.
Sometimes going with the cheapest service you can find comes with a different cost, like dealing with unprofessionalism or the company being unreliable.
Make sure to do as much research on each company you consider before making a final decision. If you see people mentioning that their final bill had hidden fees and ended up being more expensive than the initial quote they were given, consider this a major red flag.
The more reviews you can find, the more reliable those reviews tend to be.
Keep reading: 5 Red Flags for Waste Removal and Junk Haulers
7. Schedule Your Pick-up for One Trip
If you have an ongoing, large project, like an estate or foreclosure cleanout, wait until you've gone through everything and know exactly what you need removed before hiring removal services.
If you hire a junk removal company to come clean out a garage only to realize you need the shed or basement cleaned out weeks later, you might be spending more by spacing out your removal projects and requiring multiple trips.
Spend time during the planning process to make sure that you're utilizing your time and resources as efficiently as possible before moving forward.
Getting everything you'd like hauled away removed all at once can end up saving you both time and money.
---
---
Other Ways to Get Rid of Unwanted Junk
If hiring a junk removal service is out of your budget, there are other ways to get rid of your unwanted items.
1. Rent a Dumpster
Dumpsters are great for large clean-up or construction projects and can be a more cost-effective way to get rid of bulk amounts of trash.
If you have the physical capacity to do the heavy lifting yourself, having a temporary roll-off container placed in your driveway during the duration of your project will allow you to get rid of more material for your money.
Most residential cleanup projects can be accommodated with a 10 yard or 20 yard dumpster, which costs around $250-$450 or $350-$550 on average respectively.
Hometown makes it easy to locate dumpster rental companies in your area that provide free quotes.
You can read real, verified reviews and request estimates from dumpster rental services in your area to ensure you get the best price and customer service, as well as the dumpster availability your project requires.
2. Schedule Bulk Trash Pickup
Depending on where you live, your local municipal trash service may offer bulk trash pickups.
Areas that offer bulk trash pickup typically require you to schedule these services ahead of time while other areas only offer it on select dates throughout the year.
Contact your local waste service to find out if this service is available in your area.
3. Haul Items to the Landfill Yourself
Depending on how much waste you have and how far you live from a landfill, hauling junk to the local dump yourself might be cheaper than hiring a junk removal company or renting a dumpster.
It's important to consider gas prices, local landfill fees, and the value of your time when deciding whether or not hauling your own garbage is an efficient solution or not.
If you live 30 minutes from the nearest dump and your accumulated junk will require you to make multiple trips, the price you end up paying to do all the work yourself might not be worth it.
Contact your local landfill for more information on their tipping fees.
---
---
Continue reading: