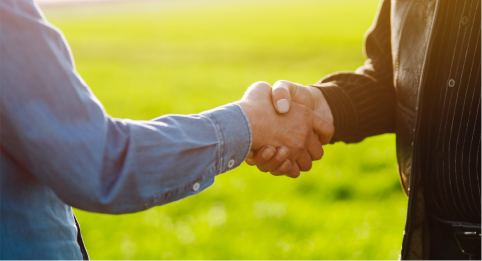 Updated June 29, 2022
Junk removal services are versatile and convenient, making them a great option for a number of different reasons.
While renting a temporary dumpster or buying a bag dumpster are good options for some, hiring a junk removal company is the best choice in multiple different scenarios.
In this guide, we'll discuss the main instances when hiring a junk removal company is a great choice.
Junk removal is great for...
---
---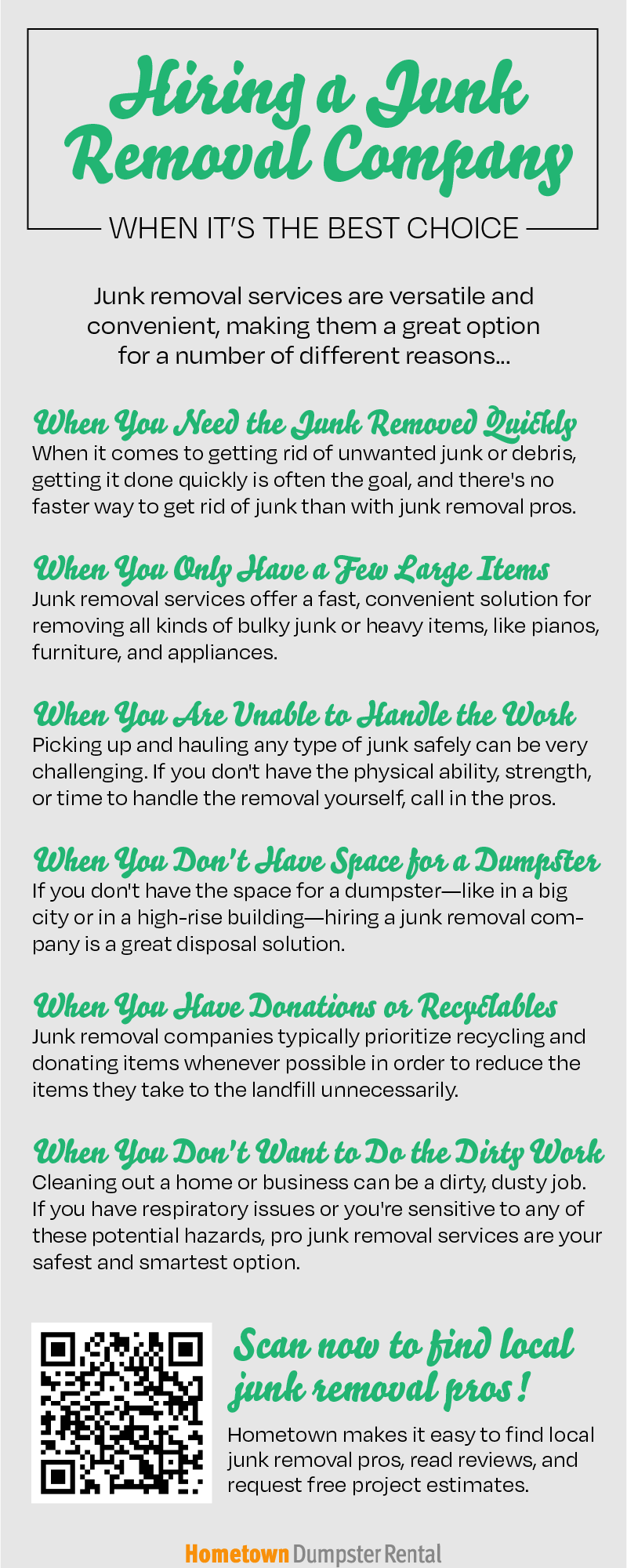 When You Need the Junk Removed Quickly
When it comes to getting rid of unwanted junk or debris, getting it done quickly is often the goal, and there's no faster way to get rid of junk than with junk removal pros.
The key to a successful, reputable junk removal company is their ability to complete each job as quickly as possible.
A vast majority of junk removal projects can be completed in an hour or less.
When You Only Have a Few Large Items
Junk removal services offer a fast, convenient solution for removing furniture, appliances, and all kinds of household junk, debris, or heavy items.
If you have an old couch, large piano, old appliances, or other bulky items you want to get rid of, trust Hometown to help you find local haulers in your area.
Bulky items, like furniture and appliances, are typically awkward shapes and sizes, making it hard to fit multiple large items in a small dumpster.
When You Are Unable to Handle the Cleanup/Removal Yourself
Picking up and hauling any type of junk safely can be incredibly challenging, and doing so isn't an option for many people.
If you don't have the physical ability, time, or strength to handle all your junk removal yourself, call in the pros to help.
Junk removal companies specialize in safely and efficiently removing junk so you don't have to worry about any of the heavy lifting.
When You Don't Have Space for a Dumpster
Not everybody has a driveway or street parking that will allow them to easily park a dumpster, even for a day.
If you don't have the space for a dumpster, hiring a junk removal company is a great disposal solution.
For example, if you live in a busy city or in a high-rise building, junk removal may be the better option for the sake of space.
When You Have Donations or Recyclable Items
Junk removal companies typically prioritize recycling and donating items whenever possible.
If you're donating large furniture or multiple items still in good shape, junk removal services are an ideal way to get rid of them.
In addition, junk removal companies will often provide you with a donation receipt.
When You Don't Want to Handle the Dirty Work
Cleaning out a home or business can be a dirty, dusty job.
There are several health and safety hazards that can result from a cleanout, including:
Increased allergens
Potential exposure to insect, pest, or rodent feces
Presence of mold, lead, or asbestos
Tripping hazards
Dehydration
If you have respiratory issues or you're sensitive to any of these potential safety hazards, professional junk removal services are your safest and smartest option.
Junk removal pros have the personal protective gear and safety training needed to complete a cleanup project safely.
---
---
Learn more: