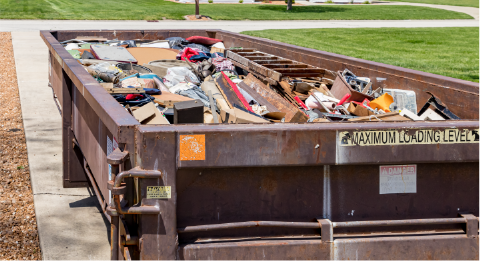 Updated June 22, 2022
Dumpster rentals are incredibly versatile and can handle a wide range of debris, from household junk to concrete, brick, and more.
Loading literal tons of junk and debris can be dangerous, and if not done properly, can lead to disaster, which is why dumpster companies enforce strict loading rules with their dumpsters.
The first—and arguably most important—rule when loading a dumpster is to never fill your dumpster above its "fill line."
This is because the debris inside the dumpster can fall out of the dumpster in transit, becoming a danger to other drivers on the road.
Not only should your load not exceed these height limitations, but there are also weight limitations to consider, too.
The dumpster truck can only safely lift and haul a certain amount of weight, which is why your dumpster rental price will include a certain amount of weight.
If you go over your dumpster's weight allowance, you'll be charged for the additional weight.
Safety is always a top priority for dumpster companies, not just when dropping off the dumpster and picking it up from your home or business, but also to and from the landfill or recycling facility.
If you're looking to rent a dumpster, let Hometown help you find the right roll-off container size and the right dumpster rental company.
We make it easy to find local dumpster rental companies, read more about each company, see what their customers have to say about them, and easily request free, no-obligation quotes from as many companies as you'd like.
Getting more than one dumpster rental estimate will help ensure you pay a fair price for great services.
---
---
Keep reading: