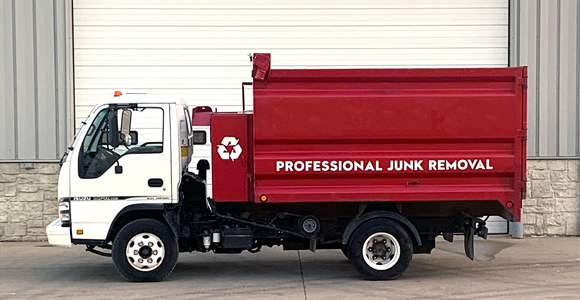 Updated November 15, 2022
Whether you have a couple pieces of furniture to get rid of or an entire home's worth of belongings you'd like hauled away, junk removal companies have the equipment, experience, and manpower to get it done.
If you've never used these services before, you may be wondering how big junk removal trucks are, how much of your stuff will fit in one, and how much you can expect to pay.
This guide will outline all of this to help ensure you're prepared for your junk removal project and are not surprised by anything.
Jump to:
---
---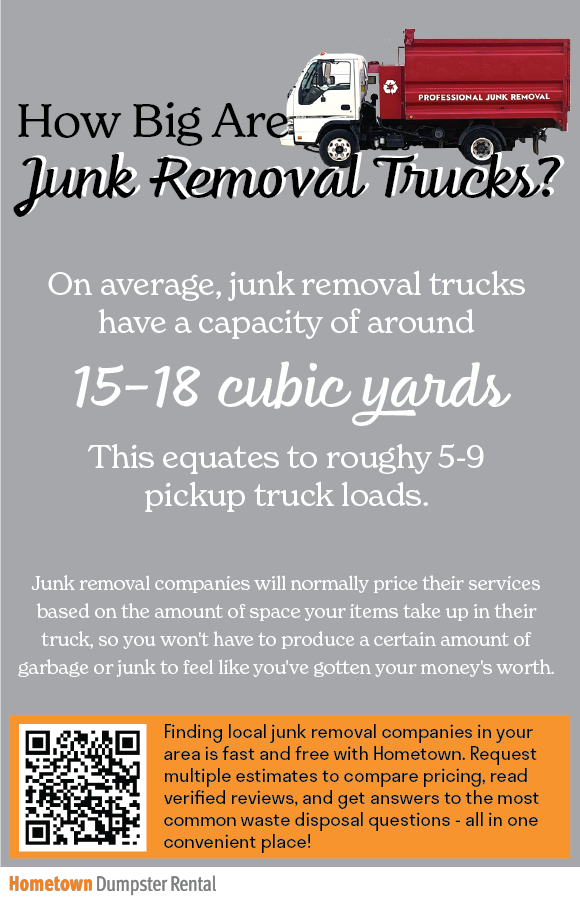 Average Size of Junk Removal Truck
The average junk removal truck is around 10-12 ft long x 7-8 ft wide x 5-7 ft tall.
While there is no set industry standard for how small or large a junk removal truck can be, they typically hold between 15-18 cubic yards on average.
To put it in perspective, you can expect a junk removal company's truck to be able to hold approximately 5.5-8.5 pickup truckloads worth of items, so it's easy to see why hiring a junk removal company is significantly more efficient than doing it yourself with a pickup truck.
How It Affects Price
Junk removal companies will normally price their services based on the amount of space your items take up in their truck, so you won't have to produce a certain amount of garbage or junk to feel like you've gotten your money's worth.
For example, if a junk removal company uses a truck that holds 15 cubic yards of waste but your items only occupy around 5 yards of waste, you'll owe less than if you were to take up more space, like 10 or 15 yards.
This sliding scale, paired with the heavy lifting and loading performed by the junk removal crew, makes hiring a junk removal company a more attractive option than renting a dumpster for people who have 7 or less cubic yards worth of material to get rid.
Visualizing how much space your items will take up in a junk removal truck or dumpster rental can be a difficult task, so we've put together several easy-to-read guides to help consumers make informed disposal decisions.
Learn more:
When you're ready to find local junk removal companies near you, fill out Hometown's fast and simple quote request form.
You'll be able to send out free quote requests to multiple companies near you, all within a matter of minutes.
---
---
Continue reading: