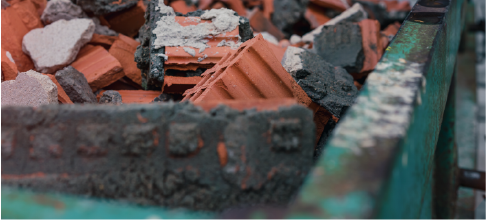 Updated February 23, 2023
Dumpster rentals come in a variety of sizes, and each size is measured in cubic yards.
Knowing how to estimate your junk or debris in cubic yards will make it easy for you to choose the right dumpster size for your project.
A cubic yard measures 1 yard L x 1 yard W x 1 yard H.
1 yard is 3 feet, so 1 cubic yard is 27 cubic feet.
The most common dumpster sizes include:
Oftentimes, these container measurements are shortened to just 10 yards, 15 yards, 20 yards, 30 yards, and 40 yards.
---
---

To get a better idea of exactly how much junk or debris fits into a cubic yard and the most popular dumpster sizes, we've broken it down into various visuals for you:
10 Cubic Yard Dumpster
3-4 pick-up truck loads
90-135 wheelbarrow loads
55-65 33-gallon trash bags
Learn more:
15 Cubic Yard Dumpster
4-5 pick-up truck loads
135-202 wheelbarrow loads
82-98 33-gallon trash bags
Keep reading: Why 15 Yard Dumpsters Are the Right Size for the Right Cost
20 Cubic Yard Dumpster
6-8 pick-up truck loads
180-270 wheelbarrow loads
110-130 33-gallon trash bags
Find out more:
30 Cubic Yard Dumpster
8-10 pick-up truck loads
270-405 wheelbarrow loads
170-190 33-gallon trash bags
Read on:
40 Cubic Yard Dumpster
12-16 pick-up truck loads
360-540 wheelbarrow loads
230-250 33-gallon trash bags
More reading:
---
---
Learn more: