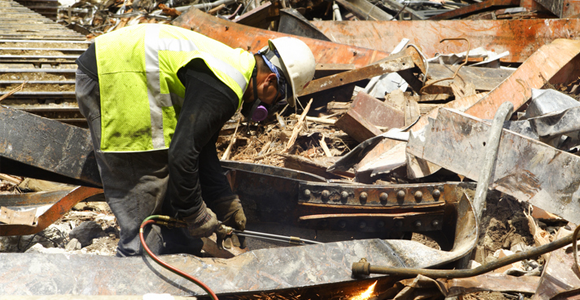 Updated March 21, 2022
If you have a pile of scrap metal that you don't have the time or resources to haul to a scrap yard yourself, hiring a junk removal company is a fast and easy solution.
Scrap metal is rarely accepted by weekly municipal trash pickup services and even if it is, metal should be recycled rather than thrown into a landfill.
Unlike other types of trash, metal does not easily break down organically and will sit in a landfill for 50-500 years.
New materials are expensive to make, and landfill space is extremely valuable, which is why all scrap metal should be recycled.
Recycling reduces the amount of waste that ends up in landfills, saves energy, and offsets the environmental impact of new material production and the consumption of virgin materials.
That said, recycling your scrap metal doesn't have to be an exhaustive process.
Getting rid of your unwanted scrap metal can be done in a matter of minutes with the help of a junk removal company.
The junk removal process is simple:
Enter your zip code on Hometown's website and answer a few quick questions about your removal project.
Request free estimates from the junk removal companies that service your area (we recommend getting at least 2-3 different junk removal quotes).
Once you find a junk removal company with the pricing and availability that works for you, arrange a date and time for them to come and remove your scrap metal.
The junk removal company will send a small crew, usually 2 people, to come remove your unwanted items within a matter of minutes (depending on how much material you have).
The crew will haul your items off to a scrap yard or recycling center and then send you a final bill to be paid after they perform the removal.
No two junk removal companies are the same, but most will accept metal like copper, bronze, brass, stainless steel, iron, tin, aluminum, and more.
Junk removal companies can haul away and recycle all types of items, so decluttering your home before they come so they can haul away even more unwanted items is a great project worth considering.
The price you will pay for your removal project will vary based on a number of different factors, like the type and amount of items that are hauled away, time of year, where you live, and who you hire.
If you have a large amount of metal to remove, renting a dumpster may be a more cost effective option, but it requires you to do the heavy lifting and loading.
---
---
Learn more: