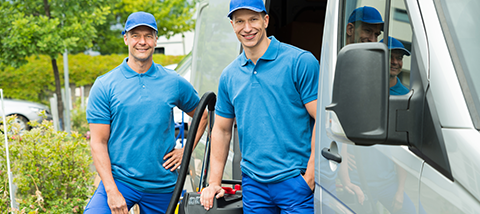 Updated July 9, 2023
Hiring a junk removal service is the most convenient way to get rid of bulk amounts of junk, trash, debris, appliances, yard waste, and more.
It's important to do your research if you want to ensure you get the best price and customer service when hiring these services.
Finding locally-owned junk removal services is easy with Hometown, but once you find companies in your area, what should you call and ask?
We've put together a list of all the questions you should have answers to before hiring a junk removal service.
We'll answer:
---
---

What type of junk do you take?
Most junk removal companies will try to accommodate your disposal needs, but what they are willing to accept might depend on your local landfill laws.
It's important to be as detailed as possible when speaking with a potential service provider so that you ensure they will be able to remove everything your project requires.
Read on: What Junk Removal Companies Will and Won't Take
Will you come into my home or do I need to leave everything at the end of my driveway?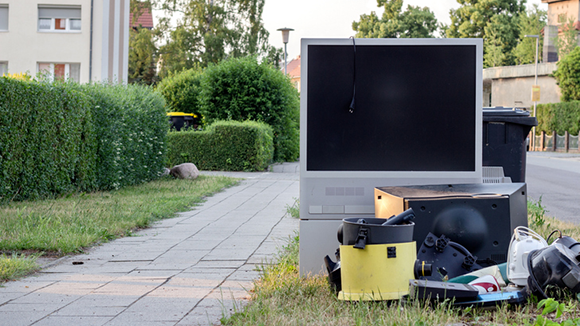 If you don't have the proper manpower to put all of your unwanted items in one central location for pickup, like the end of your driveway, you'll want to make sure that the junk removal company is able and willing to come into your home to do the heavy lifting for you. This is standard practice and is not typically an issue, but communicating your expectations are key to a smooth junk removal service.
If you do have the ability to pile up all your items for pickup at the end of your driveway, ask the junk removal company if they will provide you with a discounted rate. Some companies will reward customers who make their loading process easier.
Learn more: 4 Ways to Save on Junk Removal Costs
What do you charge for your services?
Ask the junk removal company how they structure their pricing.
If you only have a few pieces of furniture or an appliance you need hauled away, ask what they charge for small loads.
Learn more:
Do you provide free estimates?
It is standard practice for junk removal companies to provide a free quote, and oftentimes, this is done in person.
The traditional method for providing a junk removal quote is to come on-site to evaluate the project in person. If the customer accepts the quote, they typically begin the removal on the spot.
Some companies are able to speak with you over the phone and provide a quote if you send a phone for them to assess.
If you speak with a junk removal company that denies your request for a free quote, we highly recommend steering clear and finding someone else in your area that will communicate their pricing.
Keep reading:
---
---
Will all my items fit in one load?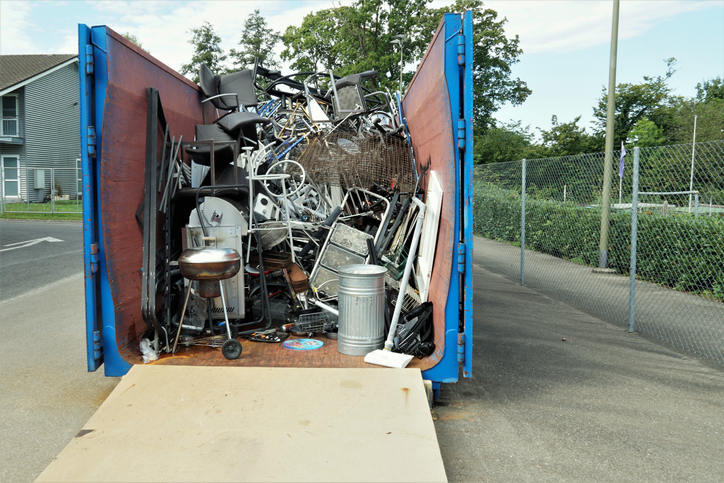 Ask the junk removal company how large their vehicle is and how much junk it can accommodate. If their truck needs to make multiple trips, ask them if they charge per trip.
If you have a large amount of junk that needs to be removed, finding a company with large hauling capabilities will be important when it comes to your final bill, helping you avoid additional fueling charges.
Are you licensed, bonded, and insured?
It's important to make sure that the junk removal company you hire is a legally operating and licensed business in your state.
Anyone trying to operate a business without a business license is a huge liability to you and your property, not to mention suggests very dishonest business practices.
Making sure the company is bonded is important in making sure that you are not held financially responsible for any work that the company fails to perform properly.
Insurance is equally as important, making sure to protect you from any harm or damage caused to you, a worker, and your property.
Continue reading: Why You Should Hire a Licensed and Insured Junk Removal Company
How will you dispose of my junk?
Many junk removal companies take special care in their method for disposal, making sure to separate and recycle as much as they can. If you have items still in good condition, they may also donate your unwanted items to local resell shops or charities on your behalf.
Better yet, some may even provide you with a tax deduction slip in the amount of your unwanted, donated items.
With so many companies offering these environmentally-friendly disposal options, it's worth shopping around to make sure that your load doesn't end up in a landfill if you can avoid it.
Read on:
Are you locally-owned?
When it comes to junk removal services, hiring a local company is not only better for your local economy, it oftentimes saves you money.
Additionally, hiring a locally-owned and operated company typically means that you will get better customer service and higher quality work because they know that their reputation is what will keep them in business.
Keep reading:
How long will the job take and when can you start?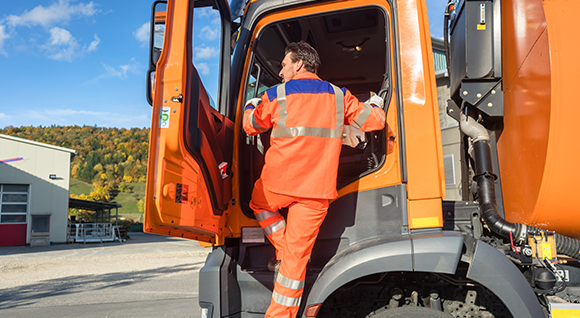 If you're in a time crunch, availability might be one of the most important requirements for you.
If the price is right but their timeframe is wrong, call other junk removal services until you find one that can fit your project schedule.
Finding local junk removal companies in your area is fast and easy with Hometown. Our single quote request form makes it convenient to get multiple junk removal quotes that allow you to compare each company's pricing, customer service, and availability.
By simply entering your zip code and answering a few short questions about your junk removal needs, you can choose up to 3 providers in your area to get free junk removal quotes from. We'll even match you up with local services if you don't feel like looking through their profiles yourself.
At Hometown, we know the type of quality service you deserve, and we offer the quickest and easiest way to compare all your options in one easy-to-use place.
Try our free quote request form today and have your unwanted junk hauled away in no time!
---