Updated March 13, 2023
So, you just requested a quote—ideally multiple quotes—from a junk removal service provider with Hometown.
At Hometown, our quote request form makes the process of getting free estimates from local junk removal companies easy.
Now that your request is submitted, you should receive a text confirming that your quote request was received and letting you know that a service provider will contact you if they decide to accept your request and agree to provide a quote.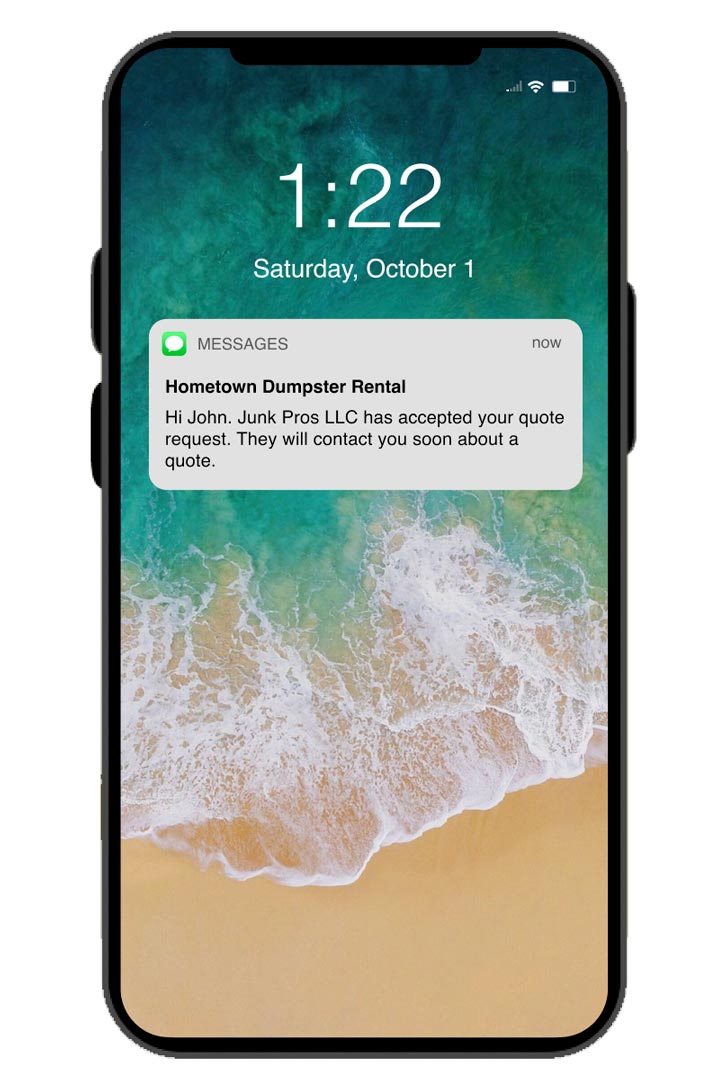 After you receive this confirmation text message, you can expect to be contacted by junk removal companies as soon as a matter of minutes or within one business day.
We send your quote request to the service provider you requested (and/or other local service providers providing junk removal services in your area) by text message and email.
The service provider(s) you requested a quote from will then follow up with you directly to provide a quote if possible or to arrange an appointment to come to your home or business to assess the project in person and provide a quote.
Typically, the company needs to come on-site to provide a quote because they need to see what junk needs to be removed, approximately how much space it will take up in their truck (this is how most companies price their junk removal services), any access issues they'll need to figure out, etc.
At Hometown, we don't think customers should have to spend their valuable time looking for local junk removal providers, requesting quotes, and chasing down pros. Instead, we do the legwork for you.
If a service provider you reach out to doesn't wish to quote the junk removal or they don't quickly confirm their desire to quote the job, we automatically send your quote request to another local junk removal company on your behalf.
We repeat this process until you receive the number of quotes you requested, whether it's one, two, or three quotes.
In most cases, we're able to get your requested number of quote requests from local companies willing to quote the junk removal in a matter of hours.
Note: Many local businesses are owner-operated, which means they may be working on another junk removal job when they receive your quote request, and may be unable to immediately respond.
However, they typically respond within a matter of hours and almost always provide the best customer service and the best deals for their services.
We always recommend getting three quotes in order to increase your chances of hiring the best company in your area, paying the best price, and getting the junk removal services you need when it's most convenient for you.
When you receive a quote from a service provider, you are in no way obligated to hire them.
Take as much time as you need to compare each quote accurately, as not all companies prepare their quotes the same way.
Because of this, it's important to be sure you know what information to look for so you can make an informed hiring decision.
For starters, qualified junk removal companies are always transparent about what is included in their junk removal costs, like what is included in the total cost, the items they will remove, whether or not they can recycle or donate any of the items (which in turn saves you money), etc.
So the service provider's estimate, at the bare minimum, should outline the cost of the junk removal, the items/work included in this junk removal cost, and any additional rules and charges that may be applied if these rules are not followed or the project changes in any way.
With that being said, comparing junk removal quotes should involve the comparison of more than just price.
Other factors to consider when hiring a junk removal company, other than price, include:
Customer service: Does the company exhibit good communication skills and a willingness to answer your questions?
Experience: Does the company have experience providing junk removal service and the current ability and licensing to do so?
Flexibility: Does the company work with you to meet your junk removal needs?
Professionalism: Is the company respectful and punctual?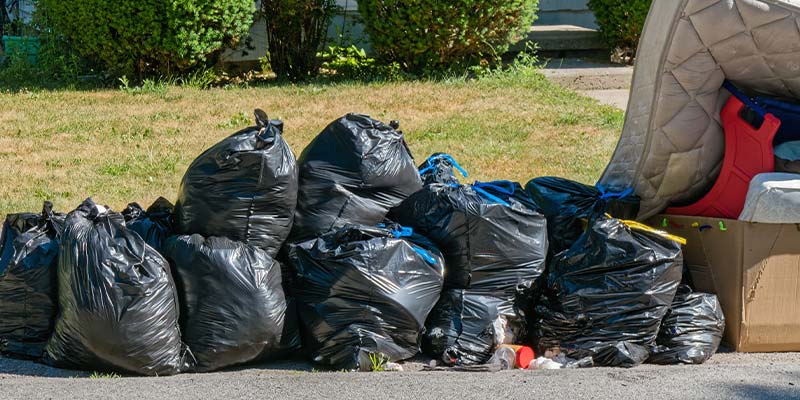 Getting multiple estimates from junk removal providers before hiring helps to manage any risks associated with hiring any type of company, and it can end up saving you a lot of money and stress.
If you're unsure about any aspect of a junk removal estimate, ask the company to clarify it before signing anything.
If that company is unwilling to provide a thorough estimate or answer your project questions, we consider this a red flag and recommend finding another, more qualified junk removal provider.
Once you have full understanding of the junk removal quotes you received, you can determine who to hire and schedule your junk removal. (Oftentimes, the junk removal is handled the same day the in-person junk removal quote is provided, unless otherwise requested by the customer.)

Then, your junk removal will proceed as discussed with your service provider. Once completed, you'll be given the final invoice, which you can pay in person or over the phone in most cases.
Keep reading: