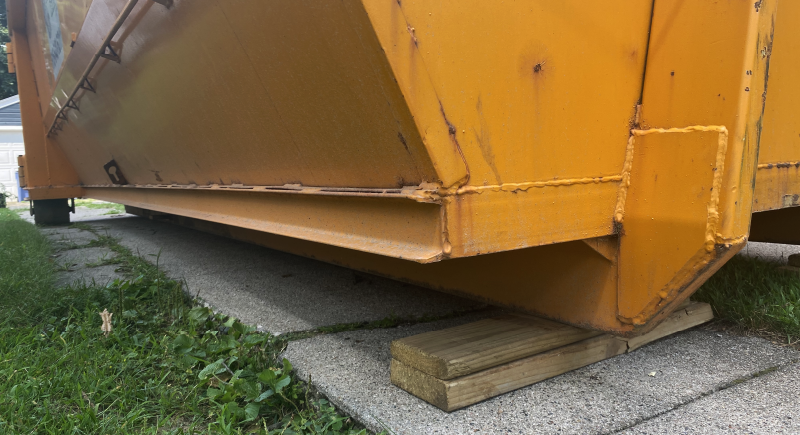 Updated January 19, 2023
When you have large amounts of trash, junk, or debris to get rid of, having a dumpster placed in your driveway or parking lot temporarily is one of the most convenient and affordable disposal solutions.
The size and weight of a dumpster can make new customers concerned about the safety of their driveway, but there are safety measures that can be taken to ensure your concrete or asphalt driveway is protected from any potential damage.
In this article, we'll describe the most popular methods reputable dumpster rental companies use to protect their customers' driveways from potential damage.
Note: Not all dumpster rental companies go the extra mile in this way. In most cases, concrete can handle a dumpster without incurring any damage. Asphalt, on the other hand, is softer and more easily damaged, especially on hot days, so it will require additional care. Be sure you ask the dumpster companies you speak to about whether or not they take this extra step to protect your driveway.
Jump to:
---
---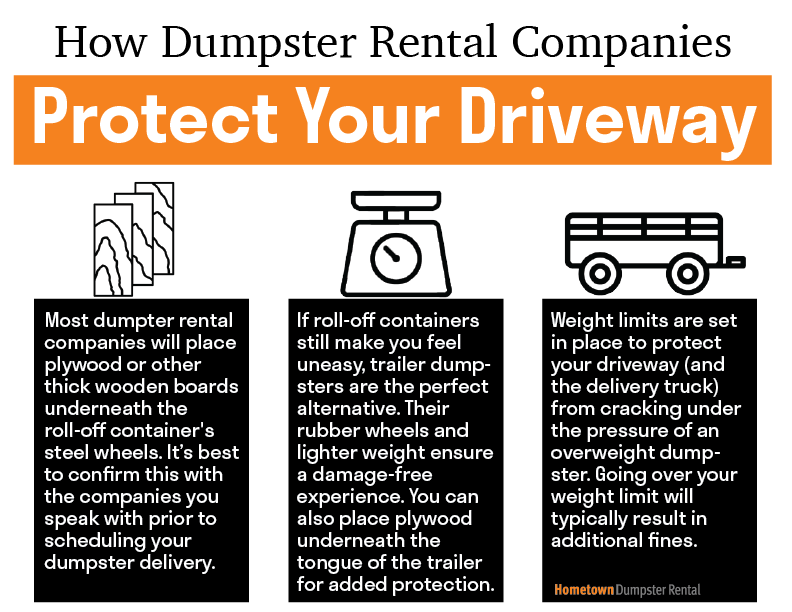 Plywood/Wood Boards
One of the easiest ways to protect a driveway from damage when delivering a dumpster is to place plywood or other thick wood boards underneath the roll-off container's steel wheels.
Oftentimes, these are provided and placed by the delivery driver and there is nothing that needs to be done on your part.
As previously mentioned, it's best to confirm this when reaching out to different dumpster companies prior to hiring.
If the company you hire does not provide them, plywood or other wood boards can easily be found at local hardware and lumber supply stores.
Or, you can find a different company that will provide these.
The best way to find the best dumpster company in your area is by searching on Hometown.
We make it easy to find and request free quotes from licensed, insured, and locally-owned dumpster companies that service your zip code.
Getting multiple quotes gives you the best opportunity to compare and contrast a company's quality of service, availability, and costs.
Weight Limits
Reputable dumpster rental companies will have weight limits in place based on the dumpster size you rent.
Dumpsters include weight limits for several reasons:
To protect your driveway from cracking under the pressure of an overweight dumpster
For the safety of the driver and others on the road
To ensure no damage is done to the dumpster truck
To ensure the dumpster doesn't lose profit on your rental
Going over your weight limit will result in additional overage charges and will vary from company to company.
The average cost of dumpster overage fees are around $75-$100 per ton over the weight limit.
Keep reading: How to Estimate the Weight of a Dumpster Load to Avoid Overage Fees
Rubber Wheels
If you're concerned that these steps aren't enough to protect your new or fragile driveway, a rubber-wheeled trailer dumpster is likely the best container type for your project.
Trailer dumpsters sit on rubber wheels rather than the steel wheels you'll find on traditional roll-off containers.
Rubber wheels provide added protection to your driveway and weigh far less than the average vehicle.
Placing wood underneath the tongue of the trailer is an added step that will ensure the properly placed dumpster won't do any harm to your concrete driveway.
---
---
Read more: