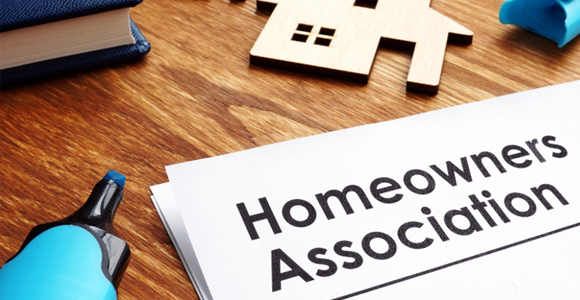 Updated March 28, 2022
Homeowner's Associations (HOAs) generally have rules and regulations regarding disposal services, including dumpster rentals.
This doesn't mean you can't rent a dumpster within HOA neighborhoods, but there are rules to follow.
These rules may vary slightly depending on your specific HOA, but we'll cover the basics and offer some tips when it comes to renting a dumpster and staying HOA-compliant.
Always check the HOA guidelines or reach out to your neighborhood HOA contact to ensure the rules are followed when renting a dumpster for a home project.
In this guide, we'll discuss:
---
---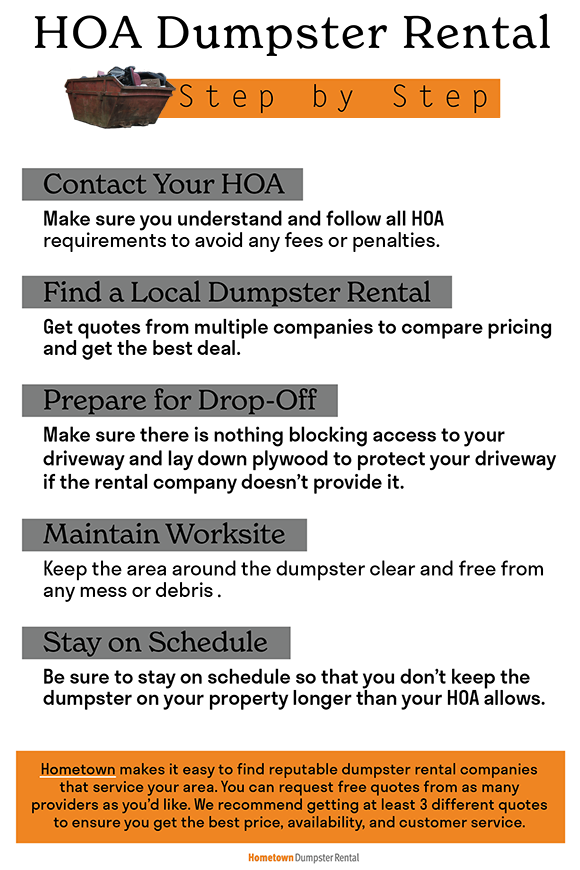 Common HOA Rules
The dumpster must be placed a specified number of feet from the road, or it must not be in public view.
The dumpster can be placed on-site for no more than the specified number of days (e.g., 7 days).
Certain types or sizes of dumpsters may not be allowed, like large 30 yard or 40 yard dumpsters.
The site around the dumpster (and the worksite in general) should remain clean and free of all debris.
HOA policies sometimes regulate dumpster rentals in order to keep eyesores at a minimum.
Abide by HOA guidelines by renting a clean, well-kept dumpster for no more than the specified time and positioning the dumpster on your property appropriately to avoid any issues.
Typical Dumpster Permit Requirements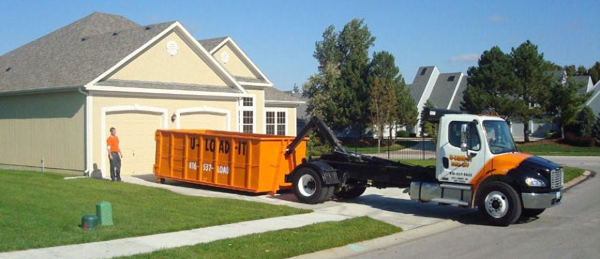 HOA's do not regulate whether or not a dumpster permit is required.
Instead, the city you live in regulates dumpster permit requirements.
Permit requirements vary by location but here are some common guidelines:
A permit is required if you wish to place the dumpster in the public right of way (e.g., city street). *Please note, this may not be allowed by your HOA.
You will not need a dumpster permit if the dumpster is placed on your property (e.g., driveway).
Learn more:
---
---
HOA Dumpster Rental: Step by Step
Contact your HOA and discuss the guidelines. This will ensure you get the proper dumpster size and have it positioned in the proper location and for no longer than the duration of time specified by the HOA.
Contact local dumpster rental companies to get free quotes. Choose the rental provider that best suits your budget and schedule.
Prep your driveway for dumpster placement. This includes moving vehicles out of the way and making access to the site easy for the roll-off truck.
Keep the area around the dumpster clean during loading. This will likely be required by your HOA, but it's best practice for safety purposes to keep a tidy worksite either way.
Contact the dumpster rental provider for pick-up when you're done. Be sure you follow your HOA guidelines pertaining to the length of time you can have the dumpster on your property.
Renting a residential dumpster in HOA neighborhoods is not much different than any other situation, with the main difference being to contact the HOA before booking the dumpster to ensure all the guidelines are followed.
Every HOA is a little different, so do your due diligence.
A reputable dumpster rental company can also help, as they will have experience working within HOA guidelines in your area.
Once you understand the HOA policies, you can search for local dumpster rental companies, read customer reviews, and request as many free quotes as you'd like via Hometown.
---
---
Learn more: