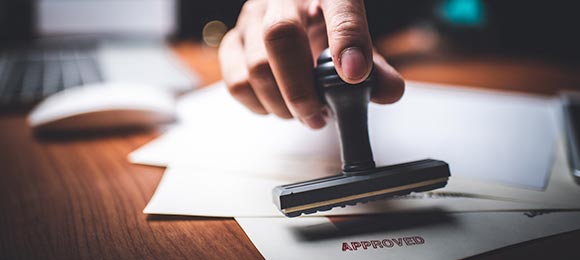 Updated October 25, 2021
Getting a dumpster permit is one of the potential requirements of renting a roll-off dumpster.
This guide will cover all aspects associated with obtaining a dumpster permit including how to determine if you need one, dumpster permit costs, and the steps necessary to secure a permit.
Jump to:
---
---
When You Need a Dumpster Permit
If the dumpster is to be placed on your driveway or somewhere on your personal property, a dumpster permit is likely not necessary.
When having the dumpster placed on a city street, alley, sidewalk, or another public right-of-way, you will need to get a permit from the city.
The government department to contact is your local Public Works, Engineering, or Building Department.
You can find this information at your city's website or you can call their office if you aren't sure which department handles dumpster permits.
Some local governments do not refer to them as dumpster permits and instead may call them right-of-way permits, road occupancy permits, etc.
Most dumpster rental companies will get these required permits on your behalf, but this is subject to your local laws and requirements.
Reputable dumpster rental companies in your area will be a great resource to help you determine whether a permit is required in your particular case or not.
Permit Requirements Vary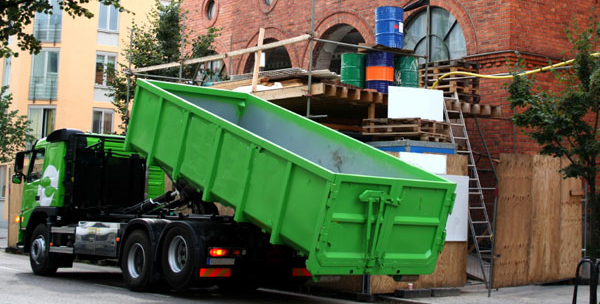 It's important to do your due diligence prior to renting a dumpster because rules and regulations vary from city to city.
Your dumpster rental provider is a great source of information in this regard.
A few examples of how dumpster permit requirements vary by location:
As you can see, dumpster permit requirements are different based on each city's rules and regulations.
Be thorough when getting quotes from providers and be sure you follow all the necessary rules.
For example, cities often require the permit be fixed to the dumpster itself in plain view.
Many cities also require that the dumpster be placed a specific distance away from fire hydrants, bus stops, and public utilities.
Another common requirement is having to place cones or some sort of warning sign/barricade on either side of the dumpster when placed on the street.
Dumpster Permit Cost
The cost of a dumpster permit varies but oftentimes falls between $10 and $25 per week.
Of course, your city may charge less or more, so be sure to check with the office in charge of granting permits.
Daily, weekly, monthly, or annual fees are common.
Choose the fee structure that coincides best with your rental period.
For instance, if you have a 7-day rental duration, purchase a 7-day dumpster permit.
Continue reading:
---
---
Potential Fines
Not following the city's rules and regulations governing dumpster use in the public right-of-way will subject you to fines.
Fines can cost $200+ per day in some jurisdictions and if the offense is not addressed, repeated fines will increase and the penalties will become more severe.
Abide by the rules and regulations and be prompt in filling your dumpster to avoid any risk of getting fined by your local jurisdiction.
How to Obtain a Dumpster Rental Permit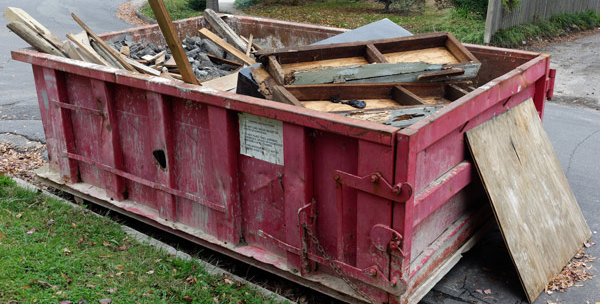 Getting a dumpster permit is a simple process in most jurisdictions.
In fact, some cities require the dumpster rental company to pull the permits for the customer.
Even in cities that don't require this, the dumpster provider can be a helpful source of information when it comes to pulling dumpster permits.
Ask the dumpster rental company if a permit is necessary for your case.
If the dumpster is to be placed in the public right-of-way, a permit is required.
If the dumpster rental company doesn't handle the permitting requirements for you, contact your local city hall via phone, online, or in person.
Once you've connected with the permitting department, locate and fill out the dumpster permit form.
Many cities offer online dumpster permit form submissions.
It's not uncommon for the permit approval process to take 3+ days, so plan ahead and schedule the dumpster drop-off accordingly.
Abide by the rules spelled out on the permit form and/or the information communicated to you by the staff at the permitting office and the dumpster rental provider.
Contact the dumpster rental provider to ensure all requirements are met and rules are followed.
Once the dumpster is dropped off, fill it up and have it hauled away before the dumpster permit expires.
If you need more time, you will need to contact the permitting office and find out how to get an extension.
Be aware that fees will typically apply for a permit extension.
Start your search now for local dumpster rental companies in your area with Hometown.
Hometown makes it easy to find and contact local, reputable waste haulers.
You can read about other customers' experiences with our verified reviews so that you can make the best, most informed decision.
Request free quotes from multiple providers near you to price compare and to make sure you get the best customer service possible.
---
---
Learn more: