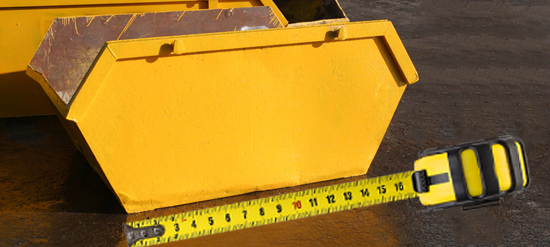 Updated December 16, 2022
Choosing a dumpster that's too small for your project can end up costing you in overage fees, or worse, force you to rent a second dumpster to finish the job.
Learn about dumpster sizes and how much they hold with the help of our infographics.
You can refer to these infographics the next time you need to rent a dumpster for your next garage cleanout, spring cleaning, remodeling project, roofing project, yard debris cleanup, or another job.
Jump to:
---
---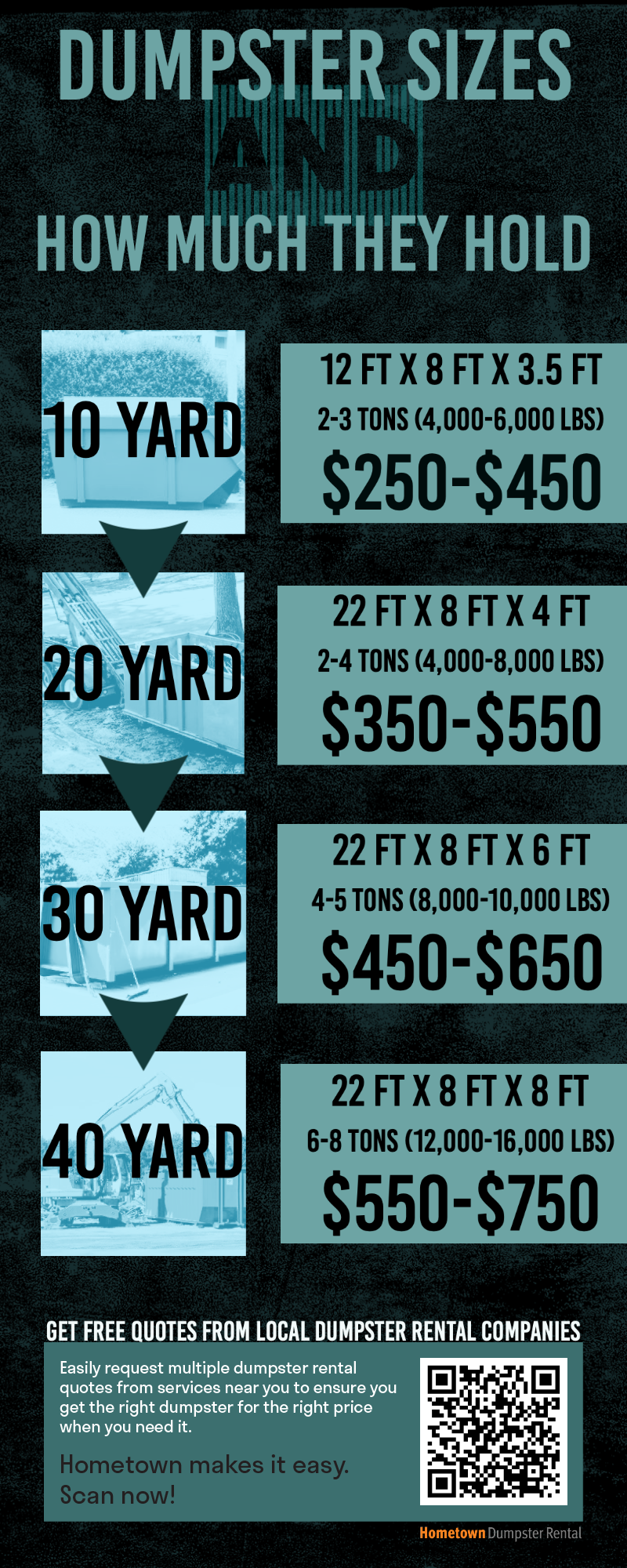 Average Dumpster Dimensions, Weight Allowances, and Costs
Dumpster sizes, weight allowances, and costs can vary from company to company, but these nationwide averages can help give you an idea of what to expect when deciding which size will work best for you.
| | | | |
| --- | --- | --- | --- |
| Size | Dimensions | Weight Allowance | Cost |
| 10 Yard | 12 ft x 8 ft x 3.5 ft | 2-3 tons (4,000-6,000 lbs) | $250-$450 |
| 20 Yard | 22 ft x 8 ft x 4 ft | 2-4 tons (4,000-8,000 lbs) | $350-$550 |
| 30 Yard | 22 ft x 8 ft x 6 ft | 4-5 tons (8,000-10,000 lbs) | $450-$650 |
| 40 Yard | 22 ft x 8 ft x 8 ft | 6-8 tons (12,000-16,000 lbs) | $550-$750 |
Continue reading:
Understanding Cubic Yards
To better understand the different sizes that dumpsters come in, you need to first understand what exactly a cubic yard is.
One cubic yard is equivalent to an area of 3 ft x 3 ft x 3 ft, or 27 cubic feet.
So, a 10 yard dumpster is equivalent to 270 cubic feet, a 20 yard dumpster is equivalent to 540 cubic ft, and so on.
Learn more here: How Much Is a Cubic Yard?
---
---
Projects That Each Dumpster Size Can Accommodate
If you'd rather not do any calculating, this list of will give you an idea of what common projects each dumpster size can accommodate, so you can choose the right size for you.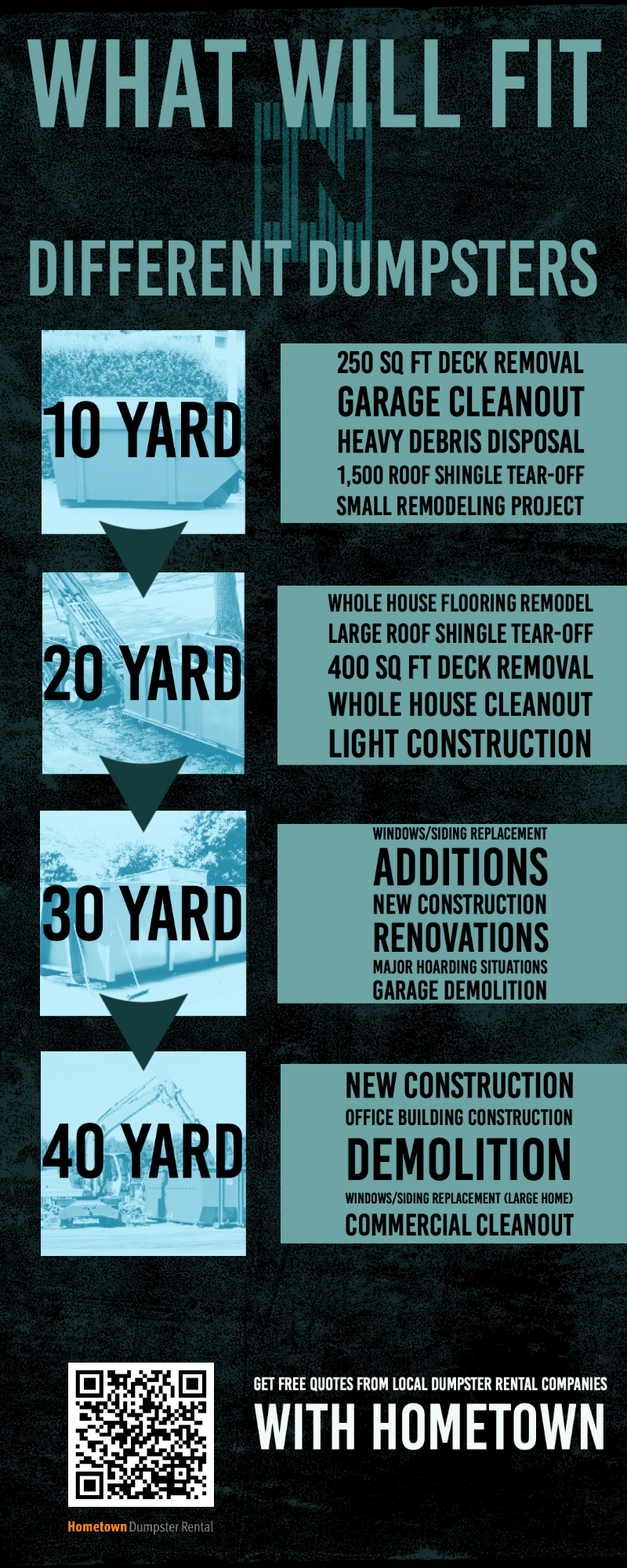 10 Yard Dumpsters
250 sq ft deck removal
Garage cleanout
Heavy debris disposal
1,500 roof shingle tear-off
Small remodeling project
20 Yard Dumpsters
Whole house flooring remodel
Large roof shingle tear-off
400 sq ft deck removal
Whole house cleanout
Light construction
30 Yard Dumpsters
Windows/siding replacement
Additions
New construction
Renovations
Major hoarding situations
Garage demolition
40 Yard Dumpsters
New construction
Office building construction
Demolition
Windows/siding replacement (large home)
Commercial clean out
---
---
Understanding Overage Fees
Overage fees can greatly increase the price you pay for your dumpster rental if you aren't careful.
You can avoid overage fees by being conservative with your debris estimates and renting a larger dumpster than you think you'll need to finish your project.
Overage fees vary from company to company, but based on a survey collected by Hometown Dumpster Rental, these are the nationwide average fees you can expect to be charged if you exceed your weight allowance.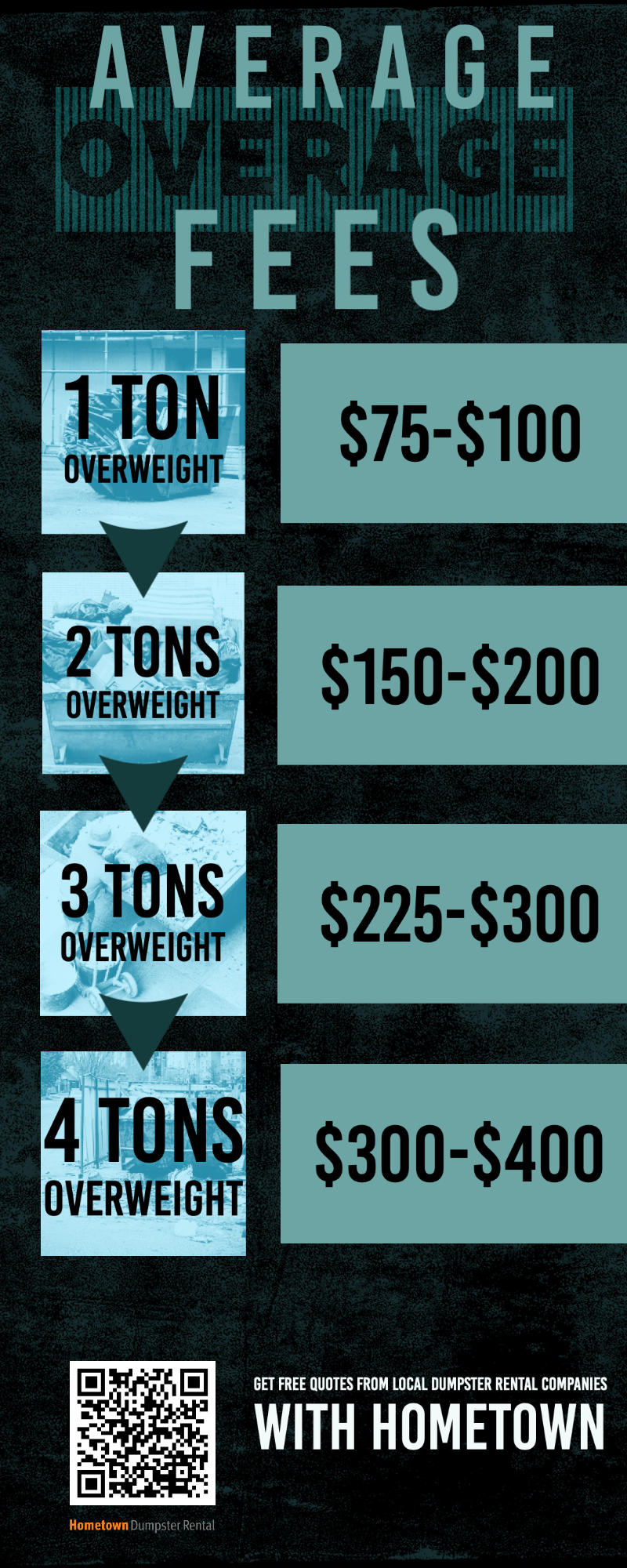 | | |
| --- | --- |
| Overweight | Average Fee for Exceeding Weight Allowance |
| 1 ton | $75-$100 |
| 2 tons | $150-$200 |
| 3 tons | $225-$300 |
| 4 tons | $300-$400 |
Let's look at an example situation to better explain what we mean...
A homeowner doing spring cleaning rents a 10 yard dumpster for $250, and it comes with a 2 ton weight allowance.
After finishing the job and having the dumpster picked up and hauled away, the dumpster company weighs the load at the landfill, and it weighs in at 3 tons—1 ton over the dumpster's weight limit.
Assuming the overage fee falls in the same range as the national average, the homeowner could owe a $100 overage fee on top of the $250 rental price.
The total cost for the 10 yard dumpster rental is now $350.
The homeowner could have rented a 20 yard dumpster with a 4 ton weight allowance for $300, saving them some money and giving them some extra space for additional items.
This is an example of how going with a larger dumpster size can save you money on your final rental bill.
Reputable dumpster companies can easily help you choose the right dumpster size for your project if you're struggling to decide. Get free rental quotes from local providers in your area with Hometown. Our quote request form is simple, fast, and free! We make it easy to find the best dumpster rental service in your area for the right price when you need it most.
---