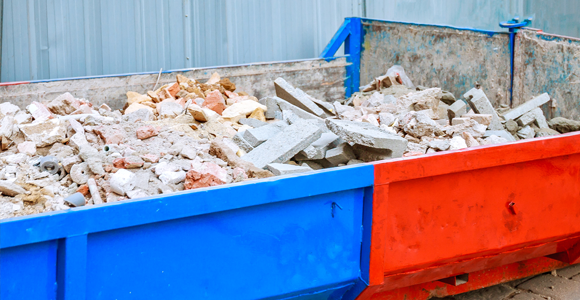 Updated February 12, 2023
15 yard dumpsters are a great disposal option for a number of different small to medium cleanup projects or heavy debris disposal, like concrete.
15 yard dumpsters can handle a variety of different projects, like small kitchen renovations, full bathroom renovations, shed demolition, and home cleanouts.
This dumpster guide will go over all the details you need to know about 15 yard containers to make the most informed decision for your particular project.
Jump to:
---
---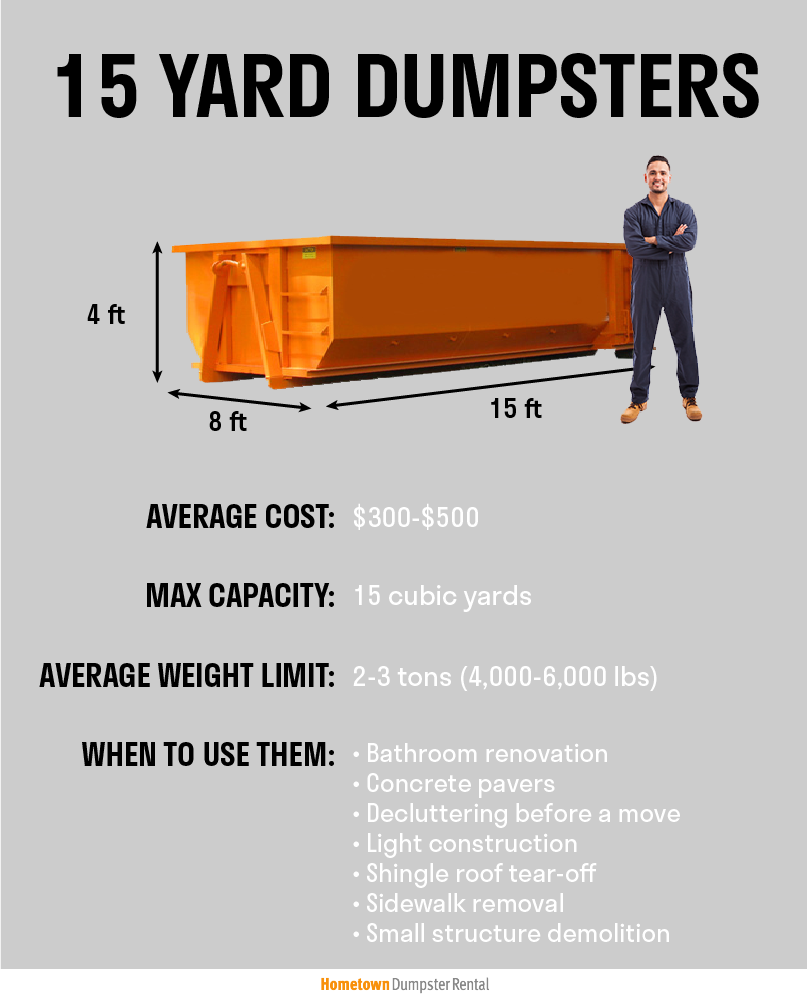 15 Yard Dumpster Overview
With a maximum capacity of 15 cubic yards, 15 yard dumpsters can hold between 7-8 pick-up truck loads' worth of debris.
The dimensions of a 15 yard dumpster will vary from carrier to carrier, but the most common dimensions of a 15 yard container are:
15 ft x 8 ft x 4 ft (L x W x H)
16 ft x 7.5 ft x 4.5 ft (L x W x H)
With an overall size similar to that of a van or minivan, placing a 15 yarder in a residential driveway is generally not an issue.
Like most other roll-off containers, 15 yard roll-off dumpsters feature a swinging back door(s) so that you can walk in heavy or bulky items with ease, and their open top makes throwing trash and debris over the side walls a non-issue.
15 yard trailer dumpsters are also a popular option and are perfect for those who need to adjust the placement of their dumpster throughout the duration of their rental or are worried about driveway damage.
Trailer dumpsters sit on rubber wheels, making them driveway-safe and easily maneuvered.
If you need to have your rental placed in a tight space and are worried about size, be sure to ask the different companies you speak with what the dimensions are of their particular containers to ensure a suitable fit.
Average Weight Limit for 15 Yard Dumpster
All dumpsters have weight limits that renters must abide by in order to avoid overage fees.
Weight limits are set in place for many reasons, including the safety of the dump truck and driver, abiding by local road restrictions, and ensuring that the company's profit margins aren't eroded.
Every company will have their own specific set of terms for their rentals, but on average, most 15 yard dumpster rentals have a weight limit between 2-3 tons, or 4,000-6,000 pounds.
Going over your weight limit will result in additional fees best cast scenario, or having to rent a second dumpster worst case scenario.
Overage fees are typically somewhere in the $75-$100 range per ton over the limit, while having to rent a second dumpster will double your costs immediately.
If you're worried about going over your weight limit, speak with the rental company to discuss in detail the type and amount of trash/debris you need to dispose of so that they can help you choose the right size dumpster for your disposal project.
Keep reading:
Average Cost to Rent a 15 Yard Dumpster
The nationwide average cost to rent a 15 yard dumpster is around $300-$500.
That being said, your 15 yard dumpster rental could cost more or less depending on a number of factors, like:
Dumpster type
Rental duration
Included weight limit
Local disposal and permit fees
Cost of living in your area
Overage fees or penalties
Who you rent from
The weight capacity of the dumpster and weight of your debris will be the biggest factor in determining how much you will pay for your dumpster rental.
Rental duration will hves less of an impact, but could still influence the cost of your rental if you only need the dumpster for 1-2 days versus 1-2 weeks.
If you're in a large city with a high cost of living and high landfill fees, you'll pay a lot more than if you were to rent in a less populated suburb with a lower cost of living.
The company you rent the dumpster from is also an important factor that will affect the overall price you pay.
Every service provider has different overhead costs, different profit margins to meet, and therefor the cost for the same size container from one company to the next can vary quite a bit.
The best way to find out what a competitive price is for a 15 yard dumpster is to get several quotes from companies near you.
Best Uses for 15 Yard Dumpsters
15 yard dumpsters are a great size container for a wide range of small to medium cleanups, including:
Concrete pavers
Decluttering prior to moving
Full bathroom renovation
Light construction (additions, garage, cabin/cottage)
Shingle roof tear-off
Sidewalk removal
Small kitchen renovation
Small structure demolition (sheds, small garages, medium-sized deck)
Whole home cleanout for small-medium sized home
Choosing the Right 15 Yard Dumpster Rental Provider
Getting the best service at the best price is easier when you get multiple quotes from providers in your area.
By getting multiple estimates, you'll be able to compare weight limits, pricing, customer service, dumpster types, rental durations, and availability.
It's important when speaking with different rental companies to ask important questions beyond their pricing, like:
How much weight is included in my 15 yard dumpster rental?
How many days will I have the dumpster?
Are there any prohibited items that cannot be thrown into your containers?
Will the dumpster fit in my driveway?
Do I need a dumpster permit?
Do you place plywood or boards underneath the dumpster to protect my driveway?
Are you licensed and insured?
Are you locally owned?
Renting from smaller local providers tends to be the best way to get the best price for a dumpster rental.
Locally-owned and operated dumpster companies tend to have lower overhead costs than large national chains and are able to provide better savings and a more personable customer service experience.
Finding local dumpster companies is fast and easy with Hometown.
By searching your zip code and answering a few quick questions about your dumpster rental needs, you'll be shown qualified companies in your area that are licensed, insured, and reputable.
Our single quote request form allows you to get free dumpster rental quotes from several companies at once, cutting down the time you spending researching significantly!
Hometown makes finding competitively priced dumpster rentals in your area fast and convenient, so you can focus on tackling your project with ease.
---