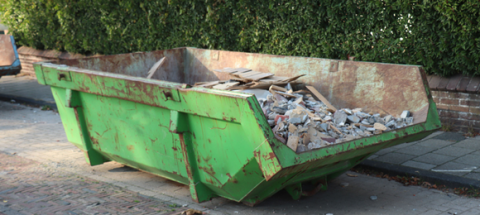 Updated January 30, 2023
Medium size dumpsters, like 15 cubic yard roll-off containers, work well for many types of cleanups.
Because of its compact size, it's an ideal choice for residential use, including small demolition projects, roofing, garage cleanouts, whole-home flooring removal, renovation, additions, and more.
In this article, we'll discuss...
---
---
Typical Dimensions of a 15 Yard Dumpster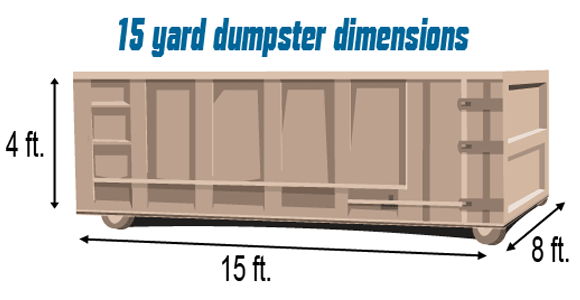 As with any container size, dimensions will vary by dumpster rental provider.
If a small container is essential in your situation—for example, if you have limited space for dumpster placement—then be sure to ask for accurate measurements when you call the dumpster rental company.
Common 15 yard dumpster dimensions:
16 ft x 7.5 ft x 4.5 ft (L x W x H)
15 ft x 8 ft x 4 ft (L x W x H)
The footprint of a 15 yard dumpster is about the size of a minivan, and their compact footprint makes them hugely beneficial when space is limited.
Some dumpster rental companies offer uniquely-sized dumpsters, including 15 yarders, designed specifically for residential use.
These types of bins maximize volume by having tall sides, which helps keep the overall length of the container as short as possible.
How Much Does a 15 Yard Dumpster Cost?
Expect to pay $300 or more for a 7-day rental, depending on where you live.
Its cost falls between that of a 10 yard and 20 yard dumpster.
The cost of a 15 yard dumpster is generally not more than $20 - $40 more than a 10 yarder, so it's a great way to get substantially more loading capacity for just a few extra dollars.
Tips to save on dumpster rental costs:
How Big is a 15 yard Dumpster & What Fits?
15 cubic yard dumpsters work well for small cleanups or the disposal of heavy debris, like concrete or roofing shingles.
With an overall size similar to that of a van or minivan, driveway placement generally is not an issue.
Having the dumpster placed on the side of a road or in an alley is also not typically a problem.
Larger 30 or 40 yard dumpsters, on the other hand, are more limited as to where they can be placed, particularly for residential projects.
15 yarders are a cost-efficient and space-saving option for handling the following types of cleanups:
Small kitchen renovation
Decluttering prior to moving
Full bathroom renovation
Small demolition (sheds, small garages, medium-sized deck)
Shingle roof tear-off
Whole home cleanout (less than hoarding situations)
Light construction (additions, garage, cabin/cottage)
15 Yard Dumpster vs. 10 & 20 Yard Dumpsters
All three of these popular dumpster sizes are considered small-to-medium sized dumpsters and are all ideal for residential use.
The average cost to rent 10, 15, or 20 yard dumpsters is within about $70-$80 of each other.
For example, the average cost to rent a 10 yard dumpster is between $250-$450, while a 20 yarder averages between $400-$600.
The cost-per-yard to rent a 15 yarder is typically less than the cost-per-yard of a 10 yard dumpster and is generally a better deal.
While a 20 yard container is twice as big as a 10 yarder, you don't pay twice the price.
The same is true when comparing a 10 yard dumpster to a 15 yard dumpster.
With the added 5 cubic yards of the 15 yarder, you'll likely only pay an additional $30 or $40 over that of a 10 yarder.
Read more:
15 Yard Roll-off Dumpster Availability
It can be difficult to find a local waste hauling company offering 15 yard bins, as 10 and 20 yard dumpsters are more common.
If your project needs a bit more loading capacity than a 10 yarder can manage, but not necessarily as much as a 20 yarder, you may need to check with various waste haulers in your area to find a 15 yard roll-off available near you.
Hometown can help connect you with providers in your area that are licensed, insured, and reputable.
By entering your zip code and answering a few quick questions about your disposal needs, you'll be able to send your quote request to up to 3 locally-owned dumpster companies that service your area.
You'll be able to find out more about the different dumpster sizes they offer, their pricing, the level of customer service they provide, and their availability so that you can choose the best company for your project.
---