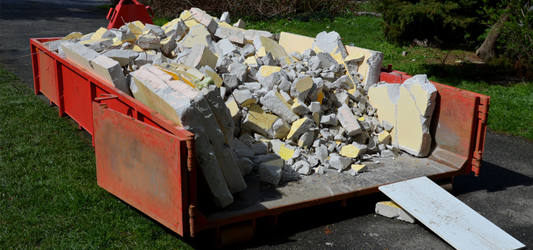 Updated August 1, 2022
Temporary dumpster rental services are a perfect solution when you have a large or ongoing project that requires a large disposal solution, like construction and demolition projects, estate cleanouts, spring cleaning, foreclosure and eviction cleanouts, hoarding cleanups, and more.
The flexibility and convenience offered by dumpster rentals make them a popular choice for all kinds of projects and people, and Hometown understands how important it is to get quality services for a great price.
We've gathered everything you need to know to make sure you get a fair price for your dumpster rental.
Jump to:
---
---
Factors that Affect the Cost of Dumpster Rental
The cost of dumpster rental services vary from one provider to the next and will depend on a number of different factors.
Factors that affect the cost of dumpster rental services include:
Size of the dumpster
Weight of the contents
Type of material/debris being loaded into the dumpster
Landfill fees in your area
Fuel prices in your area
Length of the rental period
Who you hire
With so many variables to consider, it's important to know the right questions to ask the dumpster rental companies you speak with before hiring them.
The size of the dumpster and type/weight of the contents you plan on putting your dumpster will make the biggest impact on your total price, so be as transparent and descriptive as possible when describing your disposal needs to each dumpster company so that they can give you the most accurate dumpster size recommendation and estimate possible.
Clean loading your dumpster with only one type of material for easy recycling, like concrete, cardboard, scrap metal, yard waste, etc., is a great way to get a discount on your dumpster rental if you have the option.
Virgin materials are limited and expensive to source, new materials are expensive to make, and landfill space is extremely limited and therefor highly valuable.
Recycling facilities offer cost-based incentives to encourage homeowners and contractors to recycle constructional demolition debris/material whenever possible, which is why clean loading a dumpster can cost you less than mixing in all different types of debris.
Most companies will offer you a lower price to clean load. If your project allows you to clean load your dumpster rental, we recommend shopping around until you find a company that offers a discount for your recyclable load.
Keep reading:
Average Cost of Dumpster Rental Throughout the U.S.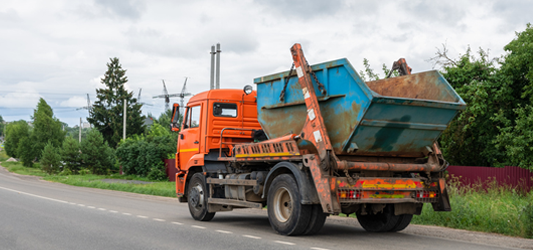 The average cost of dumpster rental services ranges from $300-$600 based on U.S. national averages.
The most common dumpster rental sizes range from 10-40 yard capacities.
10 yard dumpsters cost $250-$450 on average and are perfect for small cleanouts like garage, basement, or attic cleanouts, small to medium deck removals, small roof replacements, small kitchen or bathroom remodels, concrete/dirt removal, and similar size projects.
20 yard dumpster prices are $350-$550 on average and are perfect for whole home cleanouts like eviction or estate cleanouts, medium to large deck removals, large bathroom or kitchen renovations, whole house flooring replacements, community cleanups, and more.
30 yard dumpsters cost $450-$650 on average and are commonly rented for large deck and fence removals, large yard waste removal, small building construction, community storm cleanups, large home cleanouts, and hoarding cleanups.
40 yard dumpsters cost $550-$750 on average. Typically the largest dumpster size offered, 40 yarders can accommodate most demolition and construction projects, large home remodels, large roof replacements, medium to large concrete replacements, and other commercial size projects.
These costs are averages and will vary based on the variables mentioned above. Be sure to understand the terms and conditions of your dumpster rental to make sure you don't get hit with overage charges or any other additional fees not initially included in your dumpster rental quote.
Going over your dumpster weight limit typically costs $75-$100 per ton over your weight limit, which can add up quick if you aren't careful.
Other fees can be incurred for keeping your dumpster longer than the initial rental period, putting in hazardous or prohibited items, filling your dumpster above the fill line, etc.
Learn more: Waste Management's Dumpster Rental Prices Are Costly Compared to Local Haulers
How to Get the Best Price Near You
When it comes to getting the best dumpster rental price in your area, there are several strategies you can use.
Finding locally-owned and operated companies that service your area is preferred for two reasons: better customer service and competitive pricing.
Speaking with only one local company isn't the best practice, however. Instead, contact a minimum of 2-3 local services to compare their pricing, availability, and quality of customer service.
Getting multiple dumpster rental quotes from different companies will not only help you understand what a competitive price is in your area, but you can use one company's quote as leverage when speaking with their competitors.
When you're ready to find local dumpster rental services in your area, Hometown can help.
We make it easy to request project quotes from multiple dumpster rental companies at once, all for free!
By simply entering your zip code and answering a few quick questions about your disposal project, you'll be shown a list of licensed and insured dumpster rental companies in your area.
You can read more about each company's services, read verified reviews from legitimate customers, and request free quotes from as many services as you'd like.
---
---
Continue reading: