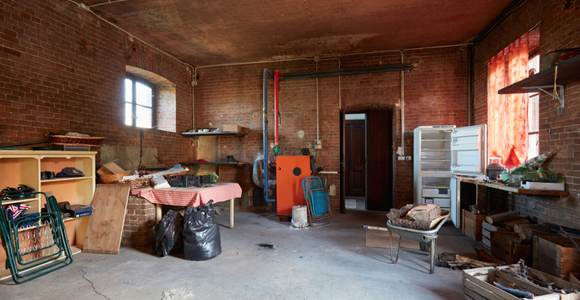 Updated March 8, 2022
When it comes to getting rid of unwanted items, most would agree: the faster the better. And there's no faster way to get rid of junk than with junk removal pros.
We've gathered some tips and tricks to make the junk removal process go as quickly as possible.
Follow this 3-step guide to get rid of junk fast:
---
---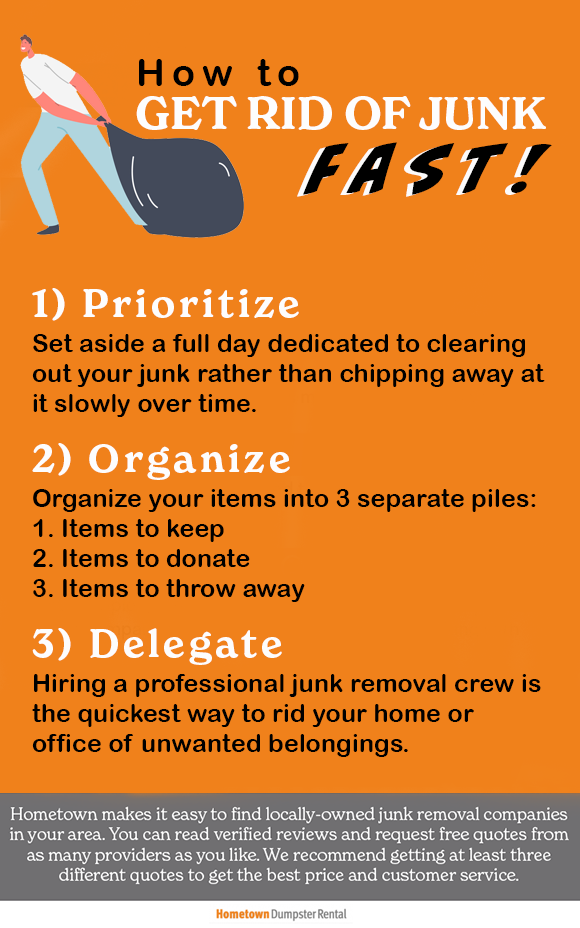 Prioritize
If you want to get rid of junk as quickly as possible, you need to set aside time that is dedicated to your cleanout project.
Rather than spending an hour or two after work each night, set aside an entire weekend where organizing and decluttering is your top priority.
When we commit an entire free day to something, we get a lot done at once, which should be the goal when getting rid of unwanted junk in your home, rental, or office.
Once we get started, it's easier to maintain your momentum by being able to keep your focus on your project instead of having to stop every hour or two in order to tend to other priorities.
Set aside time just for sorting through your junk to get the most accomplished in the shortest amount of time.
Continue reading:
Organize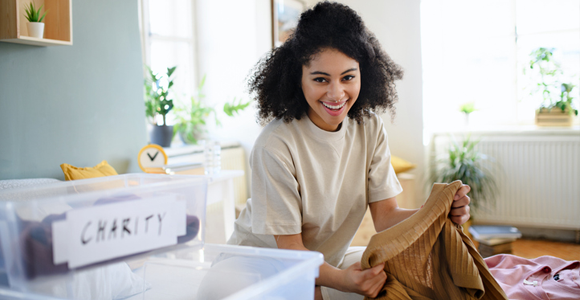 Once you've dedicated a free day to getting rid of your junk, it's time to organize.
Go through your closets, basement, attic, garage, or wherever else you've stashed rarely used items, and start organizing your belongings into three separate piles:
Items to keep
Items to donate
Items to throw away
Keep your pile of items to keep a reasonable distance away from your pile to throw away and donate so you don't accidentally mixing items into piles that they don't belong.
When debating whether or not to keep an item, consider the last time it's been used or seen the light of day.
If it's a non-seasonal item that hasn't been touched in four months or more, you likely won't miss it if it's gone.
Likewise, if it's broken and you've put it away so that one day you could repair it, consider junking it if you haven't attempted to fix it in over four months.
Items that have been replaced or upgraded should be donated, as should items that your family has outgrown.
When it comes to donating items, only donate lightly used items that are still in working condition.
Items with rips, stains, breaks, or covered in filth should be tossed rather than taken to a donation center.
Donating has never been easier than it is today. You can box your items to donate and drop them off at local charities or resale stores, or you can list your items as free items on online marketplaces like Facebook or Craigslist.
Listing items for free online saves you the hassle of having to drive your items anywhere, as you can make arrangements to have them picked up from your porch with zero contact, but this isn't always an option that works.
Keep reading:
Delegate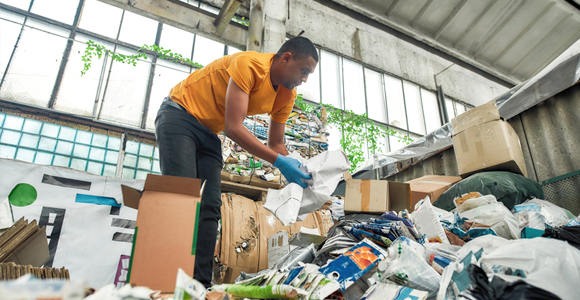 Now that you've established a pile of items that you would like out of your home, it's time to delegate some of the heavy lifting and save time by hiring professional junk haulers to help.
If you've gathered a significant amount of unwanted items or have broken electronics and/or appliances, hiring a junk removal company is by far the fastest way to get rid of all these items at once.
Junk haulers will often take your gently used items to a donation center and will even give you a receipt for the donation if requested.
When hiring junk removal services, or any services for that matter, price shopping is always smart.
Local junk removal services tend to be less expensive than large chains due to less overhead, so we recommend calling locally-owned companies for estimates.
Getting at least three different junk removal quotes will help ensure you pay a fair, competitive price and receive friendly, helpful service.
Quotes can be give over the phone or via email/text message, or they may want to come on-site to provide an in-person quote after inspecting your removal project.
If they provide an in-person quote and you agree to their pricing, they'll perform the junk removal on the spot!
Most junk removal services are in and out within an hour or two, which will save you significant time from having to haul your items to the landfill where you will not only have to pay fees, but will also have to manually dump your items.
Finding locally-owned junk removal companies is fast and easy with Hometown.
By entering your zip code and answering a few quick questions about your project, you'll be shown verified, licensed removal companies in your area.
All reviews published on Hometown are verified so you never have to question their legitimacy.
You can request free quotes from as many companies as you like so that you can quickly compare pricing and choose the best company for your junk removal project.
---
---
Learn more: