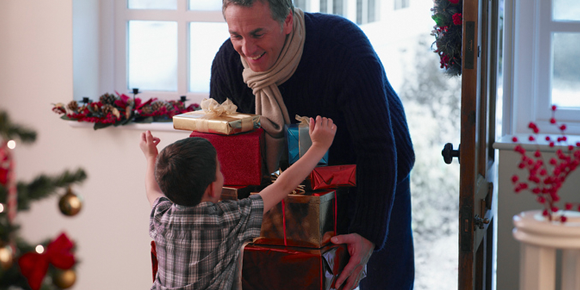 Clutter seems to creep up on you without warning and before you know it, your home looks more like a storage unit than a living space.
Clutter is particularly sneaky around the holidays as gifts can pile up and add more clutter to your collection.
The problem arises when you neglect to get rid of old and unused stuff in order to make room for the new.
So, we've put together some simple ways to ensure your home stays clutter-free this holiday season.
Jump to:
---
---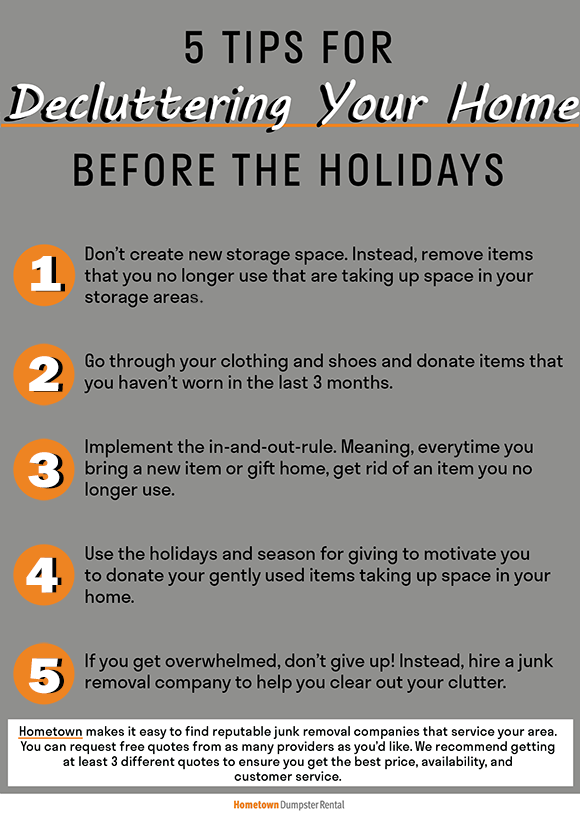 Tip #1: Don't Create More Storage
Storage sounds like a good thing, but creating more storage areas in your home will only lead to storing more stuff, much of which you'll never need or even use.
This isn't to say that storage is a bad thing in general, but the right balance is the key to avoid turning your home into a storage shed.
Tip #2: Keep Clothing and Closets in Check
If you anticipate getting some new clothing this year, create some space by getting rid of some of the stuff you never wear.
Avoid trying to cram every last inch of closet space with another outfit or pair of shoes.
An effective way to really see which clothes are keepers and which are never worn is to turn all the hangers facing in one direction.
Each time you wear a piece of clothing, wash it and put it back in your closet with the hanger facing the opposite direction.
After a few months, take a look at your clothing hanging in your closet.
Any hangers still facing the first direction are clothes you haven't worn in the past few months.
You'd probably be surprised at how much clothing you never wear.
Tip #3: In-and-Out Rule
This rule is simple: Anytime you bring in a new item, get rid of an old one.
For example, if you get a new blender for Christmas, get rid of the old one instead of stuffing it in a box in the garage.
Kid's toys can really clutter up a space during the holiday season.
Kids can be very content with a small number of favorite toys instead of a room full of them.
Allow your kids to take part by asking them to pick out some items to donate to children less fortunate in your community.
Keep reading:
Tip #4: 'Tis the Season for Giving
There's no better time than the holiday season to donate clothing, toys, and household goods to a local charity.
Donate to Goodwill, Salvation Army, Toys for Tots, or other local charitable organizations.
Not only will you be de-cluttering your home, but you'll also be helping out someone less fortunate – isn't that what the holidays are all about?
Tip #5: Decluttering is Stressful - Don't Get Overwhelmed
The holidays are no doubt a stressful time of year, but keeping things in perspective can help.
If the decluttering process becomes overwhelming and too time-consuming, take a step back and take a break from it.
Create a plan of action by dividing the project into smaller, more manageable projects that you can fit into your busy schedule each day.
Completing each "mini" project will still give you the satisfaction of completing a job.
Also, know that you're not alone.
A recent study found that 54% of Americans feel overwhelmed with clutter.
If you're feeling overwhelmed and need help getting rid of old junk, hiring a junk removal company can alleviate a ton of stress.
Finding reputable junk removal services is quick and easy with Hometown.
You can read real, verified reviews and request free quotes from as many local providers as you'd like.
We recommend getting at least three different quotes to ensure you get the best price and customer service.
---
---
Learn more: