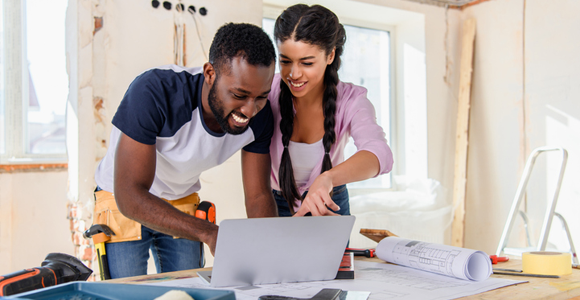 Updated July 25, 2022
Whether you're renovating your home so that you can enjoy a fresh, new living space, or you're trying to increase your home's value before you sell, there are many aspects to consider before you start tearing your home apart.
An often overlooked aspect of DIY home renovations is the debris disposal, which can end up being costly without a proper plan in place.
There are different debris disposal options available on the market, and Hometown is here to help you explore them all so that you can get the best price for your disposal method of choice.
We'll go over:
---
---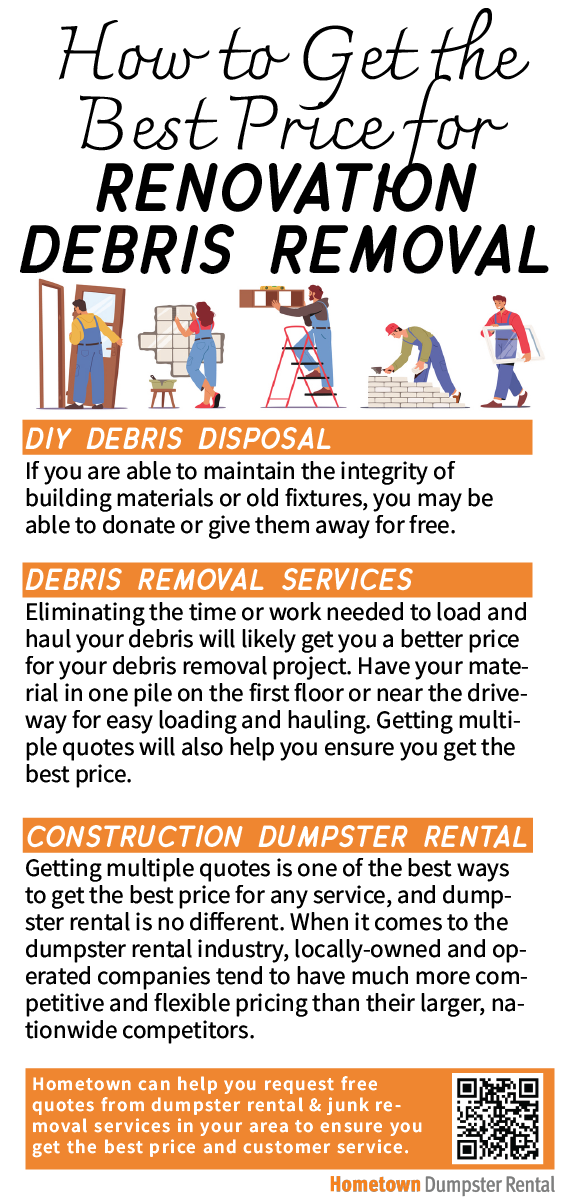 DIY Debris Disposal
Unless you only have a few small pieces of renovation debris to get rid of, your regular weekly trash service won't be an option, as construction debris isn't allowed to be mixed in with household trash.
Instead, you'll have to haul your renovation debris to the landfill facility yourself.
It's important to make sure you have proper gloves and protection when picking up and sorting through renovation debris to prevent bodily injury, as well as the strength and assistance required to lift any heavy pieces, like old appliances or building material.
You'll also want to make sure you have a vehicle appropriate for loading and hauling debris, like a pickup truck or hauling van.
Consider how far away you're located from the nearest landfill to account for the cost of gas to make one or multiple trips to the landfill, as well as landfill charges in your area.
The value of your time should also be taken into consideration, as any DIY project will take up much more of your valuable time than hiring a professional to handle the debris removal for you.
That said, DIY debris disposal will likely be the cheapest way to get rid of renovation debris as long as you live relatively close to a landfill and have the time and labor to spare.
If your renovation was more of a deconstruction project and you were able to maintain the integrity of building materials or old fixtures, you may be able to donate or give them away for free.
Learn more:
Debris Removal Services
Junk removal services often offer debris removal which can be very convenient for those with busy schedules, limited physical abilities, or a vehicle that can't accommodate the hauling of renovation debris.
Junk removal services are an ideal debris removal option if you have less than 7 cubic yards of debris and the debris is mostly wood, old fixtures, or other non-toxic, relatively lightweight debris.
Debris removal services are by far the fastest and easiest way to get rid of renovation debris, but it tends to be more costly due to the all-inclusive nature of the services.
A junk removal company will send a crew of 1-2 people to arrive to your location, give you a price quote, and if you agree to the price, they'll start loading their vehicle with your material right away.
These services can typically be completed in under an hour unless your project requires multiple vehicles/trips to load the debris.
To get the best price on full-service debris removal, have all your material piled up in a convenient and easy-access location.
For example, having your debris piled up on the first floor will make loading much faster than if the junk removal crew has to navigate flights of stairs.
Similarly, having the debris piled up on the porch or driveway will make it easy for the debris removal workers to drive up, load, and haul away, rather than having to carry the debris hundreds of feet to their vehicle.
One of the biggest factors that impact the cost of junk removal services is the amount of time and labor it takes to complete a job.
Eliminating the time or work needed to load and haul your debris will likely get you a better price for your debris removal project.
It's also useful to get multiple quotes and use one company's quote as leverage when speaking with their competitors.
---
---
Keep reading:
Construction Dumpster Rentals
Renting a temporary dumpster for construction material is a popular choice for many homeowners.
If you have 7 or more cubic yards of debris, dumpster rentals tend to be cheaper than junk removal services, though they require more labor on your part.
If you have less than 20 cubic yards of debris, dumpster rentals can be slightly more expensive than hauling the debris to the landfill yourself, but it cuts the time and effort required by you in half.
Most dumpster rentals last 5-7 days which allows you and your project helpers to load the renovation debris at a pace that is safe for your health and convenient for your schedule.
We recommend having your dumpster rental delivered to the property on the day you begin renovations so you can load the dumpster as debris is produced rather than waiting until your project is complete to start loading your debris into your disposal container.
This not only helps you maintain a safe, clean working environment, but it eliminates many dangers associated with sorting through large piles of building material that can contain nails and other sharp objects.
Roll-off dumpster rentals have a swinging side door(s) that make loading any large or heavy items easier than having to throw it over the top of the dumpster, which can make these types of containers ideal for renovation projects that include the removal of old fixtures, furniture, or appliances.
Getting multiple quotes is one of the best ways to get the best price for any service, and dumpster rental is no different.
When it comes to the dumpster rental industry, locally-owned and operated companies tend to have much more competitive and flexible pricing than their larger, nationwide competitors.
If you're in need of full-service debris removal or a temporary dumpster rental, Hometown can help you get in contact with locally-owned companies in your area for free quotes.
By entering your zip code and answering a few short questions about your debris disposal needs, you'll been shown licensed and insured junk removal and dumpster rental companies that service your area.
From there, you can read more about each company and the services they offer, as well as read reviews from real customers to get an idea of the quality of the services they provide.
We recommend getting several different quotes to not only compare pricing, but customer service and availability as well.
---
---
Read on: