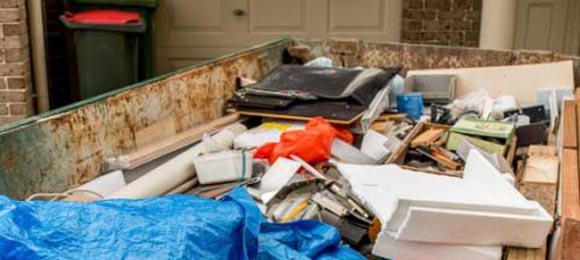 Updated June 22, 2022
There's no need to be intimidated when it comes to renting a dumpster.
It's an easy process once you understand a few basics.
Follow this simple guide to ensure your dumpster rental experience doesn't leave you in the dumps.
Jump to:
---
---
Understand the Details of Your Project
Before reaching out to dumpster rental providers, you should have a good understanding of the type and quantity of debris you will be getting rid of.
The more information you know about your project, the more accurate a recommendation the dumpster provider(s) will be able to give you.
Dumpsters are measured in cubic yards, with one cubic yard being 3 ft x 3 ft x 3 ft, or roughly the size of a standard kitchen stove.
In addition to size limitations, dumpsters also have weight restrictions, so the weight of your debris is just as important as its volume.
Knowing the details of your disposal project and adequately communicating them to the rental company will ensure the dumpster rental process goes as smoothly as possible and you don't overpay.
Dumpster Types
When talking about dumpsters, it's important to acknowledge the various types.
First, there are permanent commercial dumpsters—the kind you see behind restaurants and gas stations.
Then, there are temporary roll-off dumpsters—the kind that can be rented as needed for household cleanouts, commercial remodels, and everything in between.
These are called 'roll-off dumpsters because they literally get rolled off the truck and onto your driveway or other flat surface using a hook and pulley system.
Temporary roll-off dumpsters come in multiple types as well, including tub styles, flat bottoms, and lowboys.
Each type of dumpster can accommodate different types of debris, some more efficiently than others.
For example, lowboys are particularly helpful for heavy debris, like concrete, while flat bottoms are great for walking large items into the dumpster, like furniture.

There are also trailer-style dumpsters and bag-style dumpsters.

As you can see, you have several options to choose from when it comes to renting a dumpster, but don't let that overwhelm you.
Dumpster Sizes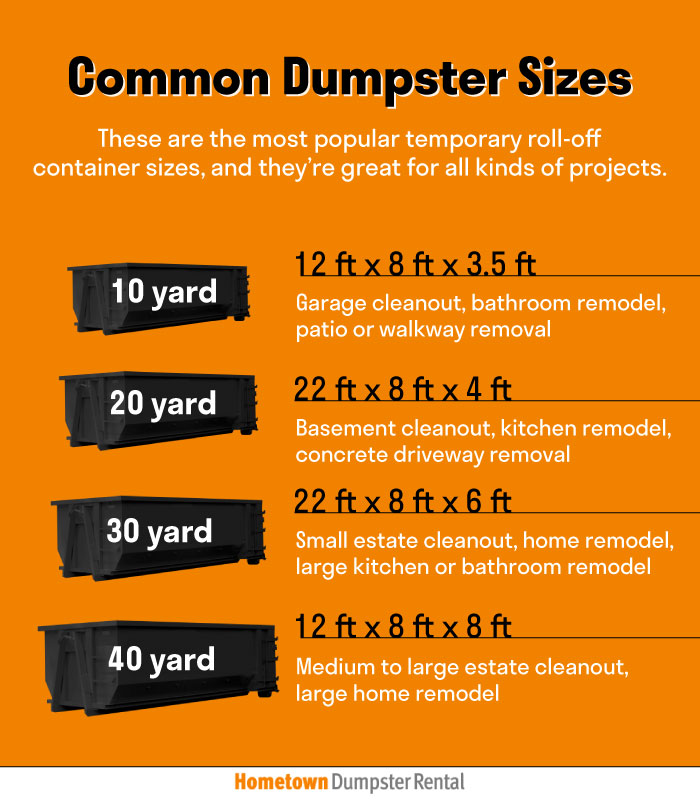 Dumpsters range in size from 3 cubic yards to 50 cubic yards.
Common Roll-Off Dumpster Sizes
10 cubic yard – 12 ft x 8 ft x 3.5 ft
20 cubic yard – 22 ft x 8 ft x 4 ft
30 cubic yard – 22 ft x 8 ft x 6 ft
40 cubic yard – 22 ft x 8 ft x 8 ft
Choosing the right dumpster size for your project is key to having a cost-efficient and streamlined rental experience.
Reputable dumpster rental companies will help you choose the perfect container size for your particular project.
Get Multiple Quotes
We recommend reaching out to at least two or three providers to be sure you get the best price.
Speaking to multiple dumpster providers will give you a better idea of market prices for roll-off container rentals in your local area.
When getting quotes, be prepared to ask questions if the answers aren't readily available, like:
What size dumpsters do you have available when I need them?
Which size dumpster is best for my project?
What is the standard rental period included in the price?
How much weight is allowed?
What is the cost per ton if I go over my allotted weight?
Are there any prohibited items?
Can you drop off my chosen dumpster on [this date]?
What payment types do you accept?
When is payment due?
The lowest price upfront isn't always the best option.
Choose your dumpster rental provider based on price, container and schedule availability, customer reviews, etc.
Keep reading:
Follow Weight and Height Restrictions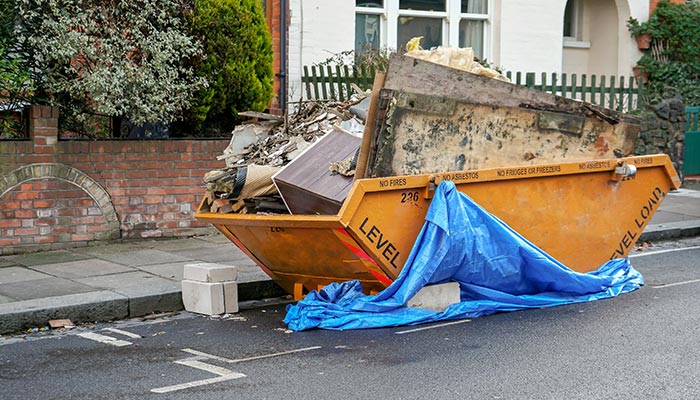 Every container rental comes with a weight limit, and dumpsters can only be filled so high while still remaining safe for transport.
The load height should never exceed the top of the container, but there is generally a 'fill line' inside the dumpster to indicate the maximum fill point.
Weight limits and weight allowances vary from one company to the next.
Common Weight Allowances
10 yard: 2 tons (4,000 lbs)
20 yard: 4 tons (8,000 lbs)
30 yard: 4 tons (8,000 lbs)
40 yard: 6 tons (12,000 lbs)
It's important to be aware of the weight allowance included in quotes you get from contractors.
One company's price may be cheaper upfront, but if they only include 2,000 lbs and your debris weighs 4,000 lbs, you'll end up paying substantially for overage fees.
Generally speaking, the bigger the container, the greater the weight allowance.
Avoid additional fees by loading the dumpster according to the weight and height limits set by the rental provider.
Find out more:
Load the Dumpster on Time
Every dumpster rental agreement includes a rental period, with the most common falling in the 7-10 day range.
However, this varies by dumpster rental provider, and most are flexible in meeting the needs of your project timeline.
It's important to complete the disposal within the agreed upon rental period. The dumpster may be subject to a daily fee for keeping the dumpster longer, ranging from $10-$20 per day.
These fees can add up quickly, which is why we recommend staying within your agreed-upon schedule.
Contact the dumpster provider when you are nearing your project's completion to be sure your container is picked up on time.
---
---
Continue reading: