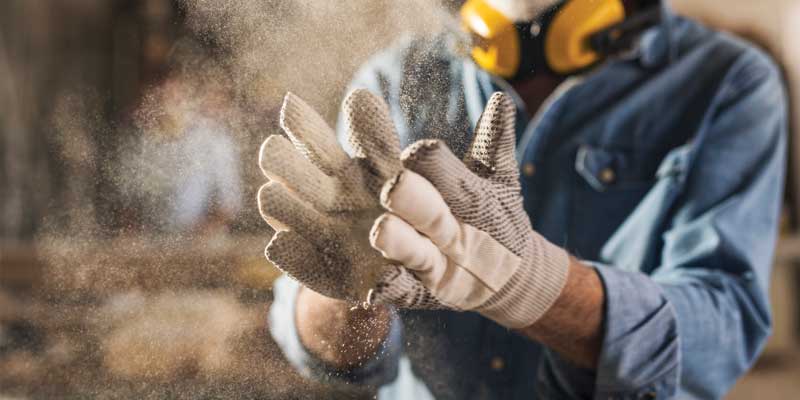 Updated April 19, 2023
Managing dust and debris is an important part of the remodeling process. It's important to take a proactive approach to the cleanup aspect of a home or business remodel to protect both you and your property.
There are several steps to take before a remodel to minimize the mess and stress of your project, but there are also solutions available if you've already begun your remodel and are in need of debris management after the fact.
We'll go over:
---
---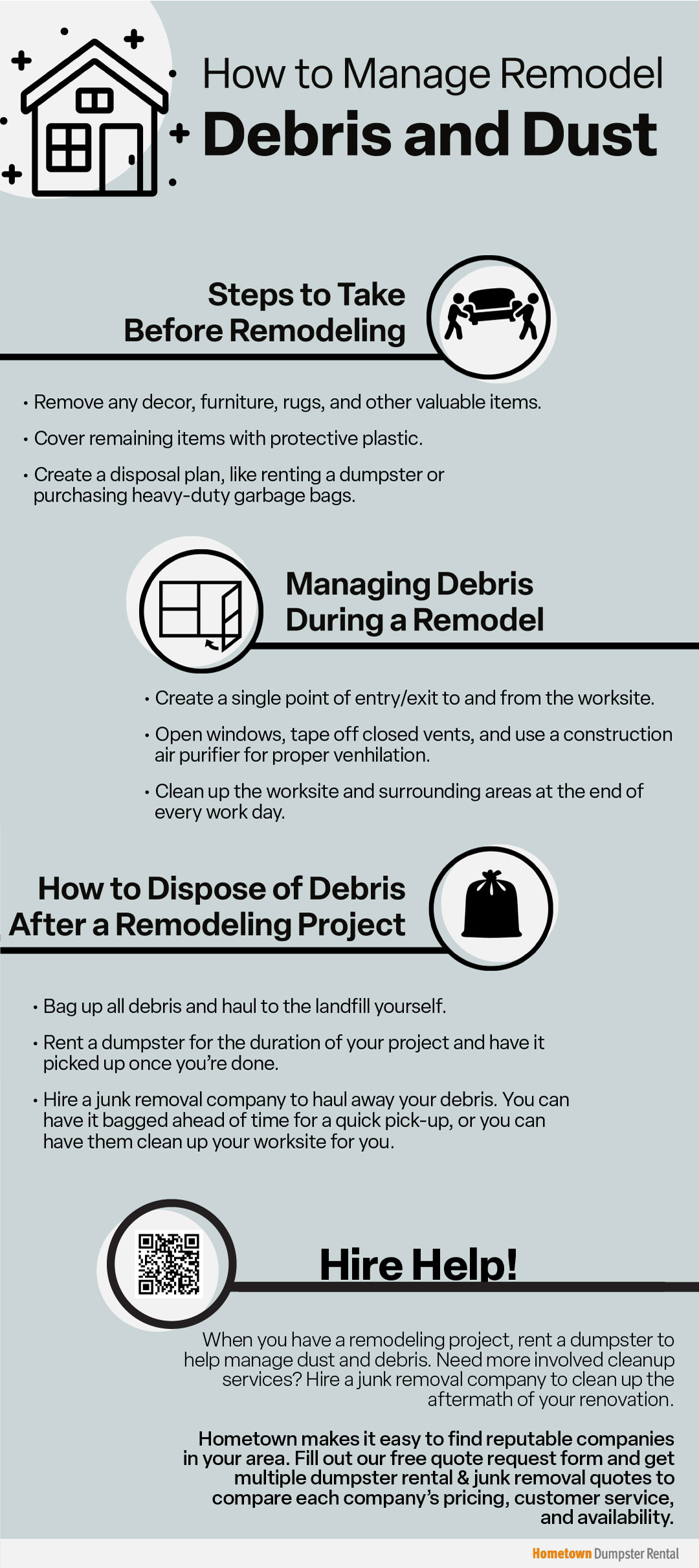 Steps to Take Before Remodeling
The best way to manage construction and demolition (C&D) debris is to take action before you begin remodeling. Any items left in the areas surrounding your project that are left exposed will be vulnerable to collecting dust and debris that can settle in every nook and cranny it lands on, making cleanup much more difficult and time-consuming. Old, fragile, and valuable items especially should be far removed from any remodeling workspace to ensure no damage is done from the consequential settling of dust and debris.
Make sure to remove all of your belongings, including any furniture, decor, rugs, etc., until the area that you're remodeling is completely empty. Be sure to protect any fixtures or carpeted material that can't be removed from the area with corrugated plastic, sticky mats, plastic coverings, or something similar. It's important to cover any remaining items with a plastic material rather than a fabric covering because small particles can get stuck in soft materials, allowing the opportunity for it to penetrate the protective barrier to your belongings.
You'll also want to create a disposal plan for your renovation debris, like drywall, tiling, packaging, and dust. Renting a temporary dumpster is an efficient and affordable way to manage your C&D debris throughout the course of your project. Dumpster rentals typically last for one week or more, making it convenient option for large or ongoing projects. It's beneficial to secure a dumpster rental ahead of time rather than waiting until after the fact. Having an efficient way to manage your debris throughout the course of your renovation helps to greatly reduce the risk of damage or injury.
If your remodel is a small project and will produce less than 7 cubic yards worth of waste, it may be easier or more cost-efficient to manage your debris with heavy duty trash bags and a junk removal crew to haul away your waste once your renovation is finished.
Getting quotes from junk removal and dumpster rental services that in your area is fast and free with Hometown's single quote request form. You simply enter your zip code and answer a few short questions about your debris disposal needs to receive quotes from different local companies in your area, allowing you to quickly and easily compare each company's pricing, customer service, and availability.
Managing Debris During a Remodel
Containing remodeling dust to your workspace throughout your project is key to not spreading fine particles throughout the property. One way to do this is to create a single point of entry and exit to and from the workspace. You can create this path by taping down a tarp or other plastic to help contain any dust and debris being tracked in and out by those working on the renovation. At the end of every day, you'll be able to easily shake out the dust that has settled on the plastic or tarps into a garbage bag, into a dumpster, or into a single pile to be vacuumed up. Fold up your protective path and store in the remodeling area to be reused the next work day.
An important aspect to keep in mind is to prioritize proper ventilation to minimize the spread of dust particles settling in other areas of the home. Keeping windows open, taping up vents, and using a construction air purifier that filters dust, particles, and contaminants are all useful tools in protecting not only your home, but any people and pets that live inside.
Another way to manage debris throughout a renovation project is to create and execute a daily cleaning plan. Daily maintenance is the most efficient way to contain as much construction dust as possible. Any piled up debris should be bagged or thrown into your dumpster rental at the end of every work day, floors should be swept and/or vacuumed, and the entry/exit point should be cleaned up. Even if you follow every precaution available, there's always a chance that some renovation dust can find ways to leave the contained workspace. Check flooring, furniture, and belongings located in the rooms surrounding the renovation project and clean up as needed. We highly advise wearing protective goggles and respirator masks when working on every aspect of a renovation, including debris management and cleanup.
Learn more:
How to Dispose of Debris After a Remodeling Project
Unless you have a very small remodeling project, getting rid of dust and debris isn't usually as simple as bagging it up and throwing it into your trash ban. In fact, there are many municipalities throughout the U.S. that have strict rules and regulations regarding the dumping of C&D debris. If attempting to transport and dump your renovation debris to your local landfill on your own, it's very important to do the proper research beforehand. Some areas may make you separate the different types of debris your project has produced so that the demolition debris can be properly recycled.
If you rent a dumpster, be sure to tell each company you speak with about the type of waste you plan on throwing into the dumpster to ensure that all items and materials are accepted and can be mixed in together. The best way to utilize a dumpster rental is to have it on location from the beginning of the renovation until the end, so that you can place your waste in the container as it's produced. Once your remodeling project is finished and the area has been cleaned up, contact the dumpster company to come and pick up your rental. After it's been weighed and dropped off at the landfill, you'll receive your final bill. Your final bill should reflect the initial quote you were given as long as you haven't gone over your weight limit or rental period, or placed prohibited items into the container.
Hiring a junk removal company to come and pick up all your debris, either bagged and ready to go or still in piles at your worksite, is another convenient way to get rid of your remodeling waste. Junk removal companies offer a more-inclusive service by doing the heavy lifting and loading for you and can sometimes be more cost efficient for smaller projects that produce less than 7 cubic yards of waste.
Find qualified debris removal services in your area by searching on Hometown. Request free quotes from multiple companies at once to shop around for the best price and customer service.
---