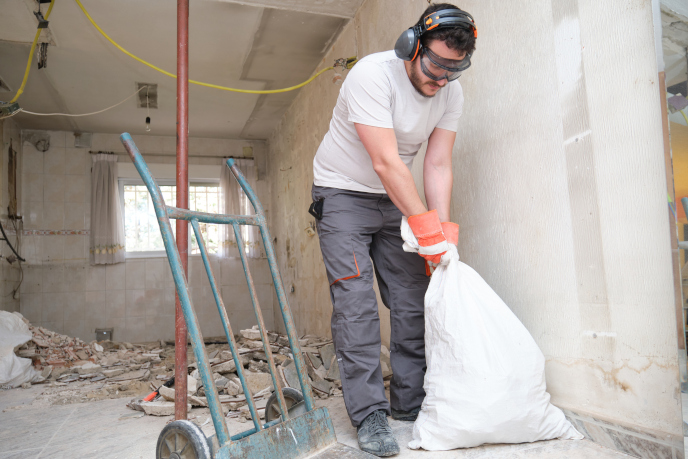 Updated January 19, 2023
Part of tackling any construction or demolition project is figuring out the best way to dispose of all the resulting debris.
Even for small construction projects, you cannot simply dump the debris in your weekly trash cart.
Construction and demolition debris should be properly recycled or reused whenever possible by disposing of these materials at the proper facilities.
Two great construction debris disposal solutions include renting a dumpster or hiring a junk removal company. Both will get the job done, but there may be reasons why you'd choose one over the other depending on the size of the job and other factors.
In this article, we will cover the basics of how to choose between renting a dumpster vs hiring a junk removal company to handle a construction debris cleanup.
We'll compare:
---
---
Dumpster Rental to Dispose of Debris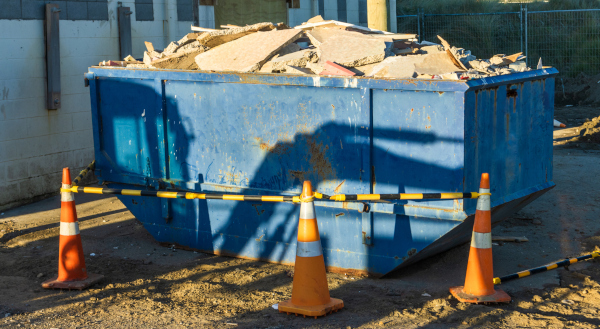 Renting a dumpster is the most common choice when it comes to construction debris disposal.
It's a cost-effective option for disposing of common construction debris, such as drywall, studs, plywood, windows, cabinets, countertop, insulation, flooring, and much more.
Types of Dumpsters
The most common type of dumpster is a roll-off container.
These are the open-top dumpsters commonly used at construction sites.
However, two other viable options include trailer dumpsters and bag-style dumpsters.
Roll-offs are the most widely available and are the best choice for big construction or demolition projects.
Trailer dumpsters also work great for small to medium size projects.
Bag dumpsters, such as Bagster, are suitable for small jobs, such as a small residential wall demolition job.
Dumpster Sizes
These are the most common roll-off dumpster sizes:
10 yard dumpsters: 12 ft x 8 ft x 3.5 ft
20 yard dumpsters: 22 ft x 8 ft x 4 ft
30 yard dumpsters: 22 ft x 8 ft x 6 ft
40 yard dumpsters: 22 ft x 8 ft x 8 ft
There are other roll-off container sizes available, such as 12 yards, 15 yards, 25 yards, and others.
Some dumpster rental companies specialize in a specific size, such as Bin There Dump That who offers residential-friendly dumpsters as small as 4 yards.
Trailer dumpsters typically come in 10 yard or 20 yard varieties. Bag dumpsters usually offer 3-5 yards.
For example, Bagster is a 3 yard dumpster option available for purchase at most home improvement stores.
Dumpster Costs
The cost of renting a dumpster is variable and based on several factors, such as location, dumpster size, and duration of rental. Here are the current national average costs to rent dumpsters of the most common sizes:
10 yard: $250-$450
20 yard: $350-$550
30 yard: $450-$550
40 yard: $550-$750
We suggest getting several online quotes before hiring a junk removal company. Don't base your decision on price alone, as the reputation of a company should be a key factor in finding a good junk hauler.
Popular bag-style dumpsters, such as Bagster, do not have a flat-rate cost.
Instead, you purchase the bag for around $30 online or at a local home improvement store, and then there is a pick-up charge of approximately $150 (varies based on location).
From a total cost standpoint, renting a dumpster is almost always the most cost-effective construction debris disposal option.
If cost is the most important factor for you, dumpster rental is the best choice.
Junk Removal Services to Remove Debris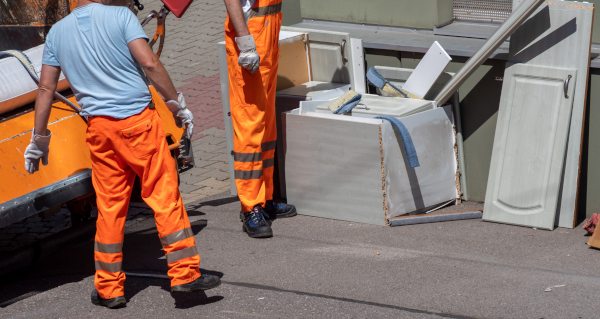 Hiring a junk removal company to load up and haul away the construction debris is the most convenient disposal option available.
Junk removal companies do all the work to remove your debris, which allows you to focus your time on the project itself rather than the debris disposal.
This convenience comes at a premium. You'll likely pay more for junk removal services than you would to rent a dumpster, all factors being the same (amount of debris, location, etc.).
A rough estimate of how much you can expect to pay for a residential construction debris cleanup is $350 (small jobs) to $1,000+ (large projects).
Of course, the same factors affecting dumpster rental prices apply to junk removal costs, including location and amount of debris.
The complexity of the job can also affect junk removal costs.
Many junk removal companies determine costs based on the volume of debris.
For example, they may charge $250 for a quarter-truck load, $400 for a half-truck load, and so on.
The best way to get an accurate price is to search for local companies on Hometown and contact them to get a free online estimate.
For small construction or light demolition projects, junk removal service may actually be a more cost-effective option compared to renting a dumpster.
For example, a junk removal company may charge $200 to come pick up debris from a small deck removal project, while renting a 10 yard dumpster could cost in the $300 range.
In summary, consider using a junk removal company for small construction debris cleanups and in situations where you want the speed and convenience of using such service.
Another situation where junk removal service makes sense is when you live in an area where dumpsters are not allowed to be placed on-site, such as in a busy downtown area or when HOA rules prohibit dumpsters.
Deciding Which Service Is Best
Deciding between renting a dumpster or hiring a junk removal service for a construction project cleanup can be tricky, but the good news is that both options are the most efficient methods to get the job done.
You really can't go wrong!
However, here is the case for using each option:
Dumpster Rental
Medium to large construction projects
Garage demolition
Kitchen demolition
Re-roofing projects. Dumpsters are widely available, and they allow you to load up the debris over a period of time rather than all at once. There is a dumpster size and price to fit all projects and budgets.
Junk Removal: This may be the best option for small construction debris cleanups approximately five cubic yards or less. It's also ideal when speed and convenience are your top priorities. Junk removal service is also the best option when dumpsters are not an option in your situation.
---
---
Get more great tips: Hometown Dumpster Rental Blog