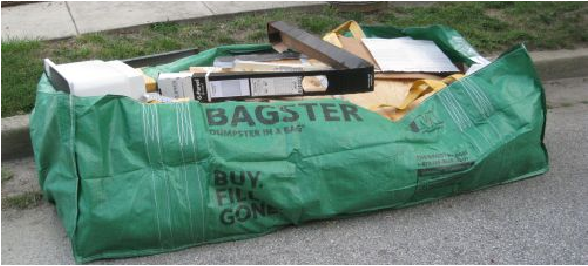 Updated June 26, 2023
Most homeowners and business owners know what it's like to have junk here and there that gets set aside to be handled later, only to have the pile grow and grow.
When you get sick of looking at that pile of junk sitting in your garage, basement, or attic, two of the most affordable solutions are renting a dumpster or buying a bag dumpster.
This guide is designed to help you determine whether buying a bag-style dumpster is the best deal for your specific debris disposal project or if renting a dumpster from a local provider is the better, more cost-effective option.
Jump to:
---
---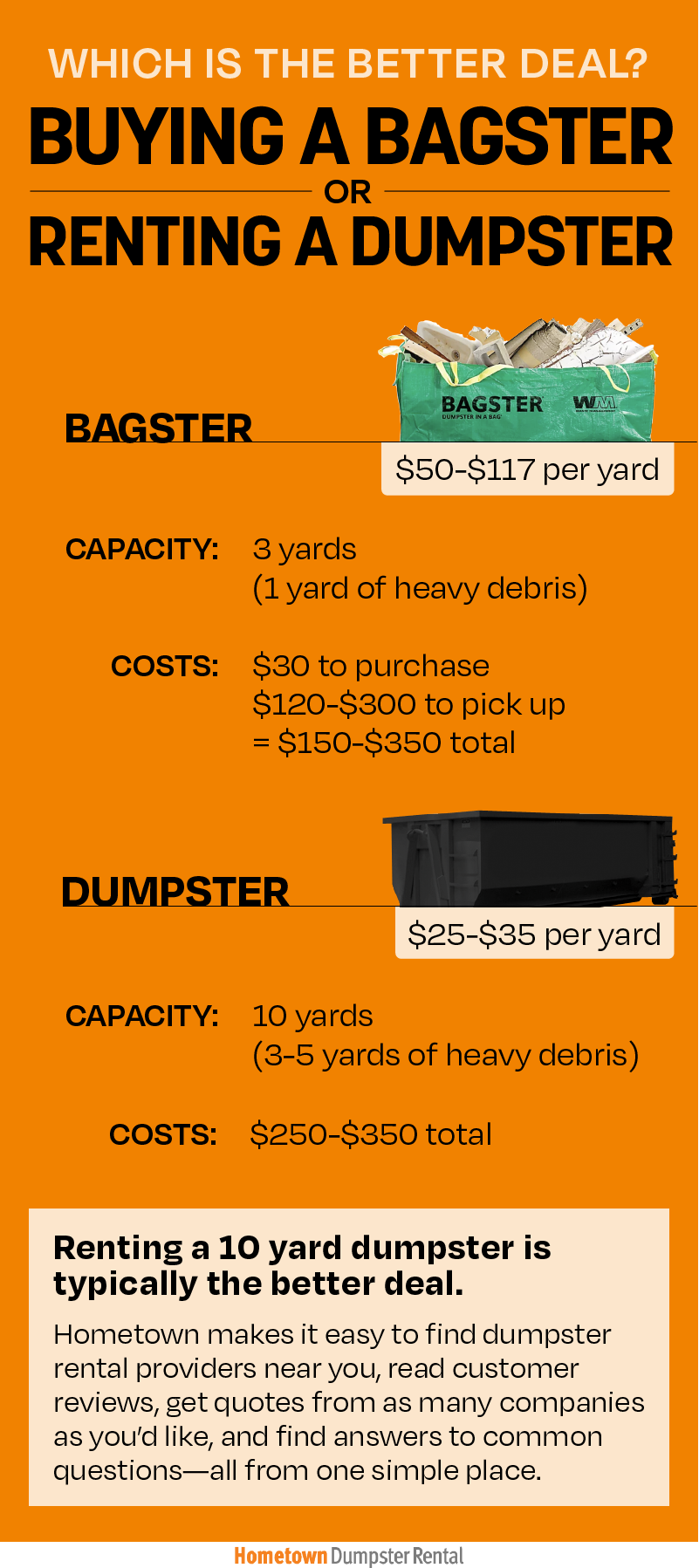 Average Cost to Buy a Bagster
The Bagster bag itself costs roughly $30 regardless of where you live, and you can buy one online via Amazon or in-person at your local Home Depot, Lowe's, Target, etc. The upfront cost of a bag-style dumpster is inexpensive and consistent, but the cost of pick-up is more costly and can vary quite a bit depending on your location.
Bagster pick-up costs range from $120-$300, making the total cost to use a Bagster $150-$350, or $50-$117 per cubic yard.
Bagster pick-up costs are all-inclusive, meaning whether you fill your bag completely or halfway, the pick-up fee will be the same (as long as the load is 3,300 lbs or less).
For most general household junk and random furniture, you can fill the entire 3 yard bag while remaining within the weight restrictions of the bag and the truck that picks it up.
However, for heavy debris disposal, like concrete, brick, or soil, you are limited to filling the bag 1/3 of the way, or one cubic yard's worth of debris. Bagsters can be a costly disposal choice for heavy debris when you have more than a single cubic yard of it.
Read on:
Average Cost to Rent a Roll-Off Dumpster
A 10 yard dumpster typically costs slightly more than a dumpster bag, but it holds more than 3x more debris and usually has less restrictions. With that said, it is possible to find 10 yard dumpsters that cost less than Bagsters in certain areas with certain providers.
On average, 10 yard dumpsters cost $250-$450, or $25-$45 per cubic yard.
There are as number of factors that affect dumpster pricing:
Size of the dumpster you rent
Weight of your debris
Type of debris
Your location (landfill fees, gas prices, etc.)
Rental period length
Who you rent from
Like the prices for Bagster pick-up, dumpster rental prices fluctuate from one town to the next.
The rental period included with a dumpster's price varies by hauler, but 7-14 days is common. If you need your dumpster for longer, this can be arranged with the dumpster rental company ahead of time. (They often charge a per-day or per-week fee on top of the normal cost.)
With such a wide price range for dumpster rental across the country, the best way to find out what a fair price is in your area is to get multiple dumpster rental quotes from local providers.
Find out more:
Comparing Costs of Bagster and Dumpster Rental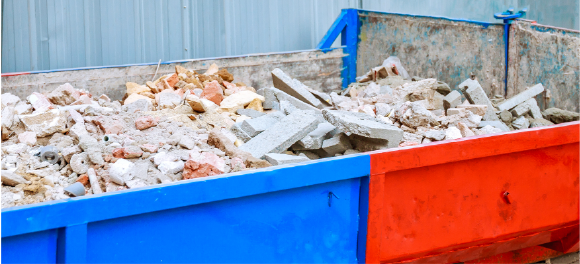 Comparing the cost of a Bagster and regular dumpster rental is not like comparing apples to apples because a 10 yard roll-off dumpster holds 3x more debris than the Bagster.
The Bagster costs $150-$350 for 3 yards or less, making a $250-$450 10 yard dumpster rental much less expensive per cubic yard.
For many parts of the country, a 10 yard roll-off is the smallest dumpster available to rent, so this comparison represents the real life options available to most people with relatively small-scale disposal needs.
To truly compare the cost of a Bagster vs a dumpster rental in your area...
1. Get quotes from local dumpster providers in your area.
Hometown can help you find local dumpster rental services, read customer reviews, and reach out to as many providers as you'd like to compare each company's price.
2. Find out how much Bagster collection is in your city.
Waste Management makes it easy to see how much Bagster collection would cost in your area.
As previously mentioned, the average cost of a Bagster per cubic yard is $50-$117 and the average cost of a 10 yard dumpster rental is $25-$45 per cubic yard, making traditional dumpster rental the better deal.
Once you know exactly what the price is for dumpster rental and Bagster pick-up in your area, you'll be able to have a clear picture of which dumpster option is the best choice for you.
---
---
Keep reading:
Main image via One Project Closer