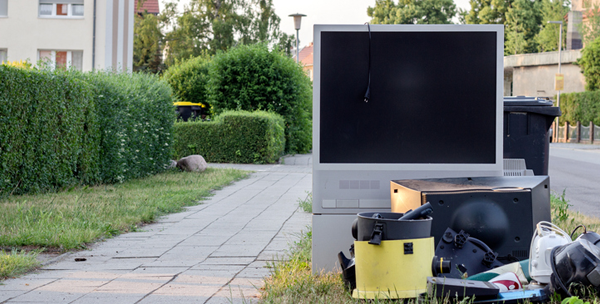 Updated November 16, 2021
If you're a landlord or property manager preparing a well-lived-in rental home for your next tenants, you're likely wondering where to start with the cleaning process.
Our rental cleaning checklist for property managers and landlords outlines the steps to ensuring your clean-out process is as tidy and stress-free as possible.
Jump to:
---
---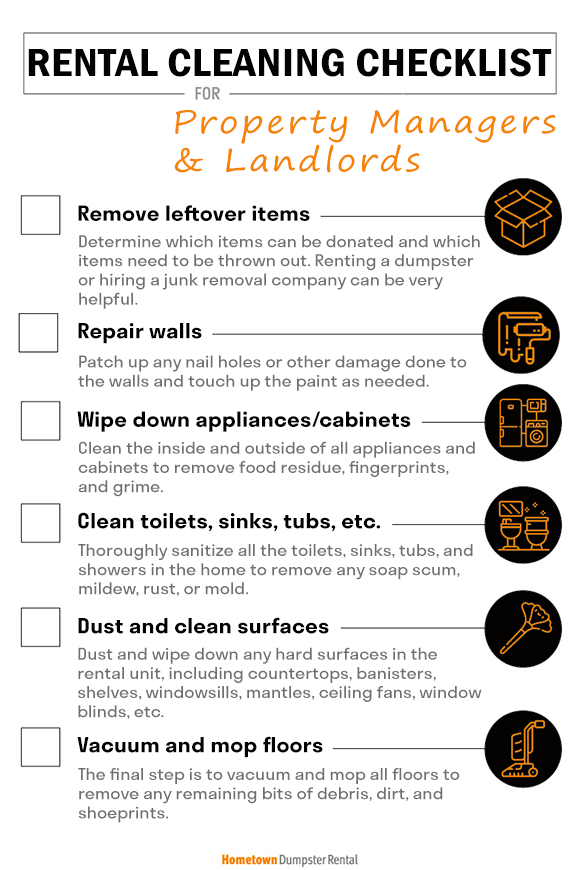 Remove All Leftover Personal Items
If the previous tenant has abandoned their personal belongings, the first thing you'll need to decide is what you'll do with these items.
There are several ways to get rid of leftover household junk:
Hire a junk removal company
Rent a dumpster
Donate items
If there are leftover items that are gently used and could be of use to those in need, separate these items from the rest of the items that will end up in the trash.
You can haul these items to local donation centers yourself or you can hire a junk removal company to do the hauling and donating on your behalf.
If you don't have the time or energy to go through someone else's leftover belongings and you need to just clear it all out immediately, renting a dumpster or hiring a junk removal company is your best option.
Depending on the amount of belongings left behind, renting a 10 yard container or 20 yard roll-off dumpster is a great way to throw out large amounts of trash quickly.
If you need help finding available containers near you, Hometown helps you easily find local dumpster providers with the click of a button.
You can easily locate and request free quotes from as many providers as you'd like to compare pricing and ensure you get the best customer service.
If you'd rather not do the dirty work yourself, hiring a junk removal might be a better option for you.
While hiring a junk removal company for large projects might be more costly than renting a dumpster, the time and energy you will save by having them empty out your rental property could save you money in the long run by having your unit available to rent out sooner.
Hometown also provides contact information for reputable and licensed junk removal companies that service your area.
Once you've rid the property of all leftover clothing, household items, and trash, make sure to vacuum the floors and wipe down the shelves and cabinets throughout the house.
Keep reading:
Repair Walls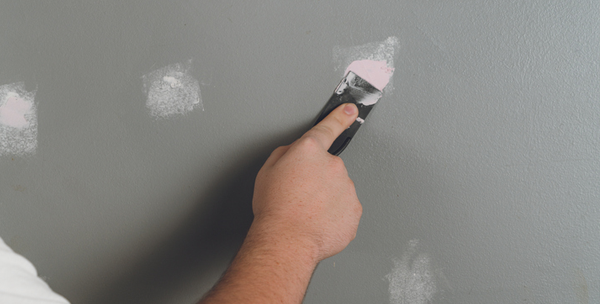 Walls that have been left with nails, drywall anchors, hooks, or general damage to them should be removed and repaired as needed.
If there are only a handful of cleanly hung nails or hooks, they can likely stay without bothering your new tenants.
After you've removed all the leftover hardware in the walls, patch up any distracting holes.
Hiring a handyman to fix any drywall that needs to be repaired is a great way to ensure the job gets done correctly and quickly.
Give the walls a fresh coat of paint to get rid of any evidence of patched holes, knicks, and scuffs that have accumulated over time prior to showing the unit to potential renters.
---
---
Wipe Down Cabinets and Appliances
Clean the insides of all cabinets in the kitchen and bathroom, as well as all appliances.
Residue from food, cooking products, toothbrushes, and other items can build up in cabinets over time, so be sure to wipe them all down once cleared of any items.
Make sure to empty out and remove any leftover food and residual in the refrigerator and then wipe it down with a disinfectant spray.
Stainless steel appliances can quickly become covered in scuffs and fingerprints, but wiping them down with a damp microfiber cloth can get them shining again quickly.
Do the same for the oven and microwave—be sure to clean them inside out so as not to leave the new tenants with an unsanitary, food-covered mess.
Clean Toilets, Sinks, Showers, and Tubs
Making sure the bathrooms are spotless is crucial before showing your rental property to prospective residents.
Thoroughly scrub and sanitize all toilets, sinks, showers, and tubs in your home to remove any soap scum, mold, mildew, or rust.
Dust and Clean Surfaces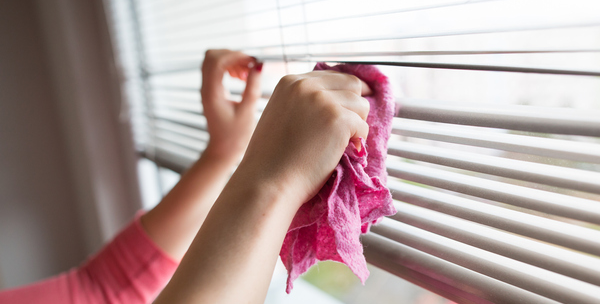 Just like in the bathroom, be sure to dust and wipe down any surfaces throughout your home.
Use an all-purpose surface cleaner and a clean microfiber cloth to wipe down countertops, banisters, bookshelves, windowsills, mantles, and any other hard surface.
Remove any cobwebs and dust from ceiling fans, lighting fixtures, and window blinds.
Vacuum and Mop Floors
The last thing you want to do is vacuum the flooring throughout the rental to pick up any remaining bits of dirt and debris, making sure not to neglect stairs, closets, and any other nooks and crannies.
Once you're done, mop any hardwood, vinyl, tile, or linoleum flooring.
Cleaning the floors last is the best way to ensure they don't get dirty again while you're cleaning the rest of the home.
If you're pressed for time or want your rental unit to be as spick and span as possible, we recommend hiring a professional cleaning company to help handle the mess.
---
---
Learn more: