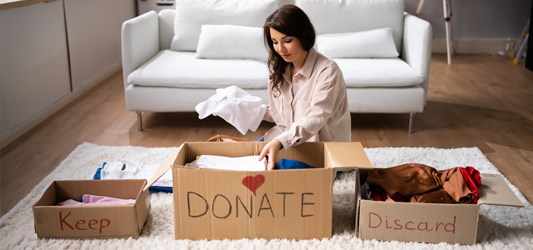 Updated January 10, 2023
The New Year provides the perfect opportunity to tackle an area of your life that needs improvement.
For many, this means finally decluttering their living space, getting rid of unwanted items taking up valuable space, and regaining organizational control of their home.
Decluttering doesn't have to be a difficult, overwhelming, or intimidating task to keep putting off; that will only allow more items to pile up and continue the negative cycle.
Hometown has compiled our biggest tips for tackling the New Year head on and getting decluttered and organize.
Follow these simple steps to decluttering your life to start the new year off right:
---
---
Pace Yourself
Jumping into a deep decluttering project without a plan can do more harm than good.
When we find ourselves overwhelmed, it's easy to give up and walk away, leaving the clutter to be dealt with another day.
Pacing yourself and mapping out a plan of attack will give yourself the best chance to succeed.
Rather than trying to get everything done within a day or a single weekend, consider how much free time you actually have to offer this project.
Work on only one room at a time so that all other areas of the home are still functional because—spoiler alert—things are probably going to look worse before they start to look better.
Decluttering involves going through every belonging in a room and determining what will stay, what will be donated or tossed in the trash, and then finding the most efficient way to organize the items you plan on keeping.
This process can be time consuming and will temporarily make the area look messier than before you started, but you have to trust the process.
Decide which rooms will take the most amount of time and start there. Spend a few hours a day tackling that room until things are organized and the room is complete.
It's okay to take a break between rooms to reward yourself for your hard work, but don't make the mistake of walking away for too long and losing your momentum.
Restrict Storage
One of the biggest mistakes people make when decluttering is to be indecisive about what to do with items and decide to box them up and stuff them in a closet somewhere.
You should restrict your storage space to only being used for items that you actually need and use often, and boxed items should be reserved for seasonal or sentimental items.
When you are going through your belongings and deciding what to do with them, limit yourself to placing these items into one of four piles:
Donate
Throw Away
Sell
Keep
Items you plan on donating should be in clean, working condition and can be placed in boxes or bags for easy transport.
You can drop these items off at local donation centers, like Goodwill, or you can place an ad on Facebook Marketplace as free items for porch pickup.
Items that can be thrown away should be bagged and tossed into your trash.
If you have a bulk amount of trash to get rid of, or large, bulky items that won't fit into your trash, consider renting a temporary dumpster.
Another option that simplifies donating or throwing away unwanted items is to hire a junk removal company. They'll haul away your unwanted junk and donate the items in good condition and take the trash to a local landfill or recycling center when applicable.
For the items that you plan on selling, make sure they're clean and take a variety of well-lit photos from a couple different angles.
List these items on an online marketplace, like Facebook, Craigslist, or Depop, and be sure to include a detailed description to give yourself the best chance of attracting the right buyer.
The items that you plan on keeping should be dusted or wiped down before ultimately being put away in an organized fashion.
We recommend organizing the items you plan on keeping after you get rid of the items you plan on selling/donating/throwing away.
It's much easier to organize in a room with less clutter, so save this part for last.
Read more:
Digitize When You Can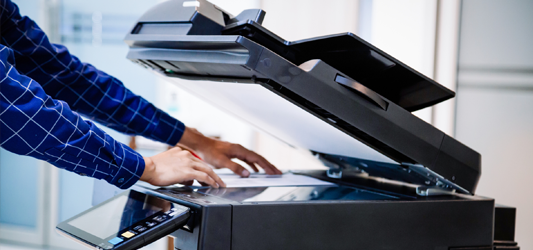 A new modern way to hang onto sentimental items in a storage-friendly way is to digitalize documents, photos, videos, and memorabilia when you can.
Boxes of paperwork, photos, or handwritten notes from high school can ultimately take up a lot of space.
Eliminate the need to find a home for these boxes by taking photos or scanning them into a hard drive or Google Drive so that you can get rid of these old documents.
Digitalizing sentimental or important documents is also a great way to protect them from theft, fire/water damage, or from being lost.
Hire Help
When you find yourself overwhelmed with the amount of stuff to get rid of, hiring help will streamline the disposal aspect of your project so that you can focus on organizing and cleaning.
Having to haul boxes, bags, and old furniture is a physically draining and time consuming project in and of itself.
Junk removal services are designed to help you unload unwanted items in the fastest, most convenient way possible.
They will either come into your home and haul away your items from wherever they're placed, or you can pile up your items on the porch or in the driveway for completely contactless pickup.
Either way, these services are very fast and their convenience cannot be understated.
For those that have large, ongoing projects and want to do a little more physical labor in order to save on costs, renting a dumpster is a great solution.
Dumpster rental services are affordable, easy to schedule, and provide the perfect solution for larger cleanup projects.
---