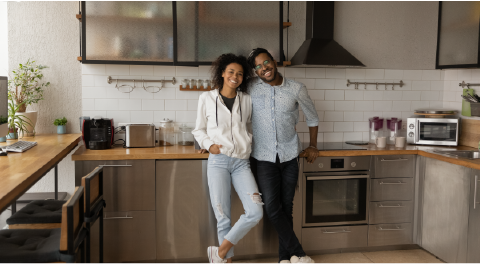 Updated August 23, 2022
Cleaning out your kitchen can feel like an overwhelming project.
Expired pantry items, unorganized kitchen tools, mismatching or cracked dishes, and messy cabinets can make your kitchen look and feel like a stressful, cluttered mess.
Even the dirtiest kitchen cleanout can be completed with minimal stress and relative ease, but only if a good plan is established first.
In this guide, we'll outline the 5 steps your kitchen cleanout plan should include and how to find the help to get it done.
Jump to:
---
---

Step 1: Determine What to Get Rid of
In most instances, people don't want to get rid of every last item in their kitchen.
Rather, they want to get rid of some and organize the rest.
So, unless you want to get rid of everything in your kitchen, you'll want to start your kitchen cleanout by determining what will go and what will stay.
Now, "what will go" could end up being sold in a garage sale, donated to a local charity organization, recycled at your local facility, or trashed, so create three separate piles for these categories.
We recommend keeping your pile of things to toss in a place that is easy to access for when it comes time to dispose of it.
If you do want to get rid of everything in your kitchen, the separating aspect of the cleanup can be skipped, and you can go straight step two.
Keep reading:
Step 2: Decide on a Disposal Strategy
For cleanups involving more than a small pile of trash, junk, or debris, we usually recommend renting a roll-off dumpster.
A 10 yard dumpster is typically big enough to handle a kitchen cleanout, but some rental providers also offer smaller dumpster sizes if your project is very minimal.
The average cost of a 10 yard dumpster is $250-$450 for a one-week rental.
If you have a kitchen packed full of items to toss, or you're gutting out the kitchen itself, you will likely need to rent a 20 yard dumpster or a 30 yard dumpster.
On average, a 20 yard dumpster costs $350-$550 and a 30 yard dumpster costs $450-$650.
A quicker alternative to renting a dumpster is hiring a junk removal company to handle the kitchen cleanout for you, or at least the removal and proper disposal of the items you no longer want.
This is a great option for those who want the job done as quickly as possible and don't mind spending a little more money to make that happen.
Expect to pay at least a couple hundred dollars (for a small kitchen cleanup) or more to have a junk removal company clean out the entire kitchen for you.
Keep reading:
Step 3: Get Quotes from Local Disposal Companies
Hometown makes it easy for homeowners to request quotes from dumpster rental or junk removal companies, making it easier to determine which service is best for your kitchen cleanout project.
Begin by clicking "Find Pros" at the top of this page, and select the service type you're interested in getting quotes for first: dumpster rental or junk removal.
From there, you can browse all the local companies serving your area, read more about the services they offer, see what their customers have to say about them, and request free quotes from as many companies as you'd like.
---
---
Step 4: Hire the Right Company for the Job
We recommend getting three or more dumpster rental quotes and getting multiple junk removal estimates.
Getting multiple quotes helps to ensure you pay a fair price for the service you decide to go with, and that you get quality work from a professional, reliable company.
When you reach out to companies for a quote, be as detailed as you can when describing what you need removed and how much you have.
It's easy to get a dumpster rental quote over the phone, especially when you're clear about the type and amount of debris you have to dispose of.
Junk removal quotes, however, usually require sending 1-2 employees to your home in order to provide an in-person quote for the junk removal (unless you only have one or two simple items).
All quotes—both from junk removal and from dumpster rental companies—are free, and you are in no way obligated to hire a company if you don't agree with the price they quote you.
However, if you do agree with the price a junk removal quotes you for your kitchen cleanout, they typically get started right away.
Read more:
Step 5: Organize Your Decluttered Kitchen
Once your unwanted junk is removed, it's time to finish organizing the items you're keeping in your kitchen.
Everything in your kitchen should have a designated spot.
Maximize storage space by adding shelving and cabinet organization.
Moving forward, limit the amount of new items you bring into the kitchen in order to maintain your newly clean and organized space.
If you must bring new items into your kitchen, it's a good rule of thumb to remove one item in order to reduce the risk of clutter piling up again.
---
---
Find out how to improve your kitchen: