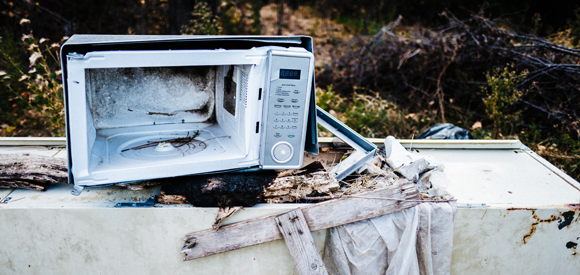 Updated September 11, 2023
The lifespan of an average microwave is 5-10 years, so there will likely be several times throughout your life when you'll need a way to dispose of your microwave.
Throwing a microwave in with your regular weekly trash pickup isn't allowed and can get you fined in many places.
We've gathered everything you need to know if you have an old microwave that you need to get rid of.
Jump to:
---
---

Donate
One of the easiest ways to get rid of anything is to donate or offer it for free on internet marketplaces, like Craigslist or Facebook Marketplace.
This usually only works for items that are still in good working condition.
If your microwave still works, make sure to clean it inside and out to remove any remnants of food before taking it to Goodwill, Habitat for Humanity, or other local donation centers.
Taking a photo and listing it online for free could get it picked up from your porch within a matter of hours or days.
If you don't have the time, strength, or desire to haul your donation items to the appropriate facility, junk removal services will gladly pick up your gently used microwave or other household items and donate them on your behalf.
Learn more: Donate Your Unwanted Items Easily with Junk Removal
Schedule Bulk Trash Pickup
Some municipal weekly trash pickup services offer bulk trash pickup if it is scheduled ahead of time while others only offer it a few days out of the year.
Not every company does but double-checking with your local provider is worth a call.
Keep reading:
Rent a Dumpster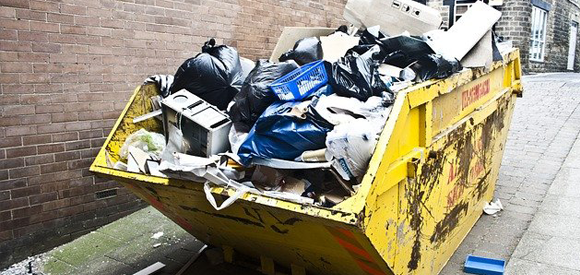 Renting a dumpster to get rid of a microwave is only cost-efficient if you have a lot of other unwanted items to get rid of.
If you do a house cleanout and decide to rent a dumpster, be sure to ask the rental company what items they accept in their dumpster.
Not every company will allow appliances, so being as specific as possible when describing your intentions with the dumpster will help you avoid any unexpected charges and fees.
When you need a dumpster rental, getting multiple quotes from a variety of local companies is crucial to ensure you get the best service for the best price. Getting free dumpster rental quotes has never been easier than with Hometown.
We publish locally-owned and operated dumpster rental and junk removal companies across the U.S. By filling out our simple quote request form, you can choose which companies near you to request free estimates from to compare pricing, customer service, and availability.
Continue reading:
Hire a Junk Removal Company
One of the easiest ways to get rid of an old, broken-down microwave is to hire a locally-owned junk removal service.
This is especially true if you have a few large items that you no longer wish to keep.
Not all junk removal companies will remove and recycle appliances, but the ones that do can be in and out of your house in under 20 minutes.
Hiring a junk removal company to get rid of your old microwave is affordable, fast, and requires zero labor on your end.
Just like with dumpster rental services, Hometown makes it easy to find reputable, locally-owned junk removal companies in your area.
You can request free quotes from multiple providers to ensure you get the best price and customer service.
---
---
Read on: