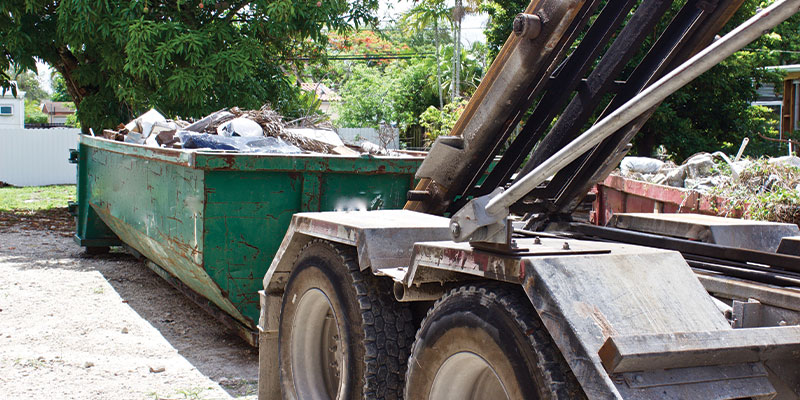 Updated August 16, 2023
Knowing the do's and don'ts of dumpster rental is one of the first steps you should take to ensure a smooth and successful dumpster rental experience.
Follow these do's and don'ts to make the most of your dumpster, ensure compliance with regulations, and contribute to a safe and efficient cleanup or renovation project.
Jump to:
---
---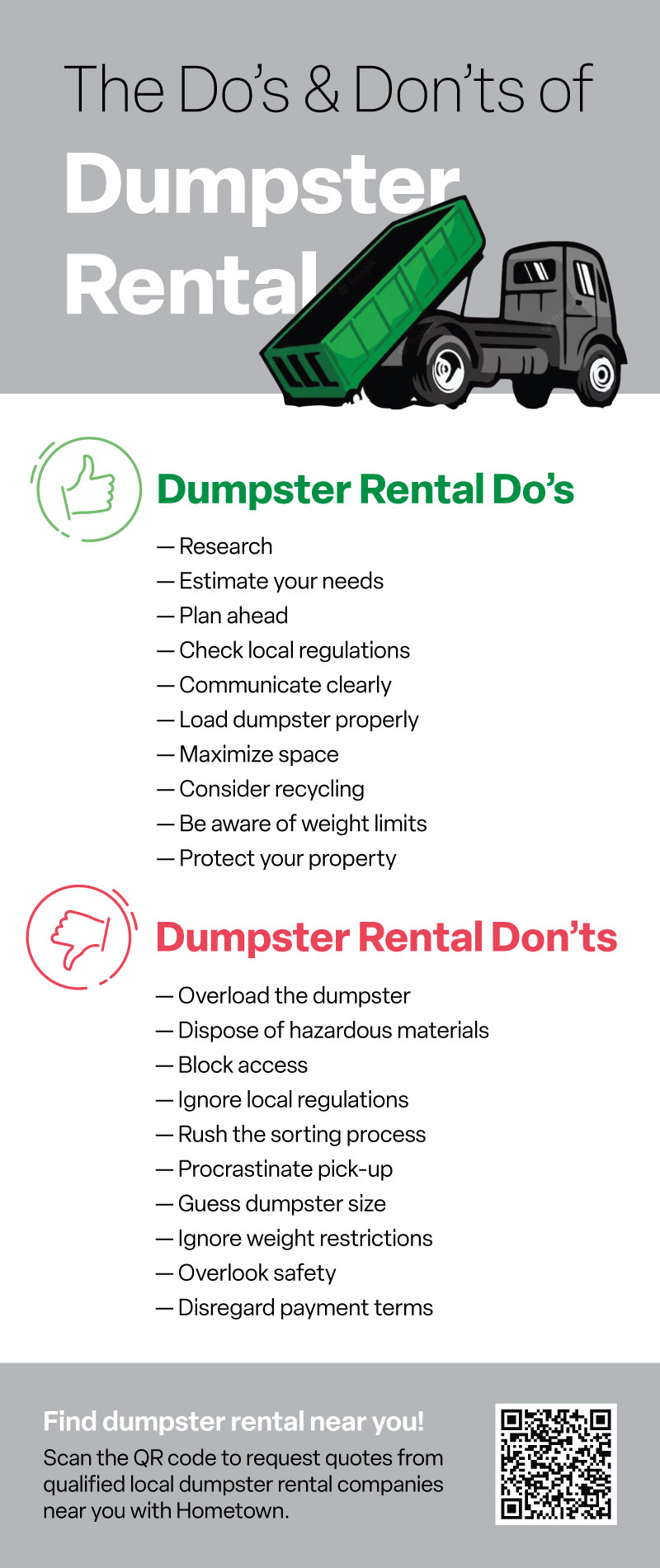 Dumpster Rental Do's
Do Research
One of the most important steps to a great dumpster rental experience is to do your research. That means researching different dumpster rental companies in your area and learning more about the dumpster rental process.
Compare prices, services, customer reviews, and terms to make an informed choice.
Do Estimate Your Needs
Estimate the amount of debris or junk you need to dispose of to select the right dumpster size. A general rule of thumb is it's better to choose a slightly larger size than to underestimate and run out of space.
The good news is that the dumpster rental companies you speak to are experts at recommending the right size for your project, so fill them in on what your project is like so they can recommend the best dumpster size for you.
Read more: The Ultimate Guide to Dumpster Sizes
Do Plan Ahead
Whenever possible, schedule your dumpster rental well in advance, especially during peak seasons or busy times. This ensures the dumpster size you need from the company you prefer is available, allowing you to stick to your desired project timeline.
Do Check Local Regulations
Check with your local municipality or homeowner's association to confirm any permits or regulations required for placing a dumpster on your property or in a public area.
A qualified, licensed, and insured dumpster rental company will pull any necessary permits for you, but confirm this with each dumpster rental company you speak to.
Do Communicate Clearly
Clearly communicate the details of your project to the dumpster rental company, including the type of debris you'll be getting rid of, rental duration you expect you'll need, and any other special requirements.
If you have any appliances, debris, empty paint cans, or similar items, confirm with each company you speak to what is and isn't allowed in their dumpster so you are prepared and not surprised by your final bill.
Do Load the Dumpster Properly
Load the dumpster evenly and distribute weight to prevent overloading your dumpster or uneven weight distribution. Be sure to follow any guidelines provided by your dumpster rental company.
Do Maximize Space
Whenever possible, break down large items to maximize the usable space in the dumpster. Compact debris as you go to ensure efficient use of the container, and be strategic about how you load items into the dumpster.
Do Consider Recycling
Whenever possible, separate recyclable materials from your other debris. Many dumpster rental companies offer recycling options, so inquire about their recycling policies before renting so you know what to expect.
Learn more:
Do Be Aware of Weight Limits
Be mindful of weight limits specified by the rental company. Exceeding weight limits may result in additional charges or difficulties during pickup, which can cost you more money and more time.
Do Protect Your Property
Qualified dumpster rental companies will place plywood or boards under the dumpster to protect your driveway or pavement from damage. Confirm this with the companies you speak to so you know whether or not this is something they provide.
Also, clear the area of any obstacles that could obstruct dumpster delivery or pick-up.
---
---
Dumpster Rental Don'ts
Don't Overload the Dumpster
Avoid overloading the dumpster beyond its capacity. Items should not be sticking out or stacked too high, as this can pose safety hazards during transportation.
Most dumpsters have a "fill line" inside the container indicating the maximum height you can load your debris in the dumpster while allowing it to be safely transported.
Keep reading: How to Estimate the Weight of a Dumpster Load to Avoid Overage Fees
Don't Dispose of Hazardous Materials
Do not dispose of hazardous materials, like chemicals, paint, tires, asbestos, or electronics, in the dumpster. These items require alternate proper disposal methods.
Learn more: How to Dispose of Household Hazardous Waste
Don't Block Access
Avoid placing the dumpster in a location that blocks access to your property or creates obstacles for neighbors, pedestrians, or emergency vehicles.
Don't Ignore Local Regulations
Don't skip checking for required permits or violating local regulations for dumpster placement. Failing to comply can result in fines or delays.
This is why we recommend asking each company you speak to about how they handle the permitting process, so you remain protected.
Don't Rush Sorting
Take the time to properly sort through your debris. Separating recyclable materials from non-recyclable items can save space and reduce environmental impact, as well as your disposal fees.
Don't Procrastinate Pick-up
Once your project is complete, don't delay scheduling the dumpster pick-up. Prompt pick-up ensures you're not charged extra for keeping the dumpster longer than planned.
Don't Guess Dumpster Size
Avoid guessing the size you need. It's better to consult with the rental company and get their recommendation based on the specifics of your project. If they recommend a larger dumpster than you anticipated needing, don't write off the idea.
Oftentimes, a larger dumpster is the better choice because you get significantly more dumpster space for only $50-$100 more on average, sometimes less.
Don't Ignore Weight Restrictions
Ignoring weight limits can result in safety hazards, damage to your property, and additional fees. Be mindful of the weight of the debris you're disposing of and do your best to stay within your dumpster's weight limit.
Don't Overlook Safety
Prioritize safety during loading and unloading. Avoid climbing inside the dumpster, and use proper lifting techniques to prevent injuries.
Many dumpsters have a door or doors that swing back and out of the way, allowing you to carry heavy items into the dumpster safely.
Don't Disregard Payment Terms
Be aware of the payment terms and schedule. Don't assume you can delay payment or that fees won't apply if you exceed the agreed-upon rental period.
---