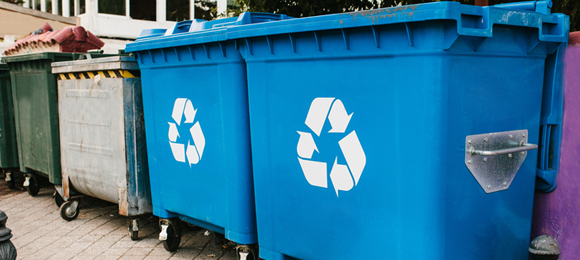 Updated March 2, 2023
Choosing to rent a recycling dumpster is an eco-friendly way to dispose of bulk amounts of recyclables at reasonable rates.
Clean loading a dumpster with a single type of recyclable material is a cost efficient way to getting rid of cardboard, plastic, concrete, lumber, metals, roofing shingles, yard waste, and more.
Rental rates for recycling dumpsters may cost less compared to dumpsters utilized for general waste disposal, so we've gathered everything you need to know about renting a recycling dumpster.
We'll go over:
---
---
Trash Dumpsters vs. Recycling Dumpsters
There really is not much difference, if any, between a garbage dumpster and a recycling dumpster.
However, dumpsters that are designated as "recyclables only" must not include mixed general waste.
For example, a dumpster rented for disposal of a bulk amount of cardboard debris located at a retail store must only be loaded with cardboard and nothing else.
This is what's referred to as a "clean load." In other words, the dumpster contains only one type of material.
In the case of a recycling dumpster, this would include one type of recyclable material. Additional fees may apply when not abiding by this rule.
When calling a dumpster rental provider to get a recycling dumpster quote, be sure to mention the dumpster is to be used for recyclables only.
Read more:
Temporary vs. Commercial Recycling Dumpster Service
Residential and ongoing commercial recycling service is offered by most reputable waste haulers that offer weekly/bi-weekly trash pickup.
This is an ideal option for homeowners or businesses that generate a fair amount of recyclable debris on a consistent basis.
However, certain situations may warrant renting a one-time-use dumpster to handle bigger cleanups where the normal amount of debris generated exceeds what the normal recyclable container can handle.
Examples include:
Cleaning out a business that has closed down or is clearing out inventory
During the holiday season when cardboard use is high
Renovation or construction projects
Bulk removal of any type of recyclable debris from home, school, or business
Roofing shingles
Concrete driveway or patio removal
Yard waste cleanup
How to Get a Recycling Dumpster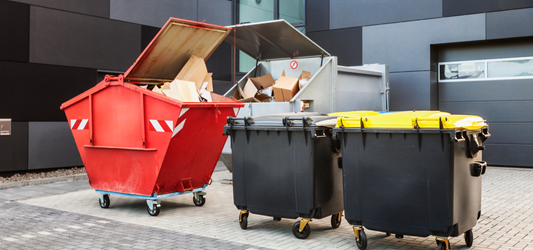 The best pricing for a recycling dumpster, or any dumpster for that matter, is typically found through a local company.
Hometown makes it easy to find local dumpster providers and request free quotes to compare pricing, availability, and customer service.
Some companies may have containers available specifically for recyclables, while others may not.
However, reputable waste haulers will provide you with the most cost-effective and eco-friendly solution.
For residential recycling service, contact your waste removal provider for details.
Many offer recycling service included in the trash pick-up rates, so it's no additional cost to you. Other companies may charge a fee that is usually less than that of trash pick-up.
Read more:
---
---
Cost of Renting a Recycling Dumpster
Dumpsters used for recyclable debris oftentimes cost less than dumpsters used for disposal of general waste.
This is because the tipping fees for recyclables at many landfill/recycling facilities are less than that of general waste. Recyclable material is a more valuable commodity.
These are based on national averages, but you could save as much as 50% off the cost of a dumpster rental by using it for recyclable materials.
For example, 2019 tipping fees in King County, WA for general waste is around $25 per ton, while clean wood debris costs just $12 per ton, according to the King County Solid Waste Division.
It's important to understand that every municipality is different in how recyclables are processed, and because of this, pricing can vary widely.
Some locations may actually charge more for the disposal of recyclable materials, and dumpster prices may be higher accordingly.
Most municiplaties list landfill and recycling tip fees at their respective website. You can also give your local solid waste division a call for details.
Contact a local dumpster rental provider today to inquire about recycling dumpster pricing.
We make it easy - simply search for your city at the link below.
---
---
Related articles: