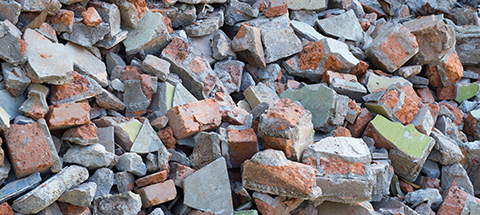 Updated October 8, 2021
Demolition and construction projects can produce quite a bit of debris, and disposing of it at your local landfill can be expensive.
To save money in the debris disposal process, we recommend clean loading your dumpster.
In this article, we'll go over what it means to clean load a dumpster, how to do it, and how much money you can potentially save.
Jump to:
---
---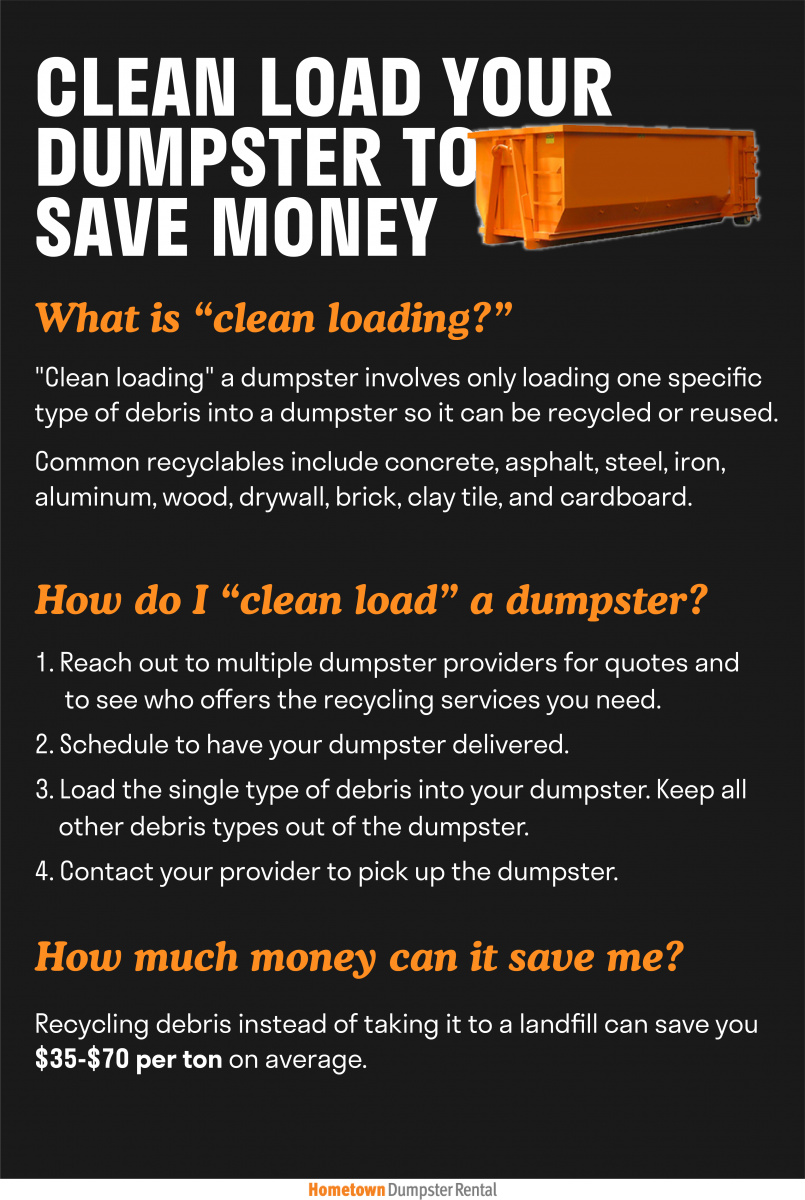 What It Means to 'Clean Load' a Dumpster
'Clean loading' a dumpster means to only load one specific type of debris into the dumpster.
This allows the material to be recycled or reused somehow.
Not only does this save you money, but it also keeps valuable materials out of the landfill and conserves energy used to create new materials, protecting our environment.
A variety of construction and demolition (C&D) debris can be recycled and reused, including:
Concrete
Asphalt
Steel
Iron
Aluminum
Wood
Drywall
Brick
Clay tile
Cardboad
These materials, once recycled, can then be used to build future roads, bridges, buildings, and more.
Keep reading:
How to Clean Load a Dumpster
When reaching out to dumpster rental providers in your area, the most important thing is to first ensure they offer the recycling services you need.
Most dumpster providers have local landfills and recycling facilities that they regularly work with and transport to, so make sure that the companies you speak to are able to recycle your specific material(s).
For example, if you're tearing off your asphalt shingle roof and want to dispose of just the asphalt shingles (no nails, underlayment, plywood, etc.), make sure you're renting a dumpster from a company that can haul it to a facility where it can be properly recycled.
In this situation, we recommend separating the other debris types so they can be recycled (or reused) appropriately.
Stack plywood, and toss nails and other metal bits in a bucket to be reused or recycled separately.
Were you to combine all these debris types into the dumpster, they wouldn't be able to be recycled, and the cost to dispose of them would be much higher.
Learn more:
How Much Money Clean Loading Can Save
Virgin materials are limited and expensive to source, new materials are expensive to make, and landfill space is extremely limited and therefore highly valuable.
This is why recycling facilities offer cost-based incentives to encourage homeowners and contractors to recycle construction and demolition (C&D) debris/materials whenever possible.
In 2020, the average landfill tipping fee was $40-75/ton, but in places like New York City, where landfill space is particularly limited, the landfill fees can reach upwards of $140/ton.
On the contrary, the tipping fee at a recycling facility is $5-$20 per ton on average.
This cost difference can add up quickly, saving you hundreds of dollars or more in some cases.
---
---
Keep reading: