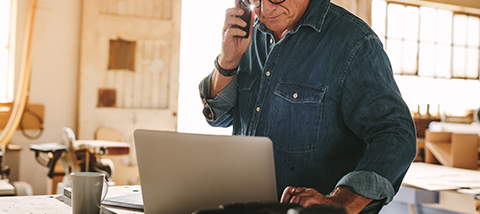 Updated June 19, 2023
At Hometown, we go the extra mile for our partners, which is why we set out to create a better service for them back when we started in 2009.
If you offer dumpster rental or junk removal services to customers and are looking for more customers and better leads, look no further than Hometown.
Point blank: Our leads are the best. We know the waste hauling business, and we put that experience to good use to get our partners more leads and higher quality leads for one low monthly price.
Find out what sets us apart from the competition below.
Jump to:
---
1. We are the #1 source of new waste hauling customers nationwide.
More dumpster rental and junk removal customers visit Hometown to find a service provider than any other source in America. Over 2 million potential customers visit every year.
Get found here—you'll get more jobs and grow your business.
2. HometownLocal knows waste removal.

Most lead generators are "catch-all" services that do not understand service providers or their business.
HometownLocal has specialized in dumpster rental marketing and junk removal marketing, and generating waste removal leads since 2009.
This helps us provide more relevant leads and a higher level of customer service.
3. You're in control of your leads budget.
With one monthly price that you determine, you always know what you're paying with Hometown.
Your budget directly affects the amount of promotion you receive on Hometown Dumpster Rental. Want to reduce your monthly spend? Lower your budget and we'll reduce your promotion level.
Want to increase the amount of leads you receive? Increase your budget for a higher promotion level and more leads.
4. Customers find you and request a quote. You decide.

Many new customers will choose to contact you via your online quote request form.
With online quote requests, you're able to accept or decline the request with a single click.
Online quote requests that you can accept or decline offer great flexibility, giving you the option to quote the job or not with just one click.
How Online Quote Requests Work:
Customer finds you on Hometown Dumpster Rental and requests a quote via your "Get a Quote" online form.
We notify you via text message of the customer request, including the job description and location.
You then decide whether you'd like to quote the job with one click.

Accept the lead and we instantly share the customer's full contact details. We also notify the customer via text message that you will contact them soon about a quote.
Decline the lead if the job is not right for you or you're too busy. We'll continue working with the customer to find an available service provider.
5. Direct phone calls are great leads.

Your business phone is published in all of your advertising content. Customers with a sense of urgency often choose to contact you directly by phone.
Answer the phone or return the call promptly and you may be the only contractor quoting the job.
6. No contract. No lock-in. Zero risk.
Run away from any marketing service that locks you into a longterm commitment.
Why would a lead service need to "lock you in" if they're confident you'll want to stick around?
No contract required here. If you're not satisfied with our services, you can cancel or pause at any time for any reason.
7. Got reviews? Hometown builds your online reputation for free.

More than 80% of customers want to read reviews from past customers before hiring a service provider.
Reviews or lack of reviews impact your ability to get new jobs.
Hometown provides a free, no-hassle way for waste haulers to establish a strong reputation online.
We automatically collect and publish trusted reviews from customers that find you on Hometown.
We make it simple to ensure your online reputation isn't defined by a lack of reviews or a single bad review.
Hometown reviews are trusted by Google and often show up in the "Reviews from the Web" section of your "Google My Business" listing as a trusted source of reviews.
8. Unlimited access to leads for one low monthly price.
When you sign up to receive leads with Hometown, you'll start at the minimum monthly budget for your combination of services offered and population served.
The starting minimum monthly budget depends on your services and service area size, but is often as low as $250 per month for dumpster rental providers and $150 per month for junk removal providers.
If you like the leads you're receiving and you want more, simply increase your monthly budget for a higher level of promotion and more leads.
We are proud to offer our partners a great value for jobs that can bring in several thousand dollar's worth of new revenue.
9. Professional content creation is free and hassle-free.

HometownLocal does all the work to give you a professional image online.
Whether you have a website or not doesn't matter. Hometown does all the work to build you lead-generating content that attracts new customers.
We create or format your logo, write your profile and listings to your specifications, include available images, and gather reviews from real customers.
We work hard to simplify your life so you can focus on doing what you do best.
10. Coming soon: New tools free for Hometown partners
Along with new customer leads, Hometown advertising partners will soon get access to new software and communication tools designed to help you meet and exceed the expections of today's customer.
Tools built specifically for waste removal service providers, like business text messaging and online booking, are coming soon.