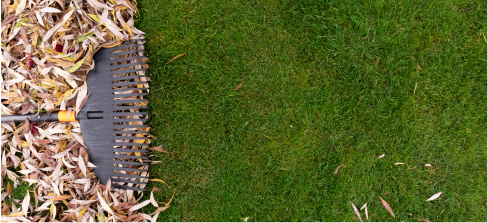 Updated January 19, 2023
A well-landscaped home can be worth 5.5-13% or more than a comparable home without landscaping.
The benefits of maintaining a beautiful yard are numerous: It improves curb appeal, increases property value, allows the homeowner to showcase their home's character, and gives homeowners a chance to add their individual style to their home's exterior.
When it comes to keeping your yard looking its best, a well-maintained lawn and clean-kept, impactful landscaping goes a long way.
But keeping it looking clean and eye-catching (in a good way) can feel like a full-time job in some cases.
We've compiled our three biggest tips for keeping your yard looking neat and beautiful all year round.
Jump to:
---
---

Develop a Debris Management System
The first and main step to keeping your yard clean all year round is having a system in place to manage it properly.
Without a designated way to manage the inevitable debris your yard produces, it will be extremely difficult to maintain a clean yard.
Most yard debris, like grass clippings, weeds, plant trimmings, and twigs, can be composted.
Composting your yard's green waste is a great way to manage a vast majority of your yard's debris, and it's easy to create a compost system that works for you.
There are a wide range of ready-to-use options, like Subpods, GEOBINS, tumblers, and more.
It's also easy to construct your own compost system using palettes or simple lidded trash bins.
If you don't want to compost your green waste, you also can likely bag it up and haul it to the nearest yard refuse center.
Having yard waste bags on hand will make it easy to toss green waste as needed and keep it contained.
However, be sure you don't let your yard waste bags accumulate too much, or they will start to take over your valuable garage or shed space, and will add to the cluttered look and feel or your yard/property.
We recommend surveying your yard on a weekly basis and doing the following to keep your yard looking its best:
Bag up any litter that has blown into your yard and throw it away.
Put any lawn equipment, furniture, or toys back in their proper place.
Pick up any sticks, twigs, or branches you see. Bag them up or place them in a bucket to be burned later.
Toss any pebbles or rocks into a bucket so as not to mow over them, or put them back in their rightful place.
Remove any weeds by hand, or utilize weed killer if weeds are widespread. Bag them up in yard waste bags or compost them if they haven't gone to seed yet.
Trim shrubs, bushes, and trees to keep them shapely. Place cuttings in yard waste bags, in a bucket to be burned later, or compost them.
Use a leaf blower or push broom to keep the driveway, sidewalk, patio/deck, and pathways clear of small debris.
Replace Old Garden Decor and Furniture
A clean, beautiful yard can easily be sullied by unsightly decor and old, stained or chipping furniture.
So the next step is to get rid of any yard decor or outdoor furniture that is negatively impacting the appearance of your property and replace it.
You can often refresh and completely transform outdoor furniture by thoroughly washing and sanitizing any fabrics, and adding a fresh coat of paint or stain to any wood or rusting areas, but this isn't always the case.
Renting a dumpster or hiring a junk removal company are two great options for getting rid of old furniture you can't sell or get rid of for free.
If you have seven cubic yards or more of furniture, decor, or general junk to get rid of, renting a temporary roll-off dumpster may be your most cost-effective option.
A 10 yard roll-off is typically large enough for a basic yard cleanup project, while 20 yard roll-off dumpsters are a great size option for larger residential or light commercial yard waste disposal projects.
If you don't have the time or ability to clean up all that debris yourself, a junk removal company can be a great resource.
Reach out to local companies to have them come out to your property to provide a quote for your yard cleanup project, and if you like the price they quote you, they'll usually begin the work right away.
Hometown makes it easy to find local junk removal companies or local dumpster rental companies, whichever you prefer.
You can browse the companies in your area, read customer reviews, and request multiple quotes to be sure you get great customer service at the best price.
Find out more:
Repair or Replace Old Fences, Decks, and/or Concrete
Similarly to upgrading your outdoor furniture, if you have a fence, deck, or concrete on your property that is showing its age, you may want to consider repairing or replacing it.
Broken fence panels, deck boards, and cracking concrete can negatively impact your home's value by $1,000 or more in some cases.
A beautiful fence has many benefits, especially for those with younger children, dog owners, homes with pools or hot tubs, or those simply looking for more privacy or a clearly-defined yard space.
Similarly, a clean, well-maintained deck makes it easy for you to enjoy the outdoors with family and friends, brings a dynamic look and feel to your yard, and appeals to a wide range of homeowners.
And if you have a driveway, sidewalk, pathways, steps, or foundation that has obvious cracks, heaving, settling, or other negative symptoms, it might be time to remove the concrete and replace it.
If you have an old fence, deck, pool, concrete, or shed/barn that's worse for wear and ready to be removed, Hometown can help you find fence and deck removal companies, concrete removal contractors, pool removal contractors, shed/barn removal companies, and more to help your property look its best.
---
---
Keep reading: