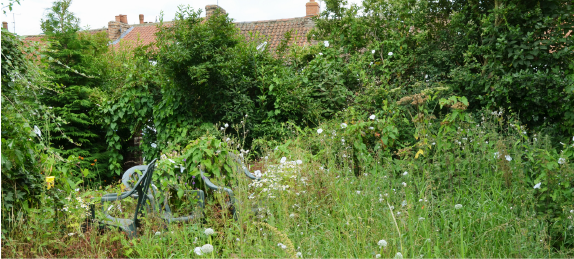 Updated January 19, 2023
Letting a yard go unattended for extended periods of time, or even years, is unavoidable sometimes.
Whether you're helping an elderly family member or neighbor who is unable to maintain their yard throughout the seasons, or you're buying a foreclosed home with a wild backyard, cleaning up an abandoned yard is not an uncommon project and it doesn't have to take a ton of time.
In this guide, we'll outline the benefits of having a well-maintained lawn, a few of the most common yard waste removal and disposal methods, and tips for getting the project done with minimal stress and time.
Jump to:
---
---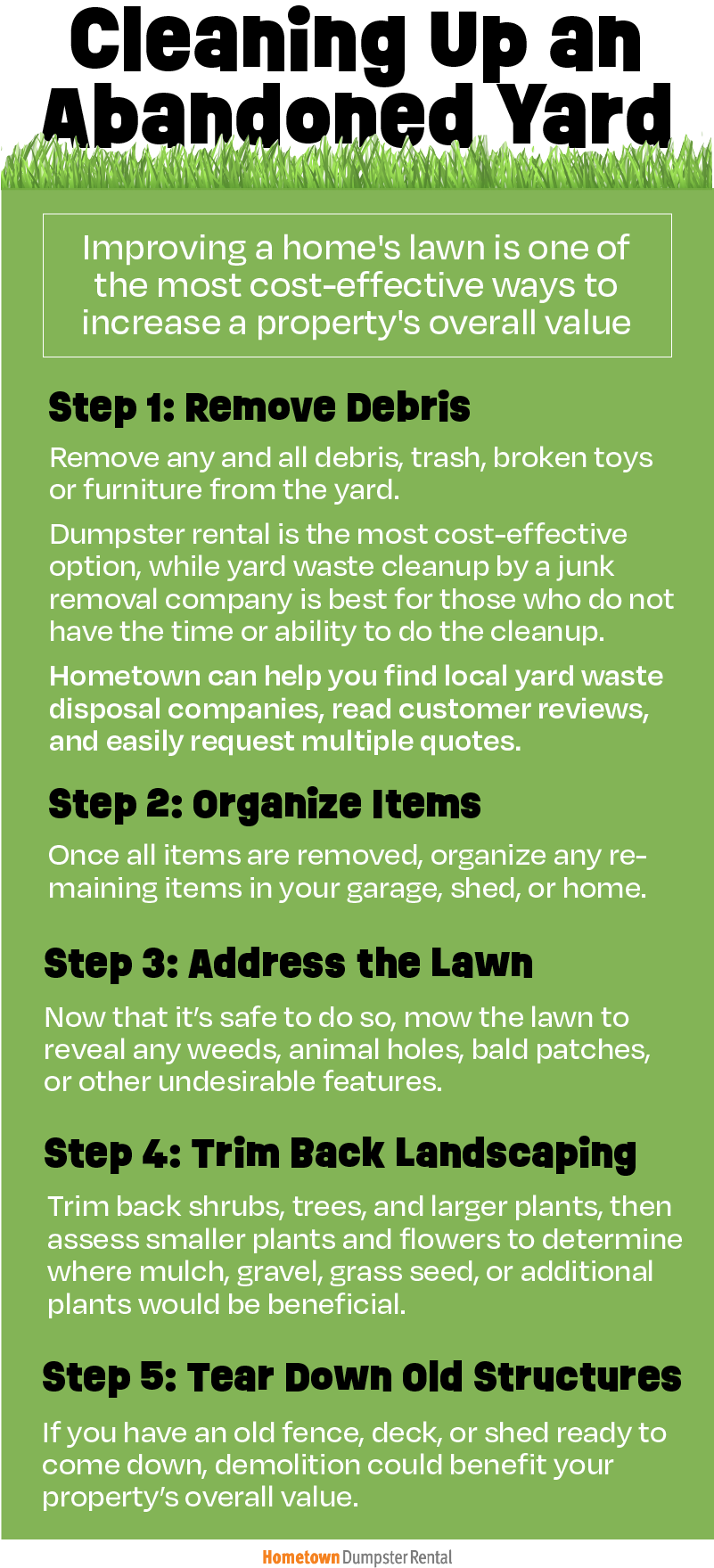 Benefits of a Well-Maintained Yard
A well-groomed lawn with appropriate landscaping sets the tone for your home and gives you and your family and friends a beautiful place to gather and be outside.
Improving a home's lawn is also one of the most cost-effective ways to increase your property's overall value.
Landscaping can provide a 100%-200% return on investment and can even increase your home's value by as much as 15%.
An abandoned, overgrown, or debris-riddled yard can also pose a safety hazard by making it harder to see hidden trip hazards or sharp objects, attracting pests, increasing allergies, and even negatively impacting mental health.
The many benefits of a healthy lawn and yard should not be underestimated, so if your yard or the yard of a neighbor or loved one has become overgrown and unkempt, plan a yard cleanup day to get it back in tip-top shape.
Keep reading:
Dumpster Rental for Yard Waste
Yard waste cleanup projects produce quite a bit of debris, and one of the most efficient and inexpensive ways to manage said debris is by renting a temporary dumpster.
Dumpsters are a great option because they come in a number of different sizes:
No matter how big or small your yard cleanup project is, there is a dumpster size to accommodate a) the volume of debris you have without overfilling it, and b) the weight of your debris without exceeding the dumpster's weight limit.
A 10 or 20 yard dumpster is big enough to handle most yard waste disposal projects, like disposing of leaves, fallen branches, brush, limbs, and other landscaping waste.
If you're disposing of generally lightweight items, like leaves and branches, you likely won't be at risk of exceeding your dumpster's included weight limit.
However, if you have tree stumps, large amounts of soil, bricks, or other heavy rubble, be sure you rent a dumpster that can accommodate the weight of your debris.
Every yard cleanup project is different, but an experienced dumpster rental company will be able to help you determine which dumpster size best suits your project based on the information you provide them.
The cost to rent a 10 or 20 yard dumpster for yard debris is $250-$450 on average, but this cost varies by location, availability, dumpster size, who you rent from, and local landfill fees.
If you are "clean loading" yard waste into your dumpster, you may be able to pay a discounted price, so discuss this with the dumpster companies you speak to.
The dumpster rental process is simple:
Request quotes from multiple local dumpster rental providers
Choose the right dumpster size to rent and the right dumpster company to rent from
Schedule dumpster delivery
Fill up dumpster with your debris within the agreed upon rental period
Schedule dumpster pick-up
Dumpster is hauled to the nearest disposal facility
At Hometown, we make it easy to find local dumpster rental companies, read customer reviews, and request dumpster rental estimates from multiple companies. This helps to ensure you pay a fair price for your particular cleanup by comparing quotes from multiple waste haulers.
Learn more:
---
---
Yard Cleanup by Junk Removal Company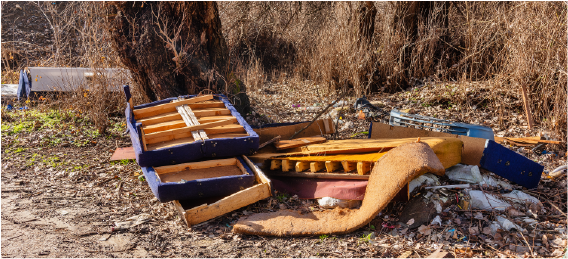 If you're looking to have your abandoned or messy yard cleaned up as quickly as possible or if you want someone else to handle the cleanup work for you, then hiring a junk removal company to handle it may be the best route for you to take.
Yard waste cleanup projects range from $500-$1,000 depending on how much debris you need cleaned up, where you live, who you hire, and whether or not there are bulky/heavy or hazardous materials present.
If there are fallen trees that need to be broken down before being loaded up, if there is heavy scrap metal, or other labor-intensive work that needs to be done, you can expect the cost of the cleanup to increase.
The vast majority of junk removal companies offer basic yard waste pick-up, and the junk removal process is simple:
Call the junk removal company and request an estimate. (They will likely need to come assess the yard in person before giving you an estimate.)
Once you agree to a price, hire the junk removal company. They usually get right to work.
The junk removal crew loads up the yard waste.
You pay them the agreed price.
They haul the debris to the appropriate facility.
Just like dumpster rentals, Hometown can help you find local junk removal companies too. Read customer reviews for companies in your area and request multiple quotes for your junk removal project to ensure you get great services for a fair price.
Keep reading:
---
---
Tips for Cleaning Up a Messy Yard
Cleaning up a messy yard can feel overwhelming, but breaking it down into individual jobs can help minimize stress and streamline the process.
The first step should be removing any and all debris, trash, broken items, or any other eyesores that can be removed.
For example, get rid of any old toys or equipment, broken outdoor furniture, fallen tree debris, accumulated leaves, dead shrubs or trees, etc.
Once all items are removed, and ideally organized in the appropriate place (e.g. shed, garage, or barn), it's time to tend to the grass and landscaping.
Mow the lawn to reveal any weeds, animal holes, bald patches in the grass, and other undesirable features that will need to be addressed.
Next, trim back shrubs and trees to improve their appearance and boost plant health and growth.
Once the larger plants are trimmed, you can then go in and assess smaller plants, including flowers, and determine areas that need fresh mulch, gravel, or seed.
If you have an old fence, deck, pool, or shed/barn that's worse for wear and ready to be removed, Hometown can help you find fence and deck removal companies, pool removal contractors, and shed/barn removal companies too.
---
---
Find out more: