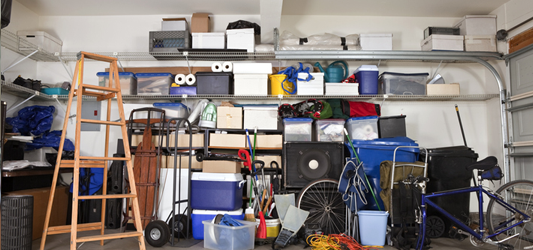 Updated April 18, 2023
Spring is the perfect time to clean, declutter, and dispose of unwanted junk, waste, and debris.
Many homeowners and businesses make spring cleaning an annual event, and for good reason.
Cleaning out your home regularly offers many benefits, like alleviating allergies, improving mental health, increasing the value of your home, and more.
Hometown knows that your time is valuable, so we've gathered these quick and easy tips to follow so your spring cleaning project can go off without a hitch.
Jump to:
---
---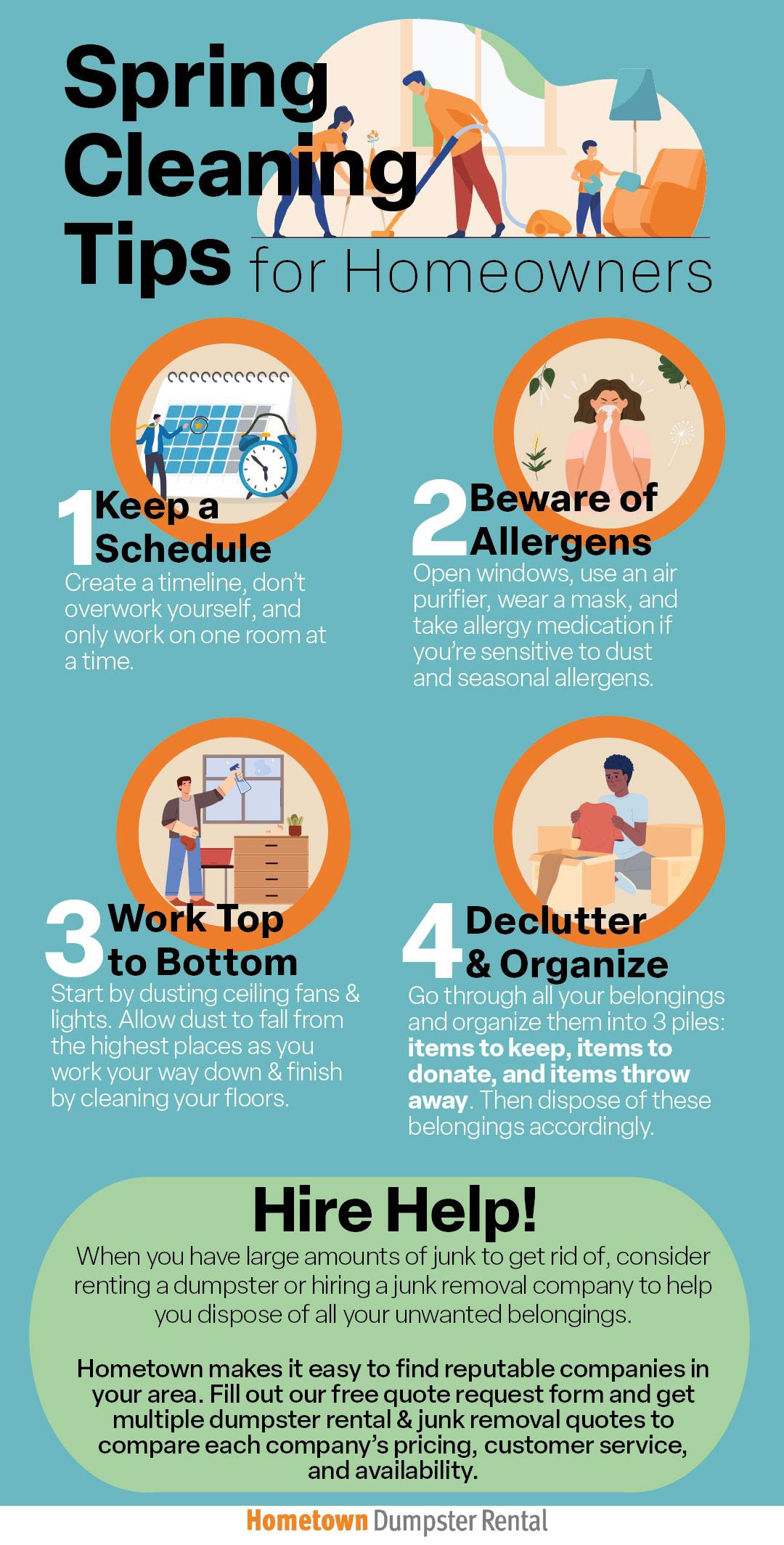 Keep a Schedule
Creating and keeping a schedule should be the first step when you begin your spring cleaning project.
Having a realistic timeline will keep you on track and make sure that you aren't falling behind or overexerting yourself.
When creating a spring cleaning schedule, assess which rooms need the most work and consider each room a separate project from the next. Create a to-do list specific for each room so you can determine which rooms need more attention than the others. Working on one room at a time will help you stay focused and keep the rest of your home in a livable condition.
If you're someone who is motivated by progress and transformations, we recommend working on the areas that need the least amount of work first. Seeing your efforts transform your living environment can help give you motivation when you're in the midst of the more challenging and less organized areas of your living space.
Protect Yourself from Allergens
Dust, hair, and other particles have a tendency to collect and sit in all cracks and crevices of a home.
When you're moving items, organizing, and cleaning, a lot of these common allergens will be kicked up into the air which can be irritating for people or pets with common allergies. Something as simple as wearing a mask and taking allergy medicine can help to prevent your allergies from flaring up.
Be sure to open available windows in the room to circulate fresh air. For more sensitive individuals, having an air purifier in the room with you while you're cleaning can also alleviate allergy flare-ups.
Work from Top to Bottom
Cleaning each room from top to bottom will be beneficial during the final cleaning stages of your spring cleaning project. Starting with the ceiling fans/lights and top of your closets will cause dust and debris to fall and collect on the floor.
If you start by cleaning the floors and then organizing and cleaning the rest of the room, you'll have to re-clean your floors at the end of your process. Save time and effort by cleaning and organizing your space from the top and working your way down to the bottom.
Declutter and Organize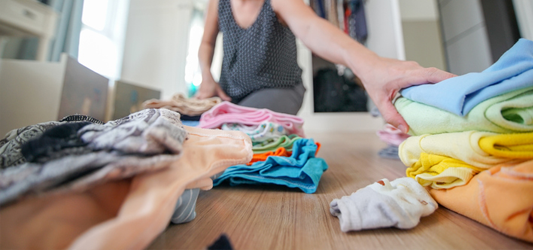 Go through your belongings in each room and determine which items will stay, which items can be sold, donated, or recycled, and which items need to be thrown away. Decluttering and getting rid of items that no longer serve you will naturally get you into "organization mode" with the items that you'll be keeping.
When debating whether or not to keep an item, consider the last time the item has been used. If it's a non-seasonal item that hasn't been touched in six months or more, you likely won't miss it if it's gone. Likewise, if it's broken and you've put it away so that one day you could repair it, consider junking it if you haven't attempted to fix it in over three months.
Once you've decluttered and are ready to organize the items that will stay in your room, consider which items are used most often. These items should be in easy-to-reach areas so that you aren't digging in the back of a closet to access items you use often.
When it comes time to donating your unwanted items that are still in good condition, you can drop them off at local donation centers, including places like Goodwill or The Salvation Army. If you are unable or uninterested in loading these items into your car and hauling them to a donation center, hiring a junk removal company to do so for you is a great option. They will also be able to haul any trash you've accumulated to a local landfill.
Keep reading:
Hire Help
There are two common services that homeowners and business owners seek out when tackling a spring cleaning project:
Junk removal
Dumpster rental
Unless you have a small amount of junk to get rid of (less than 7 cubic yards), junk removal services tend to be a little more expensive than renting a dumpster due to labor charges. That being said, junk removal services offer much more physical assistance than renting a dumpster.
If getting your cleanup project done as quickly as possible is your top priority, junk removal services can help give you your home back within hours, or in extreme cases, 1-2 business days.
If you have the time and manpower to complete your spring cleaning on your own but need a way to get rid of large amounts of junk, renting a dumpster could be the right choice for you. Small spring cleaning projects can be accommodated with a 10 yard dumpster, while medium to large spring cleaning projects may require a 20 yard dumpster.
Regardless of which service you decide will work best for you, hiring a company that is locally-owned will typically offer you the best pricing and customer service in comparison to their large-chain competitors. Hometown makes it easy to find local dumpster rental and junk removal companies that service your area. You can read verified reviews and request free project quotes from as many companies as you'd like to compare pricing, availability, and customer service.
---