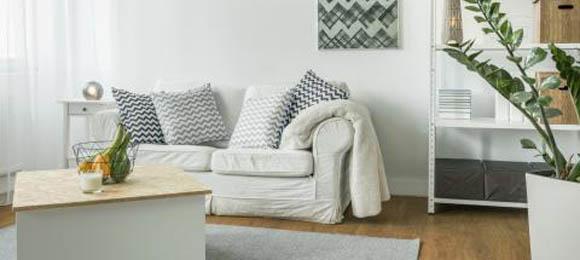 Now, although many of you may find the idea of cleaning your entire house top to bottom and getting rid of a bunch of your things about as unappealing as unappealing gets, a thorough house decluttering and deep cleaning can actually be remarkably rewarding and a huge weight off your shoulders.
Imagine, for a moment, that you're getting home after a long, hard day's work. You turn the key, swing back the door, and there it is…your home; only it's cleaner, more open, and smells better, too.
Your stress immediately melts away as you realize that you can now relax in your clean, clutter-free castle while binge watching Netflix to your heart's content instead of tiptoeing around and anxiously co-existing with your usual mess.
---
Any house cleaning expert will tell you that before anything else, you'll need to make a plan of attack first—sit down and map out how you're going to get the job done.
Tip #1: Make note of clutter hotspots and take 'before' photos.
Go through your house and make a list of all the different rooms and spaces that need to be cleaned. While in each room, take a 'before' photo. It will help you enjoy your accomplishment more when you're done.
Rank each space/room from 1-3 based on how severe the clutter is (3 being the most cluttered).
For example, your bedroom might be ranked a 2, but your bedroom closet may be a hard 3. Being able to see where your tough spots are will help you decide what to do first and how to break up the work.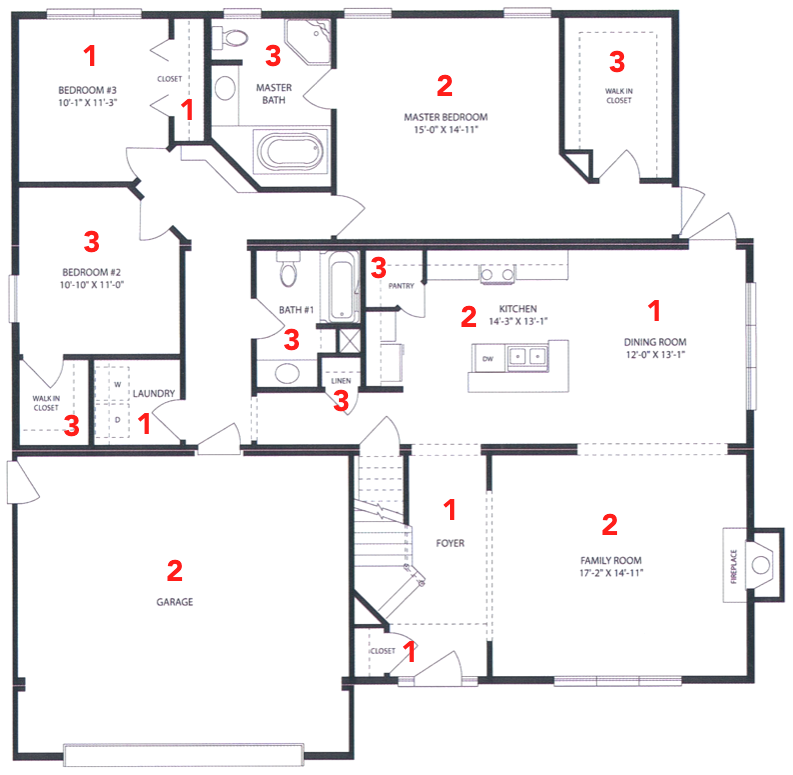 Tip #2: Determine your best disposal option ahead of time.
Once you've given your house the once-over (don't forget to check your yard for rubbish, too) and you've seen the extent of what lies ahead of you, you'll want to decide how you're going to be addressing all this mess.
All the junk you're trashing or donating is going to have to go somewhere, and sometimes that's more than just tying off a couple trash bags and calling it a day.
If you've been accumulating stuff for awhile, it's highly possible you'll wind up tossing enough trash to fill a dumpster. If so, you need to determine that in advance so you can schedule the dumpster.
Option 1: Curbside Collection
If you don't have all that much to dispose of, and nothing that's overly large, then you should be fine just rolling it out to the curb with the rest of your weekly trash.
Option 2: Temporary Dumpster rental
If you have too much to for your local garbage man to realistically handle, or you have some bulky items, like furniture, to get rid of, then your regular trash service won't cut it.
Renting a dumpster for a few days or a few weeks is a great option. Roll off dumpsters can sit in your driveway and be loaded at your pace.
Schedule it for delivery the day before you start to purge.
Keep reading:
Option 3: Junk Removal
Arguably the most convenient of all disposal methods, hiring a junk removal company involves having a crew of disposal experts come to your home, remove the items for you, and tidy up when they're done.
You pay a bit more for the crew's labor, but if you're unable or unwilling to schlep all of your stuff to the dumpster, a junk removal service can be a lifesaver.
Learn more:
Tip #3: Come up with a sorting system.
As you move from room-to-room, you're going to come across stuff you definitely want to keep, stuff you definitely don't, and stuff you're not so sure about.
A common route taken by expert organizers is the three-box method, which involves making three piles—keep, trash, and donate. Start your music, get in the groove, and begin weeding through your sea of stuff.
Helpful Hint: Don't spend too much time overthinking and deliberating whether or not you should or shouldn't get rid of something. This particular job requires focus and a commitment to your initial gut feeling, so don't second-guess yourself here.

Tip #4: Prepare yourself for one step at a time.
The cardinal sin of doing a heavy duty decluttering and cleaning job is: Never bite off more than you can chew.
If you get it in your head that you're going to clean your entire house, inside and out, in a single day, then you're going to wind up very frustrated and very discouraged.
You didn't end up with all that junk overnight, so it's going to take more than that to get rid of it.
Tip #5: When in doubt, purge.
It happens all too often—you hold onto something, whether it be a blanket you had growing up or a clock that was once your grandmother's because it has sentimental value.
Never mind the fact that you haven't used that blanket since exiting teen-dom, and your grandma's clock hasn't worked since you plucked it from the dust in her attic 10 years ago; you feel a strong emotional attachment to these things, and that's normal.
However, when these things start piling up and become more work (physically or emotionally) for you in your day-to-day life than anything else, it might be time to let them go.
When going through your furniture, personal items, and other junk, keep these things in mind:
You are not your stuff. You are more than your possessions.
Our memories are within us, not within our things.
An item that is sentimental for you can be useful for someone else.
Holding on to stuff imprisons us. Letting go is freeing.
When it comes to your home, less is more. Remember this.
Clutter makes a space look smaller and can be a consistent drain on our energy, whether we sense it or not.
Stick to your sorting system (like the three-box method mentioned earlier) and get rid of everything you don't absolutely need…or really, really want.
Ask yourself some of the following questions when waffling between whether or not you should or shouldn't get rid of something:
When was the last time I used this?
If I do use it, how often, and why? What purpose does it serve?
Do I own another item that can serve the same purpose as this one?
Is this item something I can live without?
Do I know someone else who would get more use out of this?
Does this item match where I'm at in life now?
Does this make my life easier? Does this make my life more difficult?
Does this make me or my home look stunning?
If you find yourself thinking,
'I spent hard-earned money on this, I don't want to get rid of it,"
you're not alone. It's a common way of thinking but is harmful in the long run. Read more about
how the sunk cost fallacy makes you act stupid
.
Tip #6: Take full advantage of donation options.
After it's all said and done, you'll likely have a bunch of stuff to donate, and that's awesome! When possible, you should always donate rather than trash.
It's super easy, after all, and is the cherry on top of your 'clean house' sundae.
Check out some of these fun, new ways to donate your used goods, from furniture to books, and more:
General
The Freecycle Network — Freecycle is a nonprofit network that allows people to give and get things for free in their area, keeping a remarkable amount out of landfills.
Habitat for Humanity's ReStore — ReStores sell donated furniture, appliances, home accessories, building materials, and more to the public at a fraction of retail price.
Clothes & Shoes
Soles 4 Souls — Drop off any pairs of gently used shoes at a drop-off location, or host a shoe drive if you're feeling especially generous.
Dress for Success & Career Gear — These not-for-profits provide men and women with the professional attire they need to gain economic independence.
One Warm Coat — If you have a closet full of winter coats, giving the ones you no longer use to One Warm Coat, who will help ensure everyone has one warm coat.
Books & DVDs
Operation Paperback — Send your used books to American troops overseas, as well as veterans and military families here in the U.S.
DVDs 4 Vets — Donate DVDs (and DVD players) to veterans who are undergoing rehabilitation and don't have easy access to basic entertainment.
Kids Flicks — If you have children's or young adult movies, Kids Flicks creates movie libraries for children's hospitals and pediatric wards in America.
Electronics
HopeLine — Empty out your drawer of old, fall-back phones and donate them to domestic violence survivors.
Gift my PC — If you have computers or office equipment lying around, donate them so they can be refurbished for charities, organizations, and schools.
Furniture
Toys & Games
Stuffed Animals for Emergencies — If you have stuffed animals in good condition, SAFE sends them to children and families affected by war, poverty, or natural disasters.
Local women's/family shelters — Find a shelter near you. A majority of them would be happy to accept gently used toys, games, children's clothes, and more.
Tip #7: If the purge leaves you tired out, splurge on a cleaning service.
Once you've completed your initial purge, it's time for a deep clean. This is no time to call it quits from exhaustion!
No doubt, your home has collected enough dust, dirt, and grime over the past year to give your muscles a serious workout, so get your tunes and cleaning supplies ready if you're up for it.
If you're not, hire it out! A one-time deep clean won't break the bank and you'll love the way your house looks when it's done.
Remember: The clean-up process doesn't necessarily stop at your home's doorway. You'll also breathe a big sigh of relief when your yard is picked up, your windows and gutters are clean, and any weeds on your property are uprooted.
Tip #8: Smile while taking your clutter-free home 'after' photos.
You did it! Now put your feet up, pour a glass of wine, and enjoy the feeling of having a clean, clutter-free home! You just did a great thing for you and your family's overall health, and you'll be reaping the benefits of a fresh start all year long.
If you're one of the one billion people on Facebook, it's high time for a humble brag that displays your before and after photos.
The most important part of decluttering and cleaning is obvious: Reward yourself when you're done.