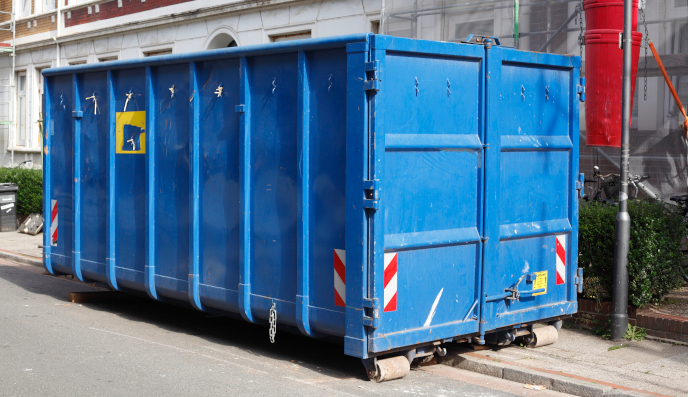 Updated July 6, 2022
When renting a dumpster, sometimes it's necessary to place the roll-off container on the side of a street.
For example, maybe there's no driveway or other access to the property.
Most municipalities allow dumpsters to be place in the street, but there are rules to follow and limits to the amount of time a dumpster can stay on a city street.
Contact your city or work with your dumpster rental provider to obtain a dumpster permit that will allow you to place your dumpster on the street.
This guide will go over the details associated with renting a dumpster and placing it in the public right-of-way, such as a road or sidewalk.
Jump to:
---
---
How Long a Dumpster Can Stay on the Street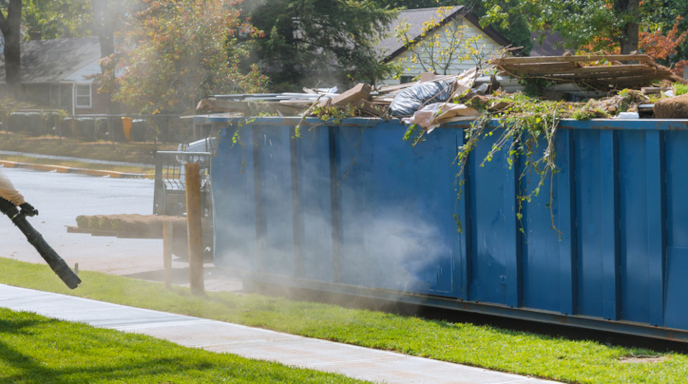 There is no one-size-fits-all answer to this question.
The amount of time you dumpster is allowed to stay on the street will vary based on the laws in your area.
It will also vary based on the your dumpster's rental period.
Some cities allow dumpsters to be placed in the public right-of-way for only a short period of time, such as one to three days.
Other municipalities allow a longer duration based on the specific project and location.
On average, expect to be granted a 3- to 7-day window by the city for parking your dumpster in the street.
You must comply with the regulations specified by the city or be at risk of incurring fines or other penalties. This means making sure the rented dumpster is positioned correctly on the street, is picked up by the expiration date, and all rules are followed.
Additional rules may include placing orange cones around the dumpster, having reflective tape or signs on or near the dumpster.
You are also responsible for making sure not to block fire hydrants, mailboxes, or entrances to other homes or businesses.
The above rules are not an exhaustive list. Check with your city and dumpster rental provider to make sure everything is squared away prior to the dumpster getting dropped off.
You may incur fines if you do not follow the rules and regulations your city requires when placing a dumpster in the public right-of-way. These fines vary but can range from $500 to $1000+.
Read more: Dumpster Rental Terms and Conditions: A Closer Look at the Fine Print
Dumpster Permit Requirement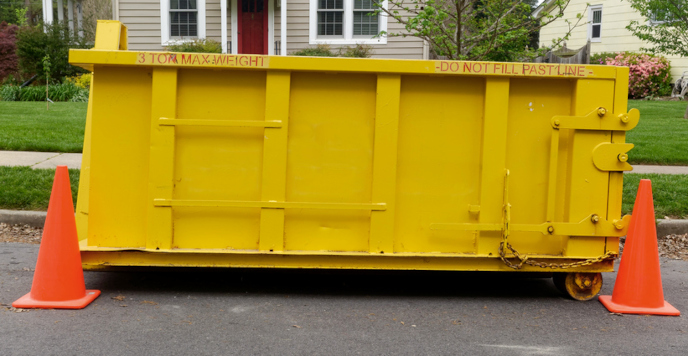 Any time you block the public right-of-way for an extended period, a dumpster permit—sometimes called an encroachment permit—is required from the city.
It's a relatively simple process to obtain a dumpster permit, and your dumpster rental provider may be able to help you.
Get a dumpster permit from the city prior to renting a dumpster.
You'll need to know basic information about the situation, such as the dumpster rental company, dates, location of the placement, and other details.
Fill out the permit form online if your city offers this option. Otherwise, a phone call or visit to City Hall may be necessary.
The cost of obtaining a dumpster permit can vary anywhere from free to $100+. It depends on the location, rental duration, number of dumpsters, and other factors.
Your dumpster rental provider is a great source of information regarding dumpster permit requirements in your area.
Alternative Options
What if you want to avoid going through the extra step of having to obtain a dumpster permit? There are alternative options.
The most notable would be to hire a junk removal company for the job instead of renting a dumpster.
Junk removal companies come to the site with their truck and/or trailer, complete the cleanup, and properly dispose of the debris or junk.
This process can take as little as 30-60 minutes for small jobs or a full day for large residential cleanout projects.
Junk removal services eliminate the need to rent a dumpster or obtain a dumpster permit.
The potential downside is the cost.
Junk removal service typically costs more than renting a dumpster because of the labor costs associated with it.
However, the convenience and value of having a junk removal service handle the entire cleanup can't be overlooked.
---
---
Find out more: