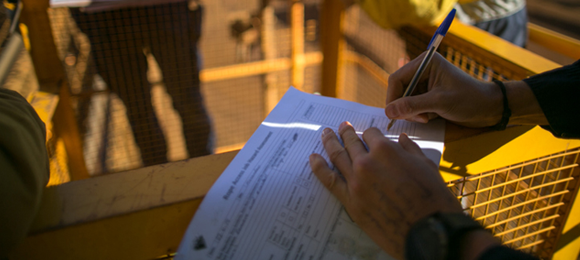 Updated August 8, 2021
In most places, placing a dumpster rental on your personal property doesn't require more than a simple phone call to a local service provider.
There are plenty of instances, however, that require you to first obtain a dumpster permit from your local municipality.
More often than not, the company you rent a dumpster from will apply for and receive the dumpster rental permit on your behalf.
That being said, there are some areas in the U.S. where the homeowner or business owner is responsible for getting the permit themselves.
If you find yourself in a situation where you need to get a dumpster rental permit and are unsure of what the process looks like, this article is for you.
We'll look into:
---
---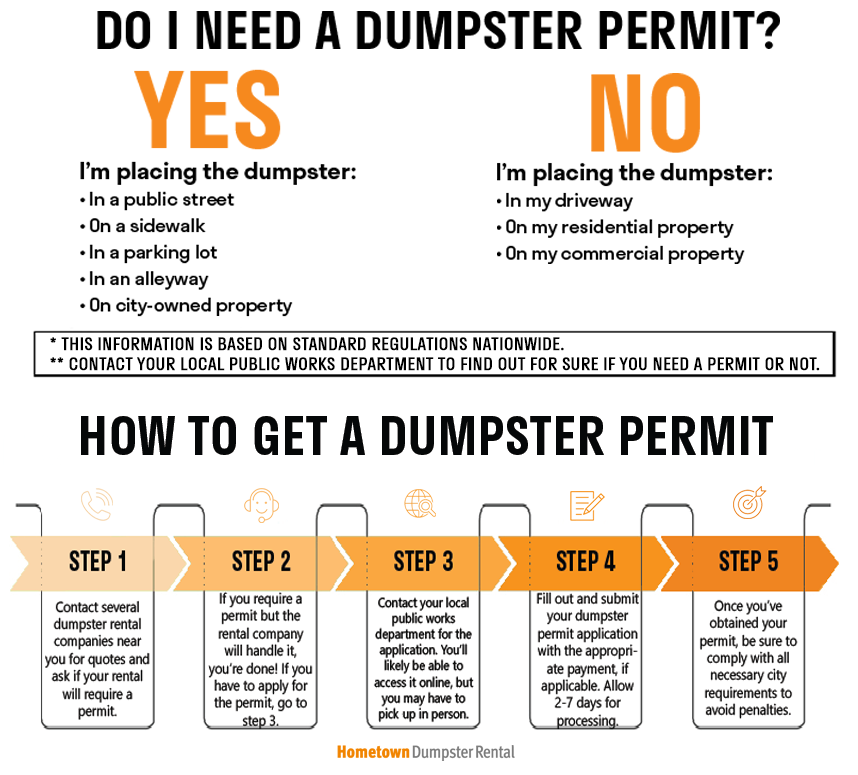 When a Dumpster Permit Is Required
If your container will be placed in the public right of way, it's a general rule that you will need a dumpster rental permit.
Areas that require a dumpster permit:
City streets
Sidewalks
Alleyways
City-owned property (parking lots, etc.)
A licensed and reputable dumpster rental company should have no problem obtaining a dumpster rental permit on your behalf if required.
Most cities do not require a dumpster permit when the dumpster is placed on private property and is not blocking the public right of way.
Areas that typically do not require a dumpster permit:
Your driveway
Private land
Commercial private property
While the general rules stated above are typical in most US cities, some local governments may require permits in varying circumstances.
It's important to check with your local government public works department, or the department in charge of permitting, to find specific laws for your location.
When applicable, don't forget to check with your HOA to make sure you don't get hit with unexpected fines for not following protocol.

Learn more:
How to Get a Dumpster Permit

Dumpster permit applications are generally short and normally take less than 20 minutes to complete.
In some cities, like Denver, Colorado, the dumpster rental company must fill out and obtain the permit, not the renter.
In other cities, the homeowner, business owner, or contractor may be responsible for obtaining it.
Check with your dumpster rental provider to determine the requirement in your city.
Step 1
Contact several dumpster rental providers near you and discuss your project needs in detail for accurate rental quotes.
We recommend calling around to at least 3 different dumpster rental companies to make sure that you're getting the best price for your rental.
If it's determined that a dumpster permit is necessary, make arrangements with the dumpster rental company you hire to obtain it.
Step 2
If the dumpster provider agrees (or is required) to get the dumpster permit on your behalf, your job is done!
If you are the one obtaining the permit, move to the next step.
Step 3
Contact your local public works or transportation department by telephone or online.
If you're not sure which city department handles permitting, contact the main office line and they will point you in the right direction.
A quick Google search will help you find your local public works department contacts quickly and accurately.
Step 4
Fill out the application required by your city and pay the fee if applicable.
The application is oftentimes accessible online but the person you speak with at your public works department will be able to give you the most accurate information on how to get one.
Once completed, you can mail, drop off, or submit the application online.
Allow several days to a week for processing.
Step 5
Once the permit is approved, be sure the city rules are followed to ensure compliance and avoid penalty fees.
Common rules include placing traffic cones on both sides of the dumpster, reflective tape on the sides of the dumpster, making sure the permit is visible on the dumpster, etc.
An Example of a Dumpster Permit Application
Here is an example of what a typical dumpster permit application looks like.
Aurora, IL residents can download this application here.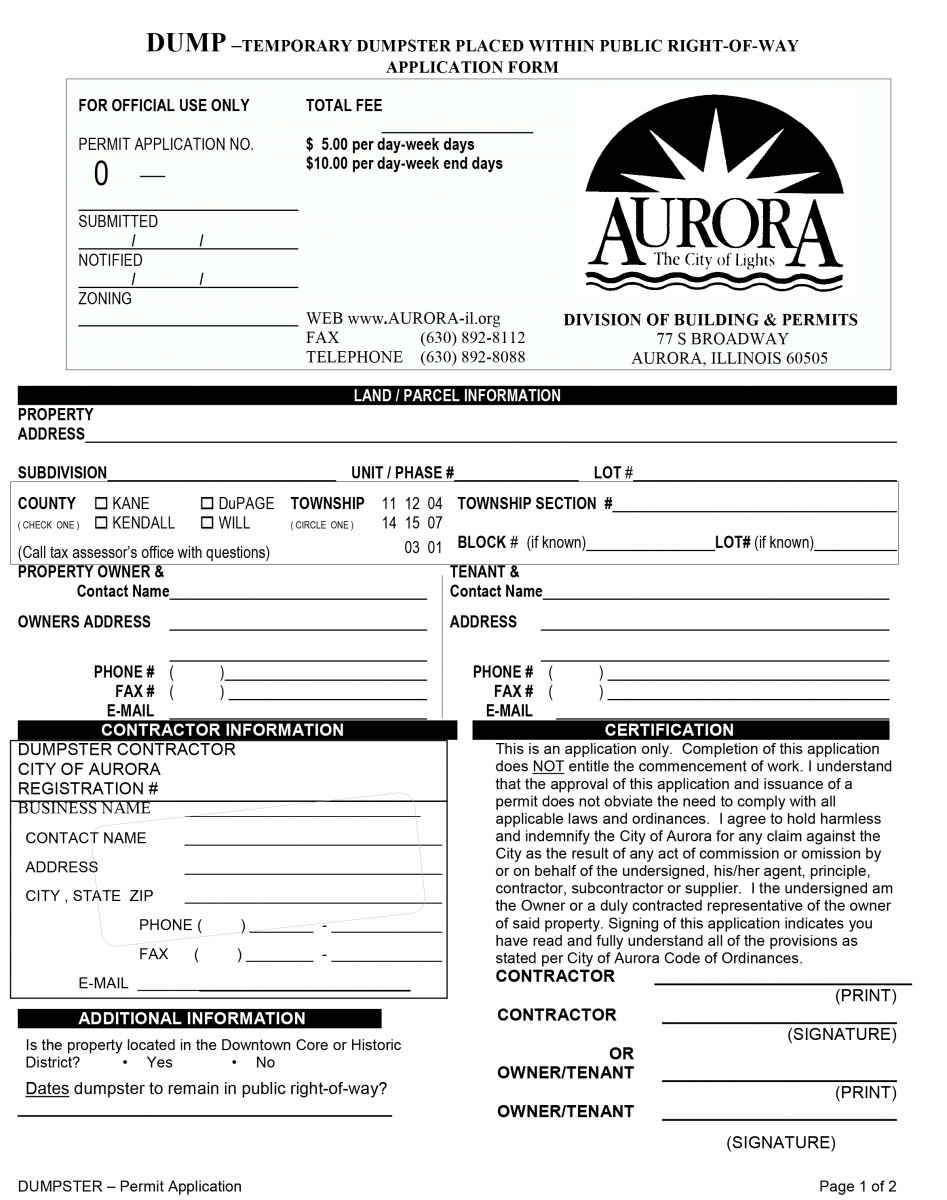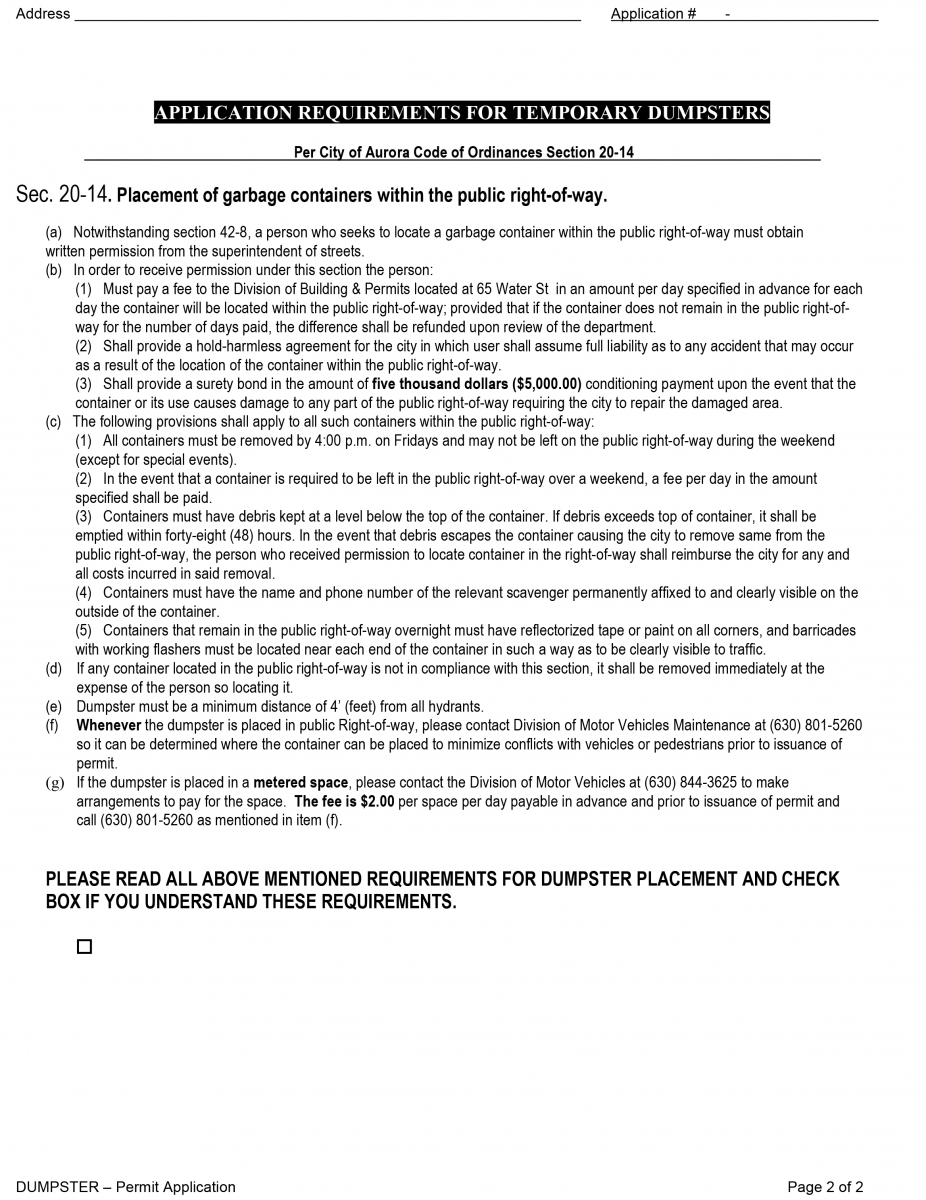 ---
---
Continue reading: