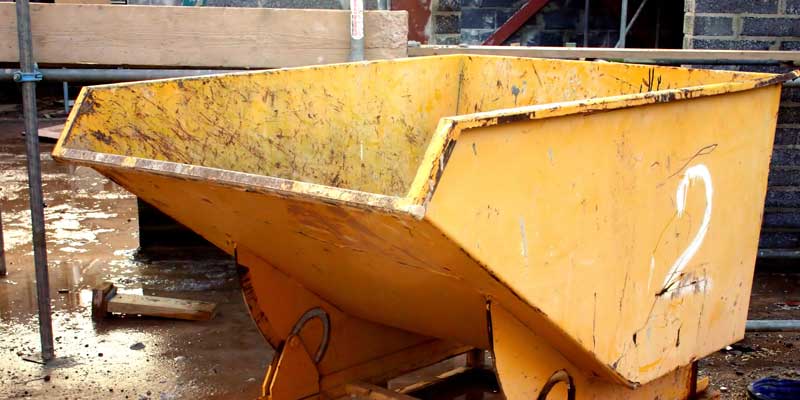 Updated June 16, 2023
When you have a cleanup project that is too large for your trash can but too small for a large dumpster rental, there are smaller waste container options available on the market.
There are a variety of different dumpster sizes and styles to accommodate the disposal needs of all different types of projects, including small ones!
We'll go over everything you need to know about renting a small dumpster:
---
---

Different Types of Small Dumpsters
There are several different types of dumpster styles available for temporary residential use. Roll-off containers are one of the most common and typically come in 10-40 yard sizes, with 10 yard dumpsters being the smallest and one of the most widely available sizes for rent. These are what you typically see parked in driveways when a roofing or construction project is happening, people are moving out, etc.
Roll-off dumpsters feature an open top and swinging side door for easy loading. There are also "mini" versions of these types of dumpsters carried by some providers. While "mini" roll-off containers are less common, they range in 2-8 yard capacities and can be quite useful for smaller projects.
Another type of dumpster rental is a trailer dumpster. Much like the name suggests, trailer dumpsters look like a hauling trailer that sits on four rubber wheels and attaches with a hitch to a hauling vehicle. The main different between a trailer dumpster and regular trailer is the size of the side walls that are used to contain the waste placed inside the trailer dumpster.
The smallest trailer dumpsters available range from 5-10 cubic yards. Their rubber wheels make them easy to maneuver throughout your job site and also adds added protection to a new or fragile driveway or parking lot.
Another small dumpster option is a dumpster bag, like Waste Management's Bagster. Dumpster bags come in 3 yard sizes and are completely disposable. While bag-style dumpsters are typically one of the smallest options available on the market, they aren't usually the most cost efficient, which is why we recommend renting a roll-off or trailer dumpster instead to get the most bang for your buck.
Read on:
Average Cost of Small Dumpsters
Regardless of the type or size of the dumpster you rent (or in a bag dumpster's case, purchase), there are many different factors that come into play that will affect the cost you ultimately pay for your particular small dumpster rental.
The cost of living in your area, disposal fees near you, supply and demand, the type/weight of your dumpster's contents, where you're located, who you hire, and other considerations can make the cost of your small dumpster rental cost more or less than the national average costs.
With that being said, these averages are based off of data collected by Hometown for the average cost of dumpster rentals across the United States and will help to give you an idea of what you can expect when shopping around for dumpster rentals in your area.
Average Small Dumpster Rental Costs
| | | | |
| --- | --- | --- | --- |
| Dumpster Type | Dumpster Size | Average Cost | Average Weight Limit |
| "Mini" Roll-Off | 2-8 Yards | $100-$400 | 400-3,000 lbs |
| Standard Roll-Off | 10 Yards | $250-$450 | 4,000-6,000 lbs |
| Trailer | 5-8 Yards | $150-$400 | 1,000-1,600 lbs |
| Trailer | 10 Yards | $250-$450 | 1,600-2,000 lbs |
| Dumpster Bag | 3 Yards | $150-$350 | 3,000-3,300 lbs |
At first glance it might look like a "mini" roll-off, extra small trailer dumpster, or a bag dumpster is the best price, but when you look at their weight limits and yardage capacity, it's actually a much better deal to rent a standard roll-off in the smallest size available, which is usually 10 yards.
A dumpster bag, for example, costs around $50-$117 per cubic yard on average, while a standard 10 yard roll-off container only costs $25-$45 per cubic yard on average.
It's common for the average customer to greatly underestimate how much they actually have to throw away, and since you end up paying less per yard the larger the dumpster you rent, it's always best practice to err on the side of caution and go with a dumpster size a little bit larger than you think you'll need to ensure you don't go over your weight limit. This is especially true when dealing with heavy debris, like rock or concrete.
Learn more:
How to Find Small Dumpster Rentals
Renting a 10 yard roll-off container or trailer dumpster from a locally-owned and operated company is the best bang for your buck when it comes to small dumpster rental.
National waste companies, like Waste Management, service many states throughout multiple regions. It's easy to assume that because they're a larger operation that they would be able to offer the best pricing, and while that can sometimes be true about weekly residential trash pickup services, it's not typically the case when it comes to their temporary dumpster rental services.
Local waste haulers beat out competitors when it comes to both pricing and customer service. It's not uncommon to speak directly with the owner of the company when you contact a locally ran dumpster rental company, offering a more invested, personable service than large corporations are capable of.
If you're wondering how to find local dumpster rental providers in your area, Hometown can help.
We make renting a dumpster easy and affordable by connecting consumers with licensed and reputable dumpster rental companies that service their area. Our site is easy to navigate and only takes seconds to show you personalized search results.
By simply entering your zip code and answering a few short questions about your small dumpster needs, you'll be shown qualified dumpster rental providers near you.
Getting multiple quotes is the best practice when it comes to getting the best price and finding the best customer service. Request free quotes from the dumpster providers that show up in your search result, or Hometown will match up your quote request to the right local experts for you. Either way, we make getting free dumpster rental quotes fast and easy!
Save time and get started with your free small dumpster rental quotes on Hometown today.
---