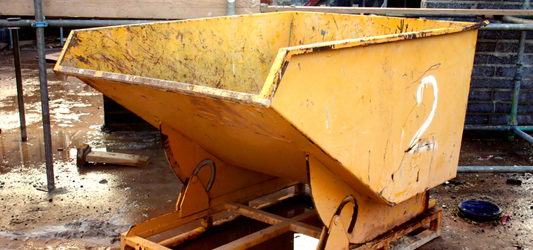 Updated January 19, 2023
Temporary dumpster rentals allow you to dispose of large volumes of trash and junk at once, but they often come in large sizes that aren't ideal for tight spaces.
Luckily for condo owners and renters, more and more dumpsters companies are offering more compact disposal containers for customers with limited space.
If you're wondering how to find small or "mini" dumpsters near you, Hometown has you covered.
We'll go over:
---
---
Smallest Dumpster Sizes
The most common temporary dumpster rental sizes come in 10-40 yard capacities.
There are, however, "mini" dumpsters that are similar in shape to typical roll-off dumpsters that are able to fit in tighter, more compact spaces.
Mini dumpsters come in sizes ranging from 2 yards to 9 yards and are notably smaller than the average roll-off dumpster size, which is 10 yards.
Another popular dumpster is a commercial dumpster, which is typically rented by brick and mortar businesses and stays put outside the business for weekly or bi-weekly pickup throughout the year.
Commercial dumpsters normally come in 2-8 yard sizes and, unlike roll-off dumpsters, feature top lids without any doors on the side for walk-in loading access.
The biggest difference between commercial dumpsters and roll-off dumpsters is that commercial dumpsters are normally used for long-term use at an establishment that produces a large volume of trash every week, like a grocery story or apartment complex, while a roll-off dumpster is only meant to stay on location for a limited period of time for one specific project, like a home cleanout or construction site.
As large cities throughout the U.S. see a surge in new home and office builds with tighter spacing, more and more dumpster companies are now offering their commercial dumpsters for temporary rent to property owners.
The advantage of these smaller commercial dumpsters is that they can fit in tighter spaces, as mentioned, but also have a built-in protective top door(s) to prevent the elements and critters from getting into the container.
Learn more:
How to Find Small Dumpster Rentals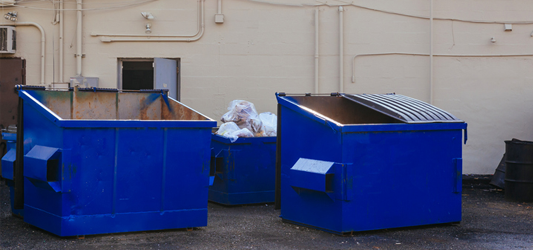 Finding any size dumpster rental, including small dumpsters, is easy with Hometown.
We publish locally-owned dumpster rental and junk removal companies throughout the U.S. that are licensed, bonded, and insured to perform the services they provide.
When it comes to renting a small or "mini" dumpster, locally-owned companies most often give the best price for the best customer service.
Avoid dealing with dumpster middle men, like brokers, by finding verified dumpster providers on Hometown.
You can request free quotes from as many companies as you'd like to make sure you're getting the best price, service, and availability.
We also verify that every review left on our site is from a real customer who received services from the company they're reviewing, so you never have to question the authenticity of the reviews you read on Hometown.
Get answers to common waste disposal questions by visiting our blog and learn tips and tricks for getting the best dumpster rental price.
---
---
Keep reading: