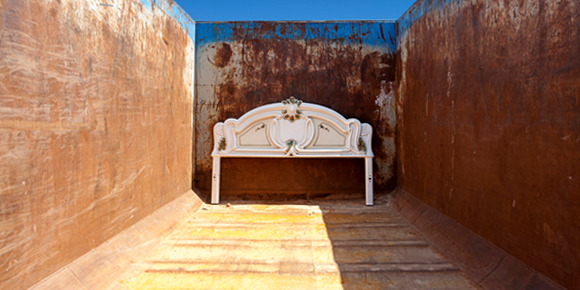 Updated September 29, 2021
Most dumpsters have walls over 3 feet high, so it's understandable why those with heavy or bulky items to dispose of might be worried about how they're going to load their items into a dumpster.
Despite popular belief, loading heavy items is made easier with a roll-off container.
We'll go over:
---
---
How Roll-Off Containers Make Loading Heavy Items Easy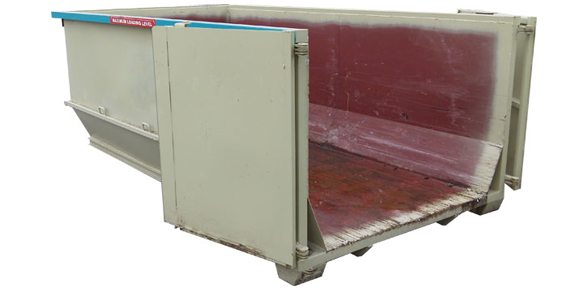 While getting rid of a couple pieces of furniture or an appliance could be a great project left for a junk removal company, those with large cleanup projects could save money by renting a dumpster instead.
What some consumers may not know is that roll-off containers feature a swinging side door that allows you to walk in items that might be too big to load from the top.
There are a variety of different dumpster styles to rent on a temporary basis, like trailer dumpsters on wheels, 3 yard bag-style dumpsters, and mini dumpsters.
Roll-off containers, however, are the only style that offers a convenient way to walk in items that are difficult to lift.
Read more:
Other Ways to Get Rid of Large, Unwanted Items
There's no doubt that if you plan on renting a dumpster to get rid of your heavy items, renting a roll-off container is the way to go.
If you don't have enough items to get rid of to justify renting your own container, there are other solutions available to get rid of your unwanted items.
List Your Items Online
If your item is in somewhat decent condition, it might be worth listing for free on an online marketplace.
Many people that work for non-profits search the internet for free items for their organization and would be happy to take your used furniture or working appliances off your hands.
If you have a broken down appliance, like an old washer and dryer, someone who recycles metal might be willing to remove your item and take to the scrap yard for some extra cash.
Arrange Bulk Trash Pickup Services
Some municipal disposal services offer bulk trash pickup for larger items.
Some areas offer them monthly, some offer them quarterly, some yearly, while others will come any time as long as you call ahead to make arrangements.
Every city and township is different, so reach out to your trash service to inquire about available options.
Hire a Junk Removal Service
Junk removal services are a quick, easy, and convenient way to get rid of things you no longer want.
Removing a few pieces of furniture or a broken-down appliance can be done in under a half-hour with a professional junk removal team.
Depending on the company and where you're located, you could even find a company that can offer same-day services, so your unwanted items are removed quickly and without you having to lift a finger.
You can use Hometown's website to easily find and request multiple quotes from reputable junk removal services in your area.
Learn more:
Share a Dumpster With a Neighbor
If you have a few large items you want to get rid of but don't think you can fill up a whole roll-off container on your own, talk with other homeowners on your street.
Dumpster rentals are a popular service, especially when homeowners are moving or performing renovations.
Sharing a dumpster with your neighbor offers the convenience of using a dumpster while only being responsible for half the cost.
How to Find a Roll-Off Container in Your Area
Anytime you're investing money on a project around the house, it's important to make sure you do research on the company you plan on hiring.
Hometown makes finding reputable roll-off dumpster rental companies near you easy.
By using your zip code to run a quick search on Hometown, you'll be shown verified dumpster rental companies that service your area.
You can request free quotes from as many providers as you like to price compare and get a feel for the type of customer service you can expect to receive from each provider.
---
---
Continue reading: