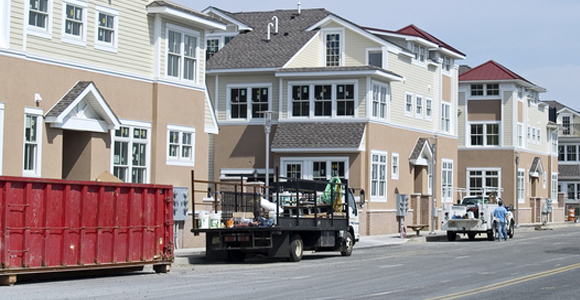 Updated December 6, 2022
When you're renting a house, condo, apartment, or office space, there may come a time when you need a larger disposal solution than your weekly trash service.
There are several different styles and sizes of dumpsters available for temporary rent for both tenants and property owners.
At Hometown, we specialize in helping people learn more about large disposal solutions and how to get the best price in their area.
We'll go over:
---
---
Dumpster Rental Styles
There are several different dumpster styles available to accommodate all different types of disposal needs.
The main dumpster styles on the market are:
Roll-off Containers
Trailer Dumpsters
Bag Dumpsters
Commercial Dumpsters
The most common type of temporary dumpster rental is a roll-off container, which is literally rolled off the back of a dumpster truck and placed on your driveway, parking lot, in the street, etc.
These heavy-duty containers feature an open top and swinging side door(s) that make loading the dumpster very easy.
The convenience of being able to walk your heavy or bulky items into a roll-off container rather than having to lift it over the sides makes it the preferred dumpster style for those getting rid of furniture, appliances, equipment, concrete debris, etc.
Trailer dumpsters are a handy alternative to roll-off dumpsters that also feature an open top, but its most attractive feature is the fact that it sits on rubber wheels.
A trailer dumpster's rubber wheels and compact design make it easy to move or reposition as needed throughout the duration of your rental as long as you have a vehicle with a hitch.
If you live in a rental unit that requires your dumpster rental to sit in a public street, you may be able to avoid having to get a dumpster permit by renting a trailer dumpster instead of a roll-off container, which can only be moved with the dumpster company's commercial vehicle.
You will likely need to move the trailer dumpster daily in order to avoid needing to get a permit from your city or township.
The local dumpster companies you speak with will know about the permit requirements where you live and will likely get the dumpster permit for you if necessary.
Bag dumpsters are large, soft bags that can hold up to 3 yards worth of material and up to 3,300 lbs.
Bag dumpsters are convenient if you live in an apartment or condo that does not allow you to rent a regular size dumpster, but if you're renting a home or business with the parking space to rent a roll-off or trailer dumpster, you can get rid of at least 3x as much material for a comparable price.
Dumpster bags aren't the most cost-efficient, but they are great when your space is limited.
Finally, commercial dumpsters are rented from business tenants and are there long-term with weekly or bi-weekly emptying services.
Commercial dumpsters are rarely ever rented as a temporary disposal solution, but some companies may allow this if you have specific sizing requirements or they have a surplus of commercial dumpster containers and limited roll-off options.
Continue reading: The Different Types of Dumpster Styles
Trash Container Sizes
Temporary dumpsters are sized by how many cubic yards they can hold.
The most popular size temporary rentals are 10 yard and 20 yard dumpsters, but they can come in a wide variety of sizes.
There are dumpster rentals that fall in between 10 and 20 yarders, like 12 yard and 15 yard containers.
Mini dumpsters are sometimes offered and come in 2-9 yard sizes, and 30 and 40 dumpsters are available for the largest size projects.
If your rental is relatively small and your cleanup project is moderate, a 10 yard dumpster is usually a sufficient size.
20 yard dumpsters are better for entire home cleanouts for multiple bed and bathroom properties or small to medium commercial rentals.
30 and 40 yard containers are used for larger projects, like construction/demolition, hoarding cleanups, commercial projects, etc.
Dumpster bags come with a 3 yard capacity, and commercial dumpsters typically range from 2 yard to 10 yard sizes.
A cubic yard measures 1 yard L x 1 yard W x 1 yard H.
1 yard is 3 feet, so 1 cubic yard is 27 cubic feet.
Choosing the wrong size dumpster can cost you additional money than the quote you were initially give, which is why it's important to provide detailed, accurate information when you speak with different dumpster rental companies.
Reputable dumpster rental companies are experts at recommending the perfect size container for your particular project.
Learn more: How Do I Choose the Right Dumpster Size for My Project?
Rules Regarding Dumpster Rentals for Tenants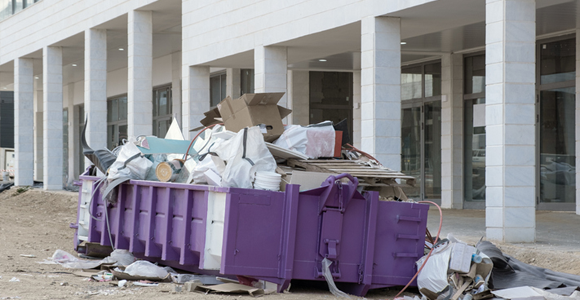 There are basic rules that all dumpster rental customers have to follow, regardless if they are the property owners or a renter.
Some of these common dumpster rental rules include not being able to throw prohibited or illegal material into the container, filling the container past the fill line, and ensuring you have the proper permits displayed if your container is placed in a public right-of-way or if your particular area requires a permit for your driveway or yard.
Tenants must make sure from the property manager or owner of the property they're renting what, if any, their rules are regarding tenant dumpster rental.
How Tenants Can Find Dumpsters for Rent
When looking for dumpster rentals in your area, keep in mind that local waste companies tend to charge less than their larger competitors that service many areas.
Finding local dumpster providers is easy with Hometown.
We publish locally-owned and operated dumpster rental and junk removal companies throughout the U.S., and we personally verify that each provider is licensed, insured, and reputable for your peace of mind.
By entering your zip code and answering a few short questions about your dumpster needs, you'll be shown a list of qualified companies that service your area.
From there, you can read more about each company and the services they offer, read real customer reviews, and request as many free quotes as you'd like!
It's always best practice to get at least 2-3 different quotes to not only compare pricing, but to make sure you're getting the dumpster size you need on a timeline that works for you.
Getting multiple quotes before renting a dumpster also helps you compare the quality of customer service you can expect from each company, which is often just as important as cost.
---
---
Keep reading: