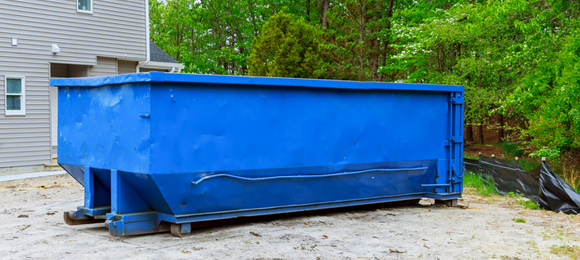 Updated June 10, 2022
Ideal for a wide range of projects, a 20 yard dumpster is a versatile option that is widely available in most areas.
These bins hold a maximum of 20 cubic yards, but unless you have experience with dumpster rentals, you may be wondering what that actually looks like.
We'll go over everything you need to know about 20 yard dumpsters to determine if they're the right size for your project.
Jump to:
---
---
20 Yard Dumpster Dimensions
20 yard dumpsters are varied in their design, but the average size of a 20 yard dumpster is:
22 ft L x 8 ft W x 4.5 ft H
Dumpster rental companies focused on residential dumpster delivery, such as Bin There Dump That (pictured below), offer uniquely designed 20 yard dumpsters better suited for residential dumpster placement compared to traditional 20 yard roll-offs.
The dimensions of residential-friendly 20-yard dumpsters are often:
11 ft L x 8 ft W x 6 ft H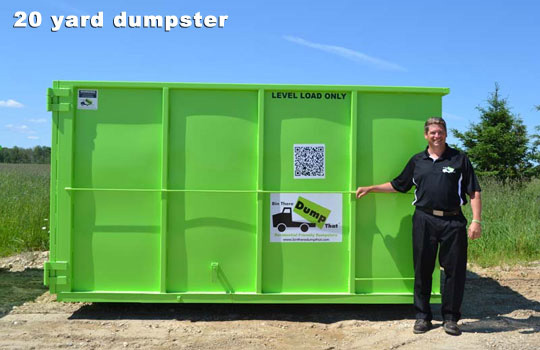 As you can see, some 20 yard bins are quite a bit shorter lengthwise and have taller sides compared to the average size 20 yard container.
No matter the dimensions though, all 20 yard dumpsters allow for up to a 20 cubic yard loading capacity.
20 Yard Dumpster Weight Capacity
Even though most 20 yard roll-offs are strong enough and large enough to hold 8, 9, or 10+ tons of debris, dumpster rental companies almost never allow this because of three primary reasons:
The lifting and hauling capacity of the truck cannot accommodate that much weight.
Truck hauling weight limit restrictions that vary by city/county.
The rate they are charged per ton at their local landfill. Dumpster rental costs would be much higher if there were no customer weight limits.
The average 20 yard dumpster weight limit is 4 tons, or 8,000 lbs.
Some rental companies offer 2 tons, while others may give the customer an 8-ton weight limit.
Depending on the type of debris, you may need to call several rental companies to find one that accommodates its total weight.
For example, concrete or roof shingles are very dense and heavy, and the weight of this type of load can add up quickly.
In this case, find a dumpster rental company that allows for the most weight possible.
Getting stuck with overage charges is never fun. These fees can range from $75 to $100 per ton over the weight allowance.
Keep reading:
Projects That 20 Yarders Can Accommodate
A 20 yard dumpster can accommodate waste, junk, or debris equivalent to about six pickup truck loads.
Being a medium-sized container, 20 yard dumpsters are useful for a wide range of projects, including:
Complete kitchen renovation
Large basement or garage cleanout
Moving
Large bathroom renovation
Flooring or carpeting removal (whole house)
Deck or shed demolition
Whole home decluttering project
Need help visualizing 20 cubic yards?
One cubic yard takes up a 3 ft L x 3 ft W x 3 ft H area of space.
For reference:
Kitchen stove = 1 cubic yard
Sofa = 3-4 cubic yards
Refrigerator = 2 cubic yards
Small car = 15 cubic yards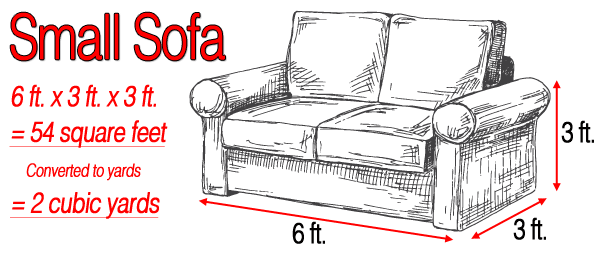 20 yard bins can be utilized for disposal of nearly any type of nonhazardous waste, including construction debris, household junk, furniture, carpeting, wood flooring, kitchen cabinets, and much more.
How Much Can a 20 Yarder Hold?
The question of how much do 20 yard dumpsters hold can be answered by first determining the weight allowance offered by the rental provider.
Next, figure out the approximate weight of the junk or debris going into the dumpster. A local dumpster rental company is a great source for gathering this information.
Alternatively, you can do some online research or browse through Hometown Dumpster Rental's latest blog posts to learn everything you need to know about renting a dumpster and disposing of any type of debris.
Lastly, do the math to figure out whether the volume and weight of the debris from your project will fit into the 20 yard bin.
Maybe you need to step up to a larger 30 yard dumpster, or you may find that a 10 yard dumpster will do the job. This is why proper planning is so important before you rent a dumpster.
When you're ready to start finding dumpster rentals in your area, use Hometown to easily request free quotes from local providers that service your zip code.
Getting multiple dumpster rental quotes is important to ensure that you get the best service for a great price. These quotes should be free of charge and obligations, so steer clear of any dumpster company that tries to pressure or charge you for a dumpster rental quote.
---
---
Continue reading: