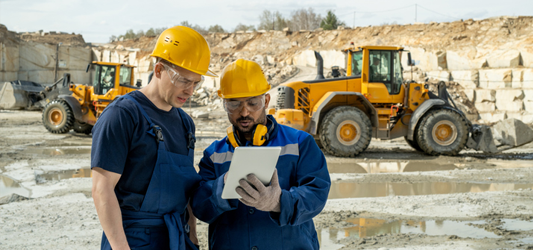 Updated March 17, 2022
One of the most important aspects of keeping a safe construction worksite is making sure the debris is properly contained and disposed of.
Utilizing different types of local disposal services is an easy way to clean up construction debris quickly and Hometown is here to help you find the right service for your project.
Jump to:
---
---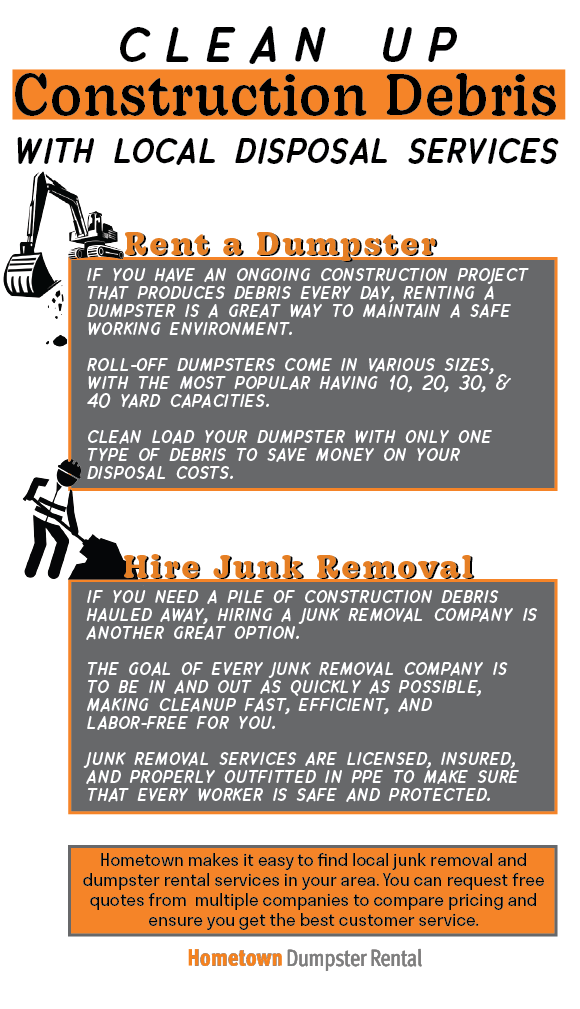 Rent a Dumpster for Construction Debris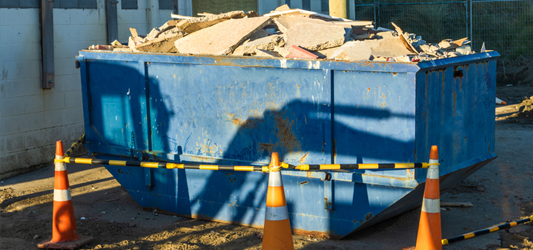 If you have an ongoing construction project that produces debris every day, renting a dumpster is a great way to maintain a safe working environment.
Dumpsters are relatively inexpensive and allow you to keep your site clean as you go.
The most popular type of temporary dumpster rental is a roll-off dumpster.
Roll-off dumpsters come in various sizes with the most popular having 10 yard, 20 yard, 30 yard, or 40 yard capacities.
Relatively small construction projects, like a bathroom or kitchen remodel, can usually be accommodated by a 10 or 20 yard dumpster.
30 and 40 yard roll-off dumpsters are great for larger projects, like commercial construction and whole home remodels or construction.
A 10 or 20 yard dumpster will cost you somewhere around $250-$450 on average while a 30 or 40 yard dumpsters will cost around $400-$550.
While these are national average dumpsters rental prices, there are a variety of different factors that will affect that price you will ultimately pay, like the type and amount of construction debris you're disposing of, cost of living in your area, and who you rent from.
One way to save money on a construction dumpster is to clean load your dumpster.
Clean loading a dumpster is when you only load one specific type of debris into the dumpster which allows the material to be recycled or reused to make new construction material.
Not only does this save you money, but it also keeps valuable materials out of the landfill.
Who you hire is also a big factor that will determine how much your dumpster rental will cost.
Locally-owned dumpster rental companies tend to cost less than large, nation-wide companies, like Waste Management.
Hometown makes it easy to find local dumpster rental companies that service your area and also makes it easy to request free estimates.
The best strategy is to get multiple dumpster rental quotes (we recommend at least 3) to compare pricing, customer service, availability, etc.
Keep reading:
Hire a Junk Removal Company to Haul Away Construction Debris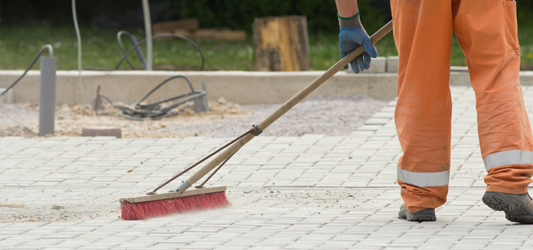 If your construction project is over and you need your pile of debris hauled away, hiring a junk removal company is another great option.
While junk removal services can sometimes cost more than renting a dumpster for large projects, it is an all-inclusive service that makes cleanup much easier.
The goal of every junk removal company is to be in and out as quickly as possible, making cleanup fast, efficient, and labor-free for you.
Some people prefer to pile up all their construction debris to be removed at the end of their driveway for quick and easy contactless pickup, while other people would rather have a removal company gather the debris from throughout the worksite for a more involved cleanup job.
The advantage of this option is the time-saving aspect and regardless of your needs and preferences, junk removal services are sure to offer a hassle-free solution.
Rather than spending hours cleaning up the worksite, you can focus on other projects and leave the mess for your hired service.
Gathering and removing construction debris can be dangerous if you aren't careful and don't know what to look for.
In addition to being on the heavier side, construction debris can contain sharp edges, rusty metals, moldy surfaces, etc.
Junk removal services are licensed, insured, and properly outfitted in personal protective equipment to make sure that every worker is safe and protected.
It's worth comparing the cost of junk removal to dumpster rental when determining the best debris disposal option for your particular project.
If you have less than 7 cubic yards of debris that need to be hauled away, a junk removal service may even be the less expensive option.
Hiring a junk removal service to haul away the debris from an interior bathroom remodel, for example, would cost $300-$500 on average.
The debris from an average size bathroom remodel or demolition would likely fit in a 10 yard dumpster or a 20 yard dumpster, costing $250-$450 on average.
When costs are similar, going with a junk removal service is likely to be the quickest, most stress-free option.
Just like with dumpster rental, Hometown can help you find locally-owned and operated junk removal companies that service your area.
Our blog can help answer the most common junk removal and dumpster rental questions and our verified customer reviews can help you make an informed decision when hiring.
Requesting multiple junk removal quotes is not only a great strategy to getting the best price, but it's simple and easy on Hometown's site.
---
---
Learn more: