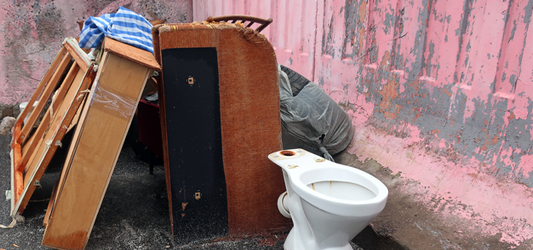 Updated July 1, 2022
If you have bulky or heavy items to throw out that you don't want to haul to the landfill yourself, there are several different options available to you depending on where you live.
Hometown is here to help you figure out which method will work best for your situation.
There are four ways to get rid of bulky waste:
---
---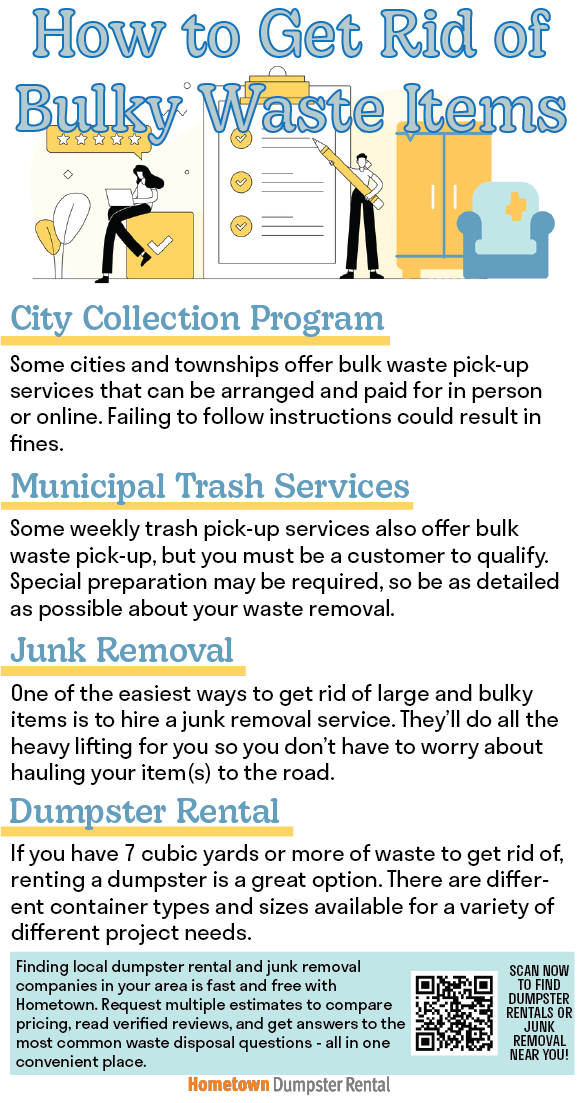 City Collection Program
Depending on where you live, your city or township may offer bulk waste pickup services.
Most areas require you to schedule your pickup and pay for it ahead of time, while some may have designated dates and times for bulk waste pickup.
The traditional way to schedule these services is to purchase a sticker at city hall or other providers indicated by your local jurisdiction.
Most pickups occur within 3 business days and your bulk furniture or appliance must be placed at the road with the sticker visible to be picked up.
A more modern way to schedule these services is to fill out a form online and pay for it then.
This way typically does not require a sticker to be placed on the item that is being picked up as long as payment has been received and the pick-up has been scheduled.
Failing to follow your area's requirements and leaving your items at the road without a sticker or without scheduling a pick-up can subject you to a fine.
Municipal Trash Service
Some weekly trash pick-up services also offer bulk waste pick-up, but not all do.
You typically have to be a customer to qualify for these services, but many companies only offer these services in certain areas.
Arranging these services is similar to the city collection programs and can be arranged by contacting your municipal trash service.
It's important to be specific about what you plan on having picked up because different items may require different preparation.
For example, items like couches and mattresses that are fabric may need to be wrapped in plastic, appliances containing freon need to have the freon removed by a professional, long items may need to be cut down into smaller sections, etc.
Not following instructions and having your bulk waste at the road for too long could result in fines from your city officials.
Junk Removal
One of the easiest ways to get rid of large and bulky items is to hire a junk removal service.
The convenience of a junk removal service is not having to figure out a way to haul your item(s) out to the road.
A junk removal crew (usually 2 people) will arrive prepared to remove your heavy items from wherever they are stored, so you don't have to do any of the heavy lifting.
Getting multiple junk removal quotes is easy with Hometown.
By entering your zip code and answering a few quick questions about your bulk waste removal needs, you'll be shown licensed and insured junk removal companies that are locally-owned and operated in your area.
You can read more about each company, read verified real reviews, and request free quotes to ensure you're getting the best deal with the customer service you deserve and the availability you require.
Learn more:
Dumpster Rental
Dumpster rentals are an affordable option if you have 7 cubic yards or more of waste to get rid of.
Roll-off containers and trailer dumpsters are temporarily rented out to residential customers who have a lot of junk, trash, and debris to get rid of.
A project like gutting a kitchen and removing all the appliances is a great candidate for renting a dumpster, but only removing a single appliance or piece of furniture is a better candidate for a junk removal service.
There are different dumpster sizes available for a variety of different projects, and dumpster companies are great at helping you decide which size dumpster will work best for your project.
Locally-owned dumpster companies tend to offer the best pricing and customer service, and Hometown can help with that, too.
We publish locally-owned and operated dumpster rental companies throughout the U.S. and make it easy to request free dumpster rental quotes with the click of a button.
Just like with junk removal, you can use Hometown to search your zip code and find providers that service your area.
---
---
Continue reading: