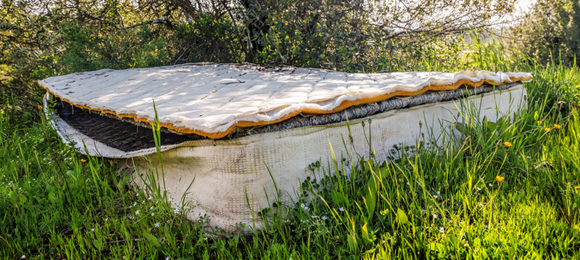 Updated August 30, 2022
With the average lifespan of a mattress being 6-8 years, it's likely that there will be several times in your life when mattress disposal is at the top of your to-do list.
So, how do you dispose of a mattress?
Many curbside waste haulers won't accept mattresses as part of their regular collection and depending on where you are located, you could incur fines and penalties for leaving your old mattress curbside.
That said, there are plenty of reasonable solutions to get rid of your old bed once and for all.
Jump to:
---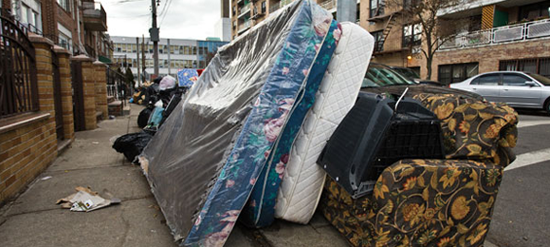 Will My Curbside Trash Collection Take My Mattress and Box Spring?
The answer to this answer depends solely on your residential area.
Some waste haulers have certain days set aside for curbside bulky item disposal, including mattresses, box springs, and bed frames.
Other areas might have policies against this type of disposal and may even fine you for attempting to do so.
The best way to avoid any confusion or trouble is to check with your regular waste management company to see if they offer an option for mattress pickup.
The best-case scenario is that your city offers special disposal days for free, but it is more common that the waste disposal companies that accept large disposals will charge a fee to do so.
Some cities that allow curbside furniture removal require that items be wrapped in a protective bag to mitigate the spread of bed bugs. Check with your waste hauler to see if they have them available or purchase them online.

Can I Throw a Mattress or Box Spring into a Dumpster?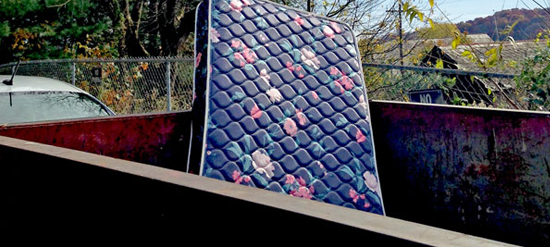 Renting a dumpster to throw away an old bed is a great option but first, you need to confirm whether or not mattress disposal is accepted by your dumpster rental company.
In fact, anytime you rent a dumpster it is crucial that you are as detailed as possible with the rental company about your plans for disposal in order to not end up paying more than your quoted price.
Assuming they do allow for mattresses in the dumpster, it's a good idea to have other debris or junk to dispose of to get the most out of your rental.
Since a standard 10 yard dumpster rental costs $365 on average, this is a pricey disposal option IF you don't maximize the space in the dumpster to dispose of other junk or debris.
Plan accordingly if you plan to rent a dumpster for furniture disposal by tackling that basement or garage clean out that you've been putting off for months.
Some dumpster companies charge an additional fee and require that you set bulky items like mattresses, couches, etc. next to the dumpster for pick-up.

---
---
Will Junk Removal Companies Haul Away Mattresses and Box Springs?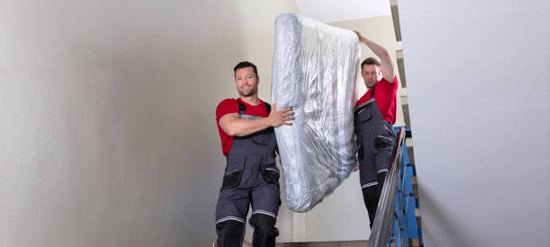 Hiring a junk removal company to haul away old furniture, like mattresses and box springs, is generally a cost-efficient and convenient option.
Although prices will vary by company and by the local market, many junk removal providers will charge their minimum fee (or close to it) for mattress pickups.
This could range anywhere from $50-150 or more, depending on where you live.
Make sure you're getting the best deal by calling at least 2-3 junk removal companies for estimates.
It's tough to beat the convenience of going with a junk hauling company for the job – you pay a relatively small fee, they come out to your property, haul out the mattress, and dispose of it for you. Oftentimes, this can be done the same day you call.

---
---
Can I Donate My Bed?
There are many organizations that will accept mattress donations when they're in nearly new shape.
Any mattress with visible stains or structural damage is not a good candidate for donation.
Check with local charitable organizations to see if mattress donation is an option in your case.
Several charities that accept mattress donations include Goodwill, Salvation Army, National Furniture Bank Association, and local churches.
Another way to donate your mattress is by posting it as a free item on websites like Craigslist or Facebook Marketplace.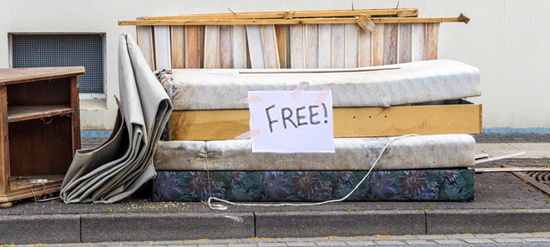 Similarly, putting the mattress in a garage sale or on the curb with a "Free" sign may be an effective option if allowed in your area (check with your local town or city hall to avoid potential fines).
TIP: Repurposing a mattress may be an option in your situation. There are plenty of ways to repurpose old beds, as shown in this article.

Illegal Mattress Dumping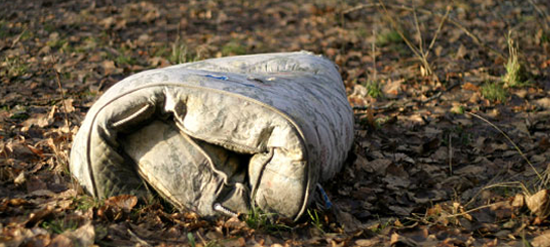 Avoid fines, even jail time, for disposing of mattresses in an illegal way. Beyond the legal ramifications, it's bad for the environment to dump any type of waste in forests, fields, streams, or other areas not specified for legal dumping.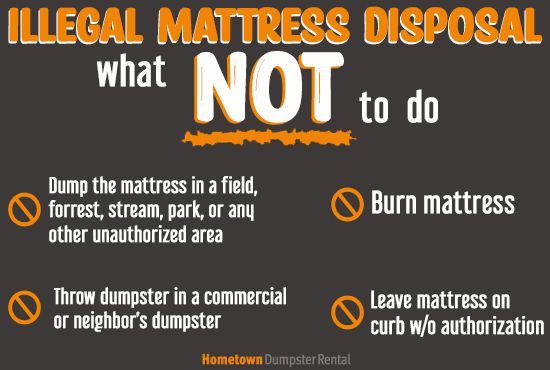 Do NOT do the following:
Drop the mattress off in a forest, empty lot, field, stream, etc.
Leave the mattress next to or inside a commercial dumpster or neighbor's dumpster.
Burn the mattress.
Leave the mattress on the curb without first getting authorization.
Illegally dumping waste can carry fines of up to $25,000 and/or two years of prison for a second offense, depending on the amount and jurisdiction you fall under.
These fines may seem steep but are meant to heavily discourage people from illegal dumping, which has catastrophic effects on the environment.

---
---
Continue Reading: