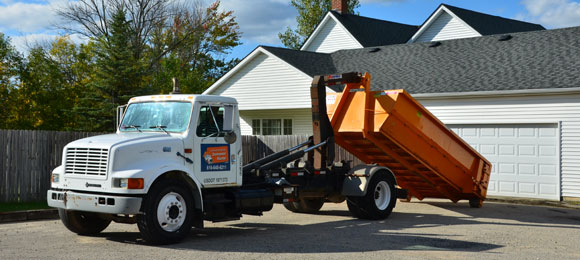 Updated July 28, 2022
There is a dumpster option available for just about any type of clean-up, including construction and demolition debris, estate cleanouts, roofing projects, flooring removal, yard waste disposal, and so much more.
We'll go over the different types of dumpsters available for residential use to help you determine which choice is the best for your particular project.
Jump to:
---
---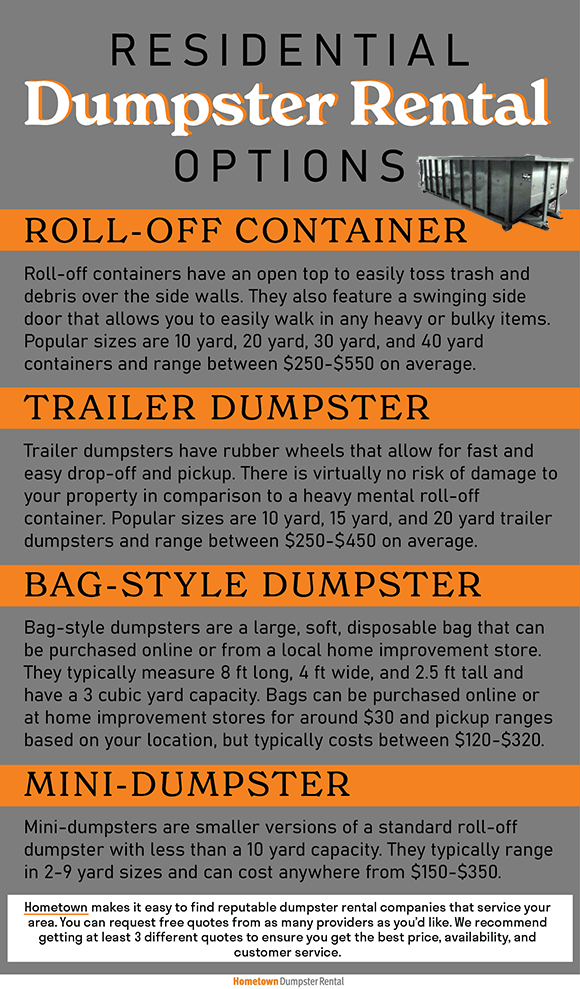 Things to Consider Before Renting a Residential Dumpster
Consideration 1
Heavy dumpsters have the potential to damage driveways, curbs, and sidewalks.
Damage to yards or landscaping can also happen.
Solutions:
Consideration 2
If you have an HOA and you don't follow their rules and regulations, you may be fined.
Solution: Ensure the dumpster is clean and well-kept (not an eyesore), and have it placed in a location that is approved. Contact your HOA ahead of time to make sure ample notice is given and that written permission is received.
Consideration 3
If you need to place your dumpster rental in a public right-of-way, like a sidewalk or street, you will more than likely need a permit from your local jurisdiction.
Solution: Contact your local Public Works Department to inquire about dumpster permit requirements in your area. They will be able to tell you whether or not you will need a permit for your purposes and how to apply for a dumpster permit in circumstances that require one. If you still have questions, a reputable dumpster company that is familiar with your local laws will help you figure out how to best handle your situation.
Residential Roll-Off Dumpster Rental Sizes

Dumpsters offering 20 cubic yards of loading capacity or less are generally the best bet for most residential projects.
The exception is new home construction or complete demolition jobs—a 30 or 40 yard dumpster may be more economical in these cases.
A 10 yard dumpster is a great option for a wide range of projects.
This container size offers a great blend between size and loading capacity.
A typical 10 yard roll-off dumpster fits well in a residential driveway or in hard-to-reach areas that larger dumpsters wouldn't.
20 yard bins will generally accommodate residential cleanouts or renovation projects, such as kitchen and bath renovations, flooring removal, home cleanouts (excluding hoarding situations), yard debris/brush disposal, and large roofing projects.
Dumpsters smaller than 10 cubic yards are available, as well.
Some rental providers offer dumpster trailers, bag-style dumpsters, or mini roll-off dumpsters that come in less than 10 yard capacities.
Learn more:
---
---
Ideal Dumpsters for Different Residential Projects

Some dumpsters work better than others depending on the job. It may take some calling around before you find a dumpster company that has the ideal dumpster for your project.
Heavy Debris (Dirt, Shingles, Concrete)
A 10 yard dumpster with low sides is the best choice for heavy debris to allow for easier loading over the sides of the container.
These containers are oftentimes called "lowboys."
If such a container is unavailable in your area, a standard roll-off with a walk-in design works well for heavy debris as well.
Home Cleanouts or Construction
A standard roll-off dumpster in the 10 to 20 cubic yard range works best here.
If disposing of bulky wastes like furniture or appliances, choose a roll-off dumpster with tall sides—at least 4 ft high but preferably 6-8 ft high.
Small Projects
This includes projects like small concrete patio removal, sidewalk demo, fireplace brick removal, and other jobs of just a few cubic yards or less.
A 5-10 yard roll-off works great for these jobs.
For the smallest projects up to 2-3 cubic yards, a bag dumpster may be a viable solution.
Driveway-Safe Dumpsters
It is possible for dumpsters and the trucks carrying them to cause damage to driveways, curbs, and yards.
Some dumpster rental companies take extra precautions to avoid this, such as laying down boards or plywood on the driveway.
Another safe alternative is to go with a dumpster trailer.
Being on rubber tires—rather than steel wheels—trailer dumpsters are safer for use on all surfaces.
Trailer dumpsters most often come in 10 yard, 15 yard, and 20 yard sizes.
Average Pricing for Residential Dumpster Rentals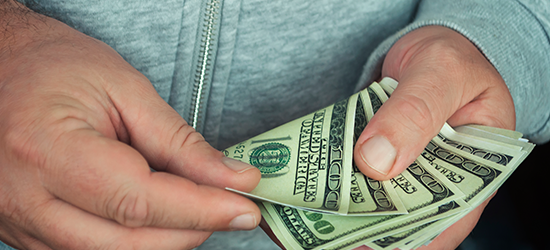 The nationwide average cost of a 10 yard roll-off dumpster is $250-$350.
The cost of a 3 cubic yard bag style dumpster, such as Bagster, also varies by location but generally costs $150-$200 (disposal included).
Going with a larger 20 yard dumpster will set you back on average $350-$450.
When looking at a cost-per-cubic-yard average, the 20 yard bin is your most cost-efficient option.
Average Pricing for Different Types of Dumpsters
| | | |
| --- | --- | --- |
| Size | Cost | Cost/Cubic Yard |
| 3 Yard Bag-Style Dumpster | $150-$200 | $50-$67 |
| 10 Yard Dumpster | $250-$450 | $25-$45 |
| 20 Yard Dumpster | $350-$550 | $17.50-$27.50 |
Is there a way to reduce dumpster costs?
Dumpster costs are the same whether renting for a residential or commercial project.
That said, it's possible to reduce disposal costs with a little planning ahead of time.
Here are some quick tips:
It's important to avoid choosing a dumpster option based solely on price.
Instead, choose one based on your project's needs.
Going with the cheapest dumpster option can backfire in terms of getting poor service, getting a smaller dumpster than needed to finish the job, or getting hit with hidden fees/overages you didn't initially know about.
Instead, go with a reputable dumpster rental company that services residential customers in your area.
Use your zip code to search for locally-owned dumpster rental companies near you using Hometown's website.
You can request as many quotes as you'd like from providers in your area, completely free of charge.
---
---
Continue reading: