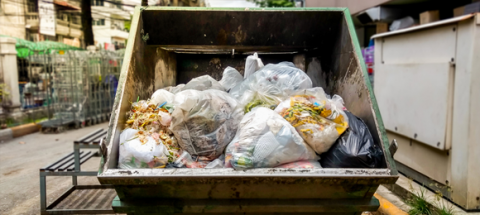 Updated August 8, 2021
When it comes to renting a dumpster, it's very important to understand what type of company you're renting from.
There are 3 different types of dumpster rental companies, and understanding the difference will help ensure you get the best price.
Jump to:
---
---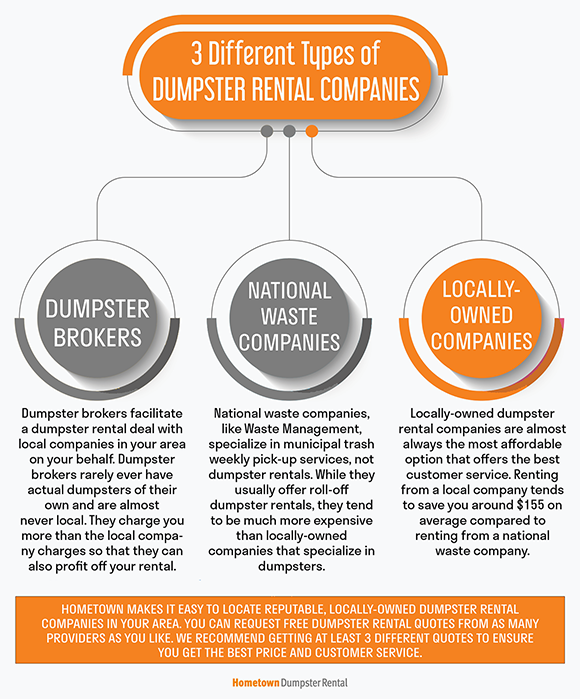 Dumpster Brokers
Dumpster brokers are by far the least cost-efficient when it comes to renting a roll-off container.
Dumpster brokers are the middlemen involved in a dumpster rental deal, and while they aren't exactly "bad guys," it's still best to steer clear of these companies if you're a customer.
Brokers often act as if they are a local dumpster service, when in fact they don't own any dumpsters and probably aren't local.
After the broker takes your order, they contact a local dumpster rental provider to deliver and pick up the dumpster.
While that's ultimately what you're looking for, you will pay a lot more to have a broker facilitate the deal for you when you could have easily contacted the local hauler directly, saving you money.
The broker will charge you a higher price than the actual dumpster provider so that they can also profit off your rental.
On top of that, you're not in direct contact with the company you're renting the dumpster from, likely resulting in a worse customer service experience.
Paying more for a lower level of service is the worst-case scenario, which is why we advise not contacting a dumpster broker if you're in need of a rental.
Keep reading:
National Waste Companies
Large waste disposal companies that service many states throughout multiple regions, like Waste Management, usually offer the standard 10 yard, 20 yard, 30 yard, and 40 yard roll-off containers.
You would think that because they're a larger operation that they would be able to offer the best pricing, but that's not usually the case.
When it comes to regularly scheduled municipal trash pick-up services, these large companies tend to offer the most affordable pricing, but renting dumpsters from them is a different story entirely.
Roll-off dumpster rental is temporary, often unscheduled, and typically involves a phone call for booking and another call for pickup, which are not Waste Management's strengths.
Local haulers charge $370 on average for a 20 yard dumpster, while WM charges $525 on average for a container of the same size.
This big difference in pricing is why we always recommend renting a dumpster from a local provider.
Local Dumpster Rental Providers
Renting a dumpster from a company that is locally-owned and operated is by far the best option.
Local waste haulers beat out competitors when it comes to both pricing and customer service.
On top of that, it's also beneficial to your local community and economy.
Compared to national chain companies, locally-owned businesses recycle a much larger share of their revenue back into the local economy, enriching the whole community.
There is truly no downside to renting a dumpster from a local provider.
But how can you be sure that the company you've found online is local and not a dumpster broker trying to arrange local services on your behalf?
Hometown is the easiest place to find providers in your area that are licensed, insured, and reputable.
You're able to find local providers, read customer reviews, and request free dumpster rental quotes from as many providers as you like.
We recommend getting at least 3 different quotes from providers in your area to make sure you get the best price and customer service.
---
---
Learn more: