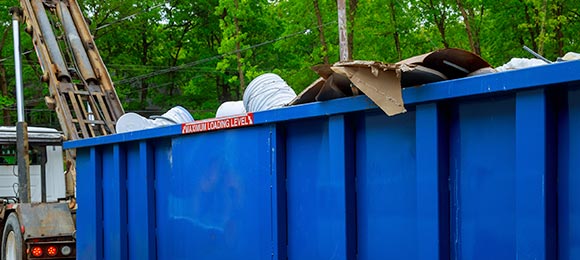 Updated July 28, 2022
Whether it's for a spring cleanout or a major remodeling job, renting a dumpster can help get the job done more efficiently.
However, it's important to keep a few things in mind to help minimize the overall cost and to move the process along smoothly.
Here are 5 essential tips to keep in mind when renting a roll-off container...
Plan Ahead
Roll-off dumpster rental companies have a limited number of containers on-hand, so it's important to call at least a week in advance to ensure you get a container when you need it.
In other words, don't call them on Friday and expect to have a container delivered on Saturday.
While this may be possible in some circumstances, it's a safer bet to plan ahead.
Keep reading:
Compare Prices
Chances are you have more than one dumpster rental company in your area, especially if you live a larger city.
Call two or three different rental providers to compare not only the initial cost of the rental but also landfill fees, potential overage charges and materials prohibited from being dumped.
You can save as much as $50 to $100 by spending an extra few minutes shopping around.
Learn more: Lower Your Cost to Rent a Dumpster in 2021
Choose Container Size Wisely
The primary roll-off dumpster sizes are 10, 20, 30 or 40-yard capacities, and sometimes it can be hard to determine the right size for your particular job.
In general, it's best to choose a larger container than you think you need because it may help avoid overage charges or the cost of needing a second container later.
To help you visualize the size of a roll-off dumpster, a 10-yard dumpster is a good choice for a small garage cleaning or kitchen/bathroom floor replacement.
A larger 40-yard dumpster is ideal for new construction and commercial applications.
Prepare a Location for the Rental Container
A 40-yard roll-off dumpster measures approximately 22 feet long and eight feet wide, which is quite large if you have a small driveway or no driveway at all.
So, it's important to ensure you clear an area large enough to accommodate a bulky roll-off container.
This means moving automobiles out of the driveway, kids toys, and any other obstacles the roll-off truck may encounter when dropping off your rented dumpster.
Find out more: How to Prepare for Dumpster Drop-Off
Avoid Prohibited Items
When you go to rent a dumpster, adhere to the rental company's policies on prohibited items.
Common items prohibited from being thrown out include car batteries, paint, oil, flammables, tires, and Freon.
It's important to let the rental company know exactly what materials you plan to throw out.
Some companies may have policies against mixing certain materials, such as concrete, with household items or other construction waste.
Read on: What Can I Put in a Dumpster?: A Quick Guide to What's Allowed in Roll-Off Containers
---