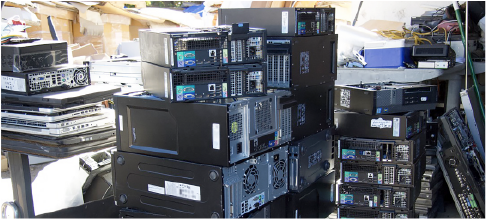 Updated February 22, 2023
Whether you're a homeowner looking to dispose of a bin full of old electronics and outdated computers that have piled up over the years, or you're a business owner looking to replace obsolete equipment with newer versions, this guide is designed to outline the best solutions to do so.
Proper disposal of e-waste, including electronic devices, like computers, TVs, DVD players, VCRs, phones, tablets, etc., is necessary to ensure potentially toxic materials, like lead, mercury, or cadmium, don't end up in landfills.
This is why most e-waste is not allowed to go in your curbside trash collection or a dumpster.
Instead, it should be properly recycled to avoid heavy metal contamination and other potential hazards.
In fact, an increasing number of states have banned the disposal of e-waste in landfills or waste-to-energy facilities.
Instead, e-waste should go to the proper recycling facility.
Many of the materials used in making these products, like plastics, glass, metal, and aluminum, can be recovered and reused to make new models and other equipment.
In this guide, we'll discuss the 3 main ways to properly dispose of electronics:
Note: Before you get rid of your electronics, make sure you erase all personal information on the device. It often isn't as simple as deleting files. For example, here's how to get your personal data off a laptop. Once you've done that, keep reading to find out your options.
---
---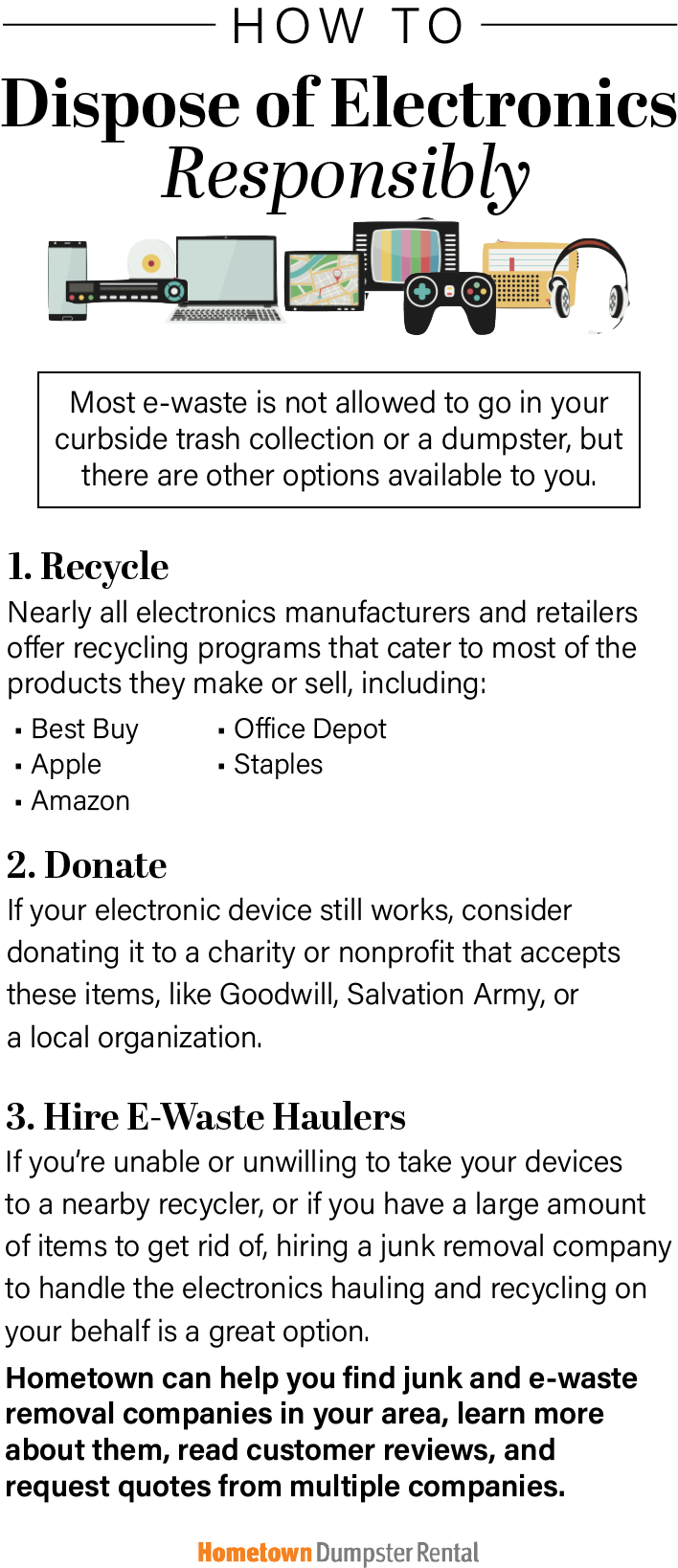 1. Recycle It
Nearly all electronics manufacturers and retailers offer recycling programs that cater to most of the products they make or sell.
For example, Best Buy offers recycling options for a wide range of electronics, no matter where you bought them.
Apple's trade-in program offers credit for qualifying products and will also accept and recycle any product that doesn't qualify.
Amazon's trade-in program offers gift cards for trading in of any of their Kindle e-readers, tablets, media players, Echo, Ring devices, etc., as well as CDs, cell phones, video games, and more.
Office Depot offers ink and toner recycling, and Staples does too.
There are also a wide range of nonprofit organizations and local community events that accept e-waste recyclables.
Call2Recycle makes it easy to find recycling drop-off locations near you. Earth911 also has an extensive recycling database.
Keep reading:
2. Donate It
If your used computer, phone, or other electronic still works, consider donating it to a charity or nonprofit that accepts these items.
Reach out to local charity organizations to see if they have a desire for your item(s).
Charity re-sale organizations, like Goodwill and Salvation Army, typically accept working electronics as donations, too.
3. Hire an Electronics Hauling Service
If hauling multiple electronics to a nearby recycler seems like a pain or you simply don't have the time—or if you have a large amount of items that you want to get rid of at once, like with a company office cleanout—hiring a junk removal company to handle the electronics hauling and recycling on your behalf is a great option.
Whether you have a couple computers or a pile of electronics and other junk, a junk removal company can come out to your property, assess the extent of the work, provide a quote, and get to work right away if you agree to the price.
Hometown can help you find junk and e-waste removal companies in your area, learn more about them, read customer reviews, and request quotes from multiple companies.
Dumpster rental is typically not an option when disposing of electronics due to city and state restrictions surrounding e-waste recycling.
---
---
Learn more: