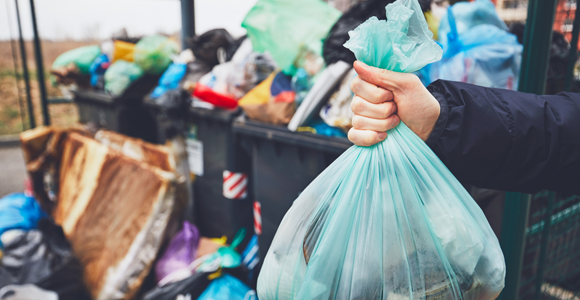 Updated February 13, 2023
When you have a large cleanup project, you might wonder if you'd be better off renting a dumpster or hauling the items to the landfill yourself.
Cutting costs as much as possible is important, but there are many other factors to consider regarding bulk DIY disposal and renting a large trash container.
We'll go over several considerations to help you determine which method is the most cost-efficient and time-efficient for your particular project.
Jump to:
---
---

Time
Since time is money, how much time you want to spend on your disposal project needs to be seriously considered.
If you're in the middle of a move or renovation, or if you have a busy career or home life, paying a little more upfront could save you hours of strenuous labor which can be invaluable to many.
Dumping at landfills isn't free, and neither is the fuel it takes to get there.
When you also consider the amount of time it takes to travel roundtrip to the nearest landfill and how long you may have to wait in line once you're there, dumpster rental is the better option when time plays a vital role in your decision.
Hauling Capacity
If you don't have a vehicle that allows you to haul your junk or trash in one load, consider how many trips it will take or how much it will cost to rent a larger vehicle or trailer.
If you, a family member, or friend have a pickup truck, box truck, or a hitch and trailer, you may be a good candidate to haul your junk to the landfill yourself.
For cleanup projects with large amounts of material, a dumpster rental may be a better option.
A standard pickup truck bed has roughly 2.5 cubic yards of loading capacity while standard roll-off dumpsters come in a variety of sizes, with the most popular for residential projects being 10-20 cubic yards.
This infographic will help you visualize the loading capacity of each dumpster size compared to pickup trucks.

Cost
The average nationwide cost of a 10 yard dumpster is around $250-$450, while a 20 yard dumpster falls around $350-$550 for a standard rental period of 3-7 days.
How much you'll pay for a dumpster rental in your area could be more or less depending on the cost of living and landfill fees in your area, the overhead fee of the company you hire, how much your material weighs, and more.
The average cost to dispose of one pickup truck of material is around $40-$60, plus the cost of gas and your time.
When time isn't a consideration and you have a project that only requires 1-4 round trips to the landfill, DIY hauling could be the better choice.
Projects that produce more than that are a better candidate for a dumpster rental.
Watch our video below to learn how to get the best price for a dumpster rental.
Learn more: Cost of Hauling Waste Yourself vs Renting a Dumpster
Other Considerations
Another option to get rid of your unwanted items or debris is to hire a junk removal company to do the loading and hauling for you.
The all-inclusive nature of junk removal services can make them more expensive when it comes to large amounts of trash to remove, but they're a great option when you have less than 7 cubic yards of material to get rid of.
Junk removal services have minimum fees that start around $75-$100 for the smallest removals and go up from there.
The best way to get the best price for dumpster rental or junk removal services is to:
Hire local
Get multiple quotes
Luckily, Hometown makes getting multiple quotes from locally-owned and operated companies fast and simple.
We publish licensed and insured junk removal and dumpster rental companies throughout the U.S. to help local consumers easily find and contact small disposal companies in their area.
Getting multiple quotes not only ensures you pay a competitive price for your project, but it helps you find a company with quality customer service and the availability you require.
Get started on your free quote request by clicking the link below.
---
---
Learn more: